Ad Blocker Detected
Our website is made possible by displaying online advertisements to our visitors. Please consider supporting us by disabling your ad blocker.
Airbnb has been in the news lately and not for the right reasons. While it is true that the "cleaning fees" have become ridiculous, people should actually be asking Airbnb why they are gouging travelers just for the privilege of using their services.
I was an early adopter of Airbnb. As someone who has been fortunate to travel the world for both business and pleasure, Airbnb was the perfect solution. You got an expanded space with a full kitchen with refrigerator, stove, microwave and even a washer and dryer in most places if you wanted to wash your clothes before you got home. While all of these things can add up to save you money (making your own meals instead of going out for every meal), for me it was the convenience. In a lot of hotels a refrigerator could be hard to get. Ever get back to your hotel room with leftovers? Where were you going to keep them cool let alone reheat them if needed? Since I am not a coffee drinker it was great to be able to head to the local store and stock up on soda, water, snacks etc.
Everything was perfect. I was never going to stay in another hotel unless absolutely necessary. And then it stopped being perfect when Airbnb became popular enough to get greedy.
I will cover the ridiculous cleaning fee issue shortly but I think Airbnb is actually using this issue to hide their own greed.
When a host (someone who puts their property for rent on their site) rents to travelers on Airbnb – they charge the host on average 15%. Click here to see their policy.
Fair enough. Airbnb is providing the website, processes the financial transaction and can handle disputes between the property and the traveler. Here is what is not fair. The following is an example of a trip we recently completed. It was for a 6 day stay in Alaska.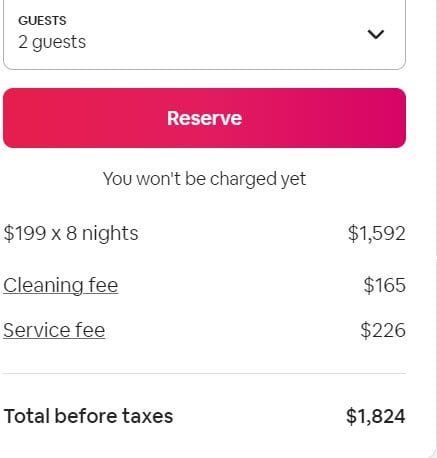 Wait.. What? Why is there a "Service fee" of $226 being charged before taxes? This fee equates to almost 15% of the total booking amount.
When you click on the service fee link, you get this helpful popup: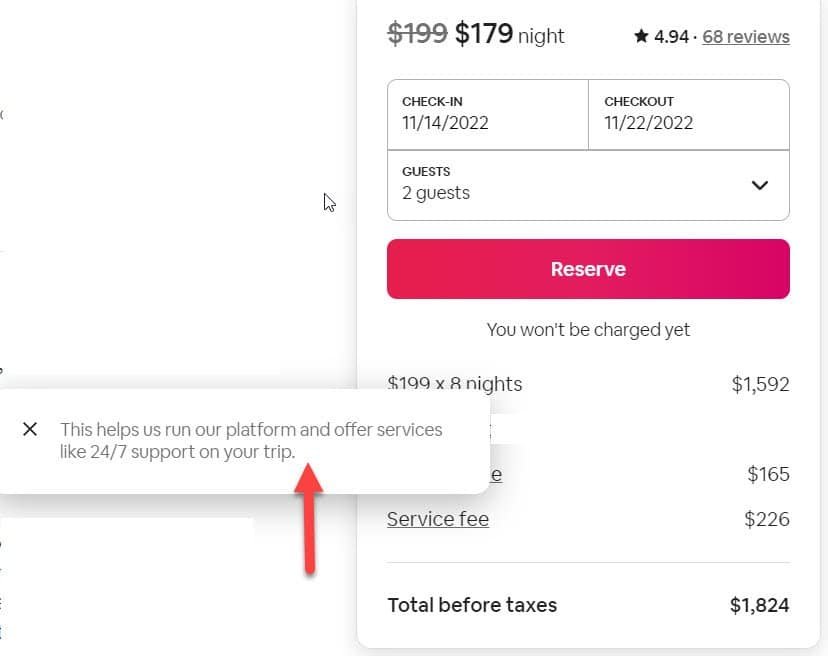 he fee is to run your platform? So why are you charging the host 15% to list their property. When you add those 2 fees together, Airbnb is taking almost 30% of every dollar for every rental. This is nuts and we have not even got to the cleaning fee yet!
The Dreaded Airbnb Cleaning Fee:
As you can see by the above, while cleaning fees have taken the brunt of the bad news and people should really be asking Airbnb why they are being so greedy, lets cover the cleaning fee issue. The whole cleaning fee issue was created by Airbnb as a way to help out hosts who needed to cover their expenses. Please note this was not to help out a host that was trying to rent out their personal property or their vacation home. This was to attract people who wanted to rent and then sub-rent many dwellings in different markets. For example if you lived in Kansas City and you wanted to rent or buy a property in Boulder Colorado the biggest issue was how to clean and maintain that property. The only way to do it was to hire one of the now many services that offered property cleaning and management services. These services are neither free nor cheap. So in response to these hosts who Airbnb wanted to list as many properties as possible to grow their site, Airbnb started to allow the hosts to set their own cleaning fees.
There is Never a Problem Until There is Money on the Table
Since this was new to the fine people running Airbnb they never anticipated this being abused as bad as it has been. While they have shown no shyness in their own greed (30% of every dollar goes to them), they clearly never anticipated the greed of the hosts. Now everyone has a cleaning fee and there are no guidelines our restrictions. You just enter what ever and go from there. You will see all forms; some charge a standard fee based on the entire stay; some will charge based on the number of guests during the entire stay; the worst offenders charge a fee per day – even though they only clean after you leave.
Lets go back to my last stay on Airbnb. All places have house rules. Fair enough – you are being a guest in someone else's property you should be a good guest. Here were the house rules from our place in Alaska:
Clean and put away your dishes before leaving (fair enough)
Take out the trash and out it in the garbage containers outside (ok but not required at the last hotel I stayed at)
Take all used towels to the laundry room (not a problem)
Eat all meals at the dining room table and not on the furniture (I don't do this at my house but since it is your house – OK)
Strip all beds and take bedding to the laundry room (Not required at a hotel and why am I stripping sheets on my vacation)
So read that list and then check out the cleaning fee being charged: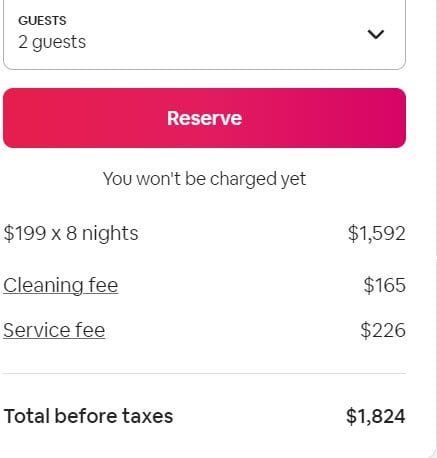 So you are charging $165 for what again? In the week we were here you never showed up to clean, which is perfectly acceptable. But you have required me to do everything except scrub the toilets and vacuum the floor. I am guessing that the host will spend less than 30 minutes at the property after we leave. Please note: I know this host is a local owner and takes care of the property himself. This is actually a lower cleaning fee than most charge (still too high) but I wanted to use an actual example of property I stayed at. Average cleaning fees for similar properties are $200+
What if I don't Follow the Cleaning Rules Set by the Host?
I have heard this question from many a travelers. For the money they are paying to rent the place – screw it, let them clean it. Fair point but that is where the Airbnb review system kicks in. While you the renter have the ability to leave the host a review, the host also gets to leave a review on you. While Airbnb can not discriminate based on race, creed or religion – they can discriminate based on your ability to follow rules. When you select a property to rent the host gets notified and they approve renting to you based on their own criteria. If you have reviews left from other places that you have stayed stating you do not follow the house rules such as cleaning as requested, good luck finding a respectful host to rent their place to you.
By Airbnb – Back to the Hotels
As I started off by stating, Airbnb used to be a great place not just for the conveniences but also great pricing compared to hotels. Now it is neither. While it is true that Airbnb needs to get the outrageous cleaning fee issue resolved, they also need to look in the mirror and confront their own greedy pricing structure. We are traveling to Florida in January where we will be staying a couple of extra days prior to a cruise. Back in the day before all of these extra fees, I would went straight to Airbnb and found the perfect property for our trip. But since we were only going to be there for 2 days I knew that between the cleaning fees someone was going to charge and the "booking convenience fee", the prices would have been much higher than the nice hotel I ended up booking.