Ad Blocker Detected
Our website is made possible by displaying online advertisements to our visitors. Please consider supporting us by disabling your ad blocker.
Fashion Tape has been around for decades, an essential item in many women's wardrobes since boobs lifter tape is made from a thick cotton material that can be used for many different applications. It is available in different types, some of which are made especially for applying breast enhancements.
Classy Sassy and Styled has introduced a revolutionary new highly functional and strong boob tape that is now available in a 2 pack. The tape has been completely re-engineered with slight stretch to move with your body and provide the ultimate support that is also sweat proof and water resistant.
This lifting bra tape is made from 95% cotton and 5% spandex. The breakthrough adhesive is medical grade and hypoallergenic. Each roll is 2 inches wide by approximately 16 feet long and comes in beige. To use, just measure, cut and apply. Each box of boob tape from Classy Sassy and Styled contains two rolls.
Teresa Belson from Classy Sassy and Styled says "there are so many women out there that want to wear their strapless outfits with confidence but so many of the other options available simply did not have the strength and elasticity to do the job. Others have tried to use gaffer tape and have had a horrible experience. We completely started from scratch to deliver the highest quality fashion tape available. If you are looking at wearing a wedding dress, bridesmaid dress, halter top, or anything else that is strapless or backless, I am confident our lifting bra tape will work for you."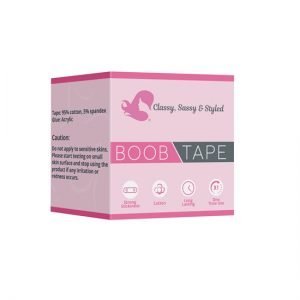 Speaking further, Teresa also pointed out that advanced features of their boobtape is::
· Medical-grade chest binding tape
· Made in the USA
· Devoid of harmful latex and harsh chemicals
· Skin-like texture
· Made with highly breathable and soft material for absolute comfort- 95% Cotton and 5% Strong
· Strongest chest tape in the market and will keep everything in place, from A Cup to EE Cup
· Sweat and water resistant and hence safe to wear for longer hours at a stretch
· Medical-grade wave-like adhesive
· Strong yet gentle adhesive assures easy application and removal
· Can be cut to desired length
· Easily fits any size
"For user convenience, we send the tape in an uncut roll. This way, you can cut out the tape accurately to any shape and size, depending on your personal choices and needs."
Located in central Iowa, Classy Sassy and Styled creates innovative solutions for in fashion for all women.
For more information on how you can try this amazing new boob lifter tape, go to: https://www.amazon.com/Boob-Tape-Booby-Ultimate-Breast/dp/B08D6YZDK2