Ad Blocker Detected
Our website is made possible by displaying online advertisements to our visitors. Please consider supporting us by disabling your ad blocker.
This being guitar weekend on campus, we asked a supersized panel of riffers, pickers and strummers from near and far: What do you remember about your very first guitar?
Bruce Hall
Champaign native, REO Speedwagon bass guitarist
"I was 12 years old, I believe, the summer before I started seventh grade. My grandmother gave it to me and it used to belong to my mom's brother, my Uncle Lyle.
"He passed away at an early age and he left an acoustic guitar, an electric guitar and a silver tone amp. I asked my grandma if I could have them and she said yes.
"The guitar brand on both the guitars was Harmony; I believe they sold it at Sears. The acoustic was tough to play, so I played the electric one day and night. Our neighbors frequently called the cops as apparently, I was pretty loud. Ha ha.
"I never played them in a real band, but I handed them down to my brothers. Basically, what I always did and still do — except now I hand my guitars down to my daughter Sara."
Brandon Washington

Eric Frahm

K-5 General Music Educator, Dr. Howard Elementary
"I received my first real guitar, a USA-made Squier Stratocaster, the Christmas of my senior year in high school. My parents, who had no business spending the money, got it for me, as it was my only gift request that year.
"I had been playing a borrowed guitar, but the owner needed it back. My folks recognized the fact that I had bonded with the instrument, and actually listened when I asked for one for Christmas.
"I still have this guitar, even though it isn't in playable condition at present. But it is a reminder of the fact that my parents managed to give me and my older brother a middle-income upbringing with low-income money.
"I lost my parents last year. This is one of the things in my life that gives me happy memories of them and will continue to."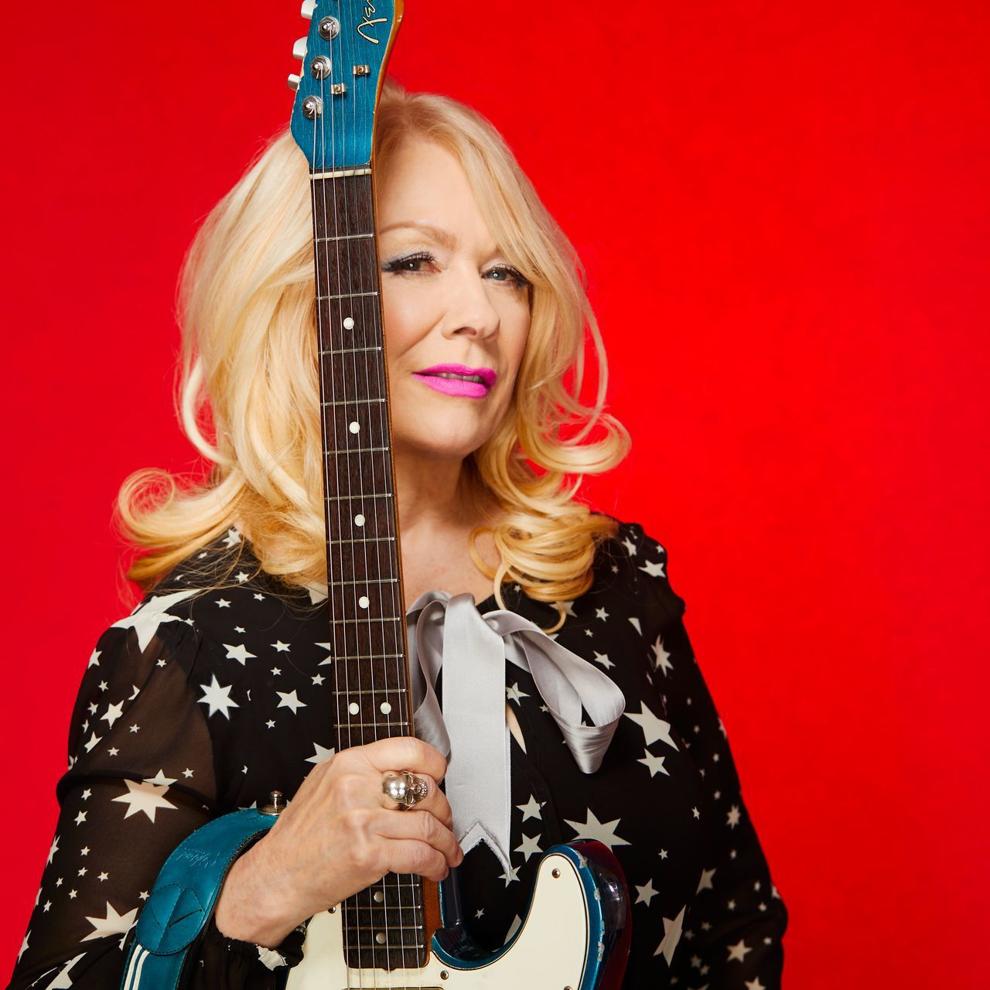 Nancy Wilson
Rock and Roll Hall of Famer from Heart
"When I was 10 after begging and pleading with my parents, they finally gave in and bought me a quarter-sized Lyle guitar for 30 bucks from the local music shop, called Bandstand East.
"It was virtually unplayable. The neck was a thick pipe shape and the bridge wasn't attached at the bottom.
"I realized then that plywood really doesn't have the finest tone, though I did figure out how to work around the bridge problem by moving it up while playing as the guitar was always slipping out of tune.
"I also figured out different ways to play basic cords because the 1st fret was impossible. There was absolutely no way to barre an F chord, so I had to seriously work around 'life without F.'
"Still, 'the Lyle' went everywhere and played a thousand songs.
"I kinda missed that old piece of plywood when a much better guitar walked into my life."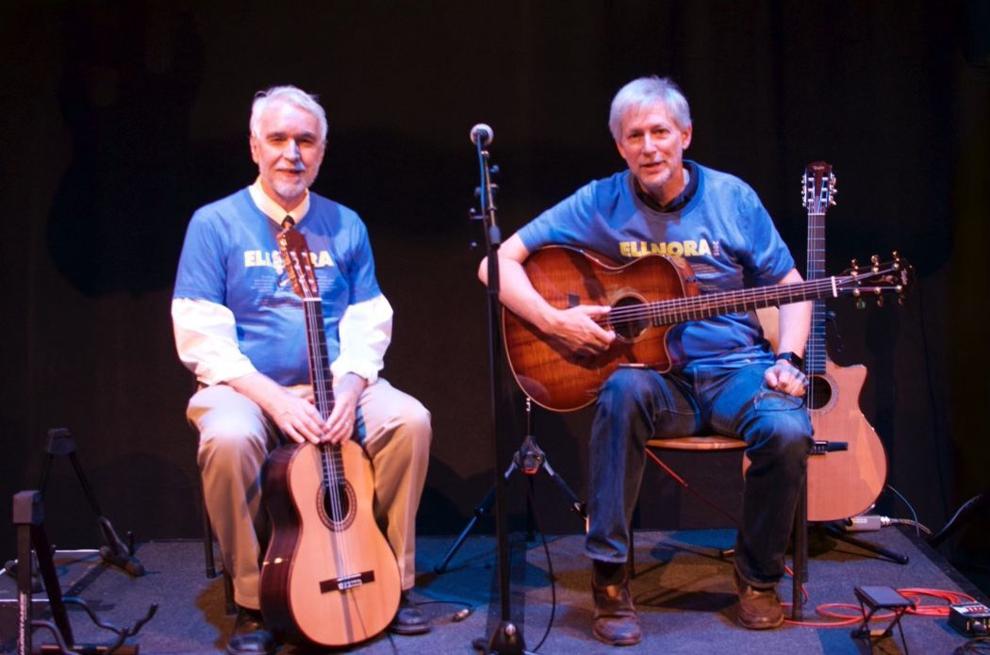 'The high-water mark of my entire musical career," Tim Killeen (left) says of 2015's Ellnora appearance alongside fellow guitarist and now-University of Wyoming President Ed Seidel.

Provided

University of Illinois President
"I started (playing) as a young teenager and really wanted to do rock and roll. So, I thought if I started learning classical guitar on my own, it should be easy to switch to popular music after I got the musical fundamentals down.
"Well, I never progressed to rock, nor the fundamentals for that matter, not having taken lessons. But I have plugged away for decades — more precisely, plucked away — with a Japanese-make classic guitar, 'Maya,' that I still have and is just beautiful: dark rosewood body and great sound. Cracked and scuffed but mine.
"I use it for the annual Christmas videos I make for the U of I system. I also used an open-string Andean Ronroco tuning and played it at my one and only Ellnora gig. I think that one of the pieces I played was something by Gustavo Barrios from 'The Motorcycles Diary' movie.
"I checked awhile back and the Japanese company does not exist any more. I know it must have been very cheap, but cannot remember what it cost — I believe it was probably second-hand. Seems like it has always been with me.
"Now I have two other classic guitars: a wonderful Ramirez studio guitar. It was not cheap. And I have an incredible new one from an artisan workshop in San Antonio where Señor Lucio Núnez takes the best part of a year to make classic guitars lovingly to personal order."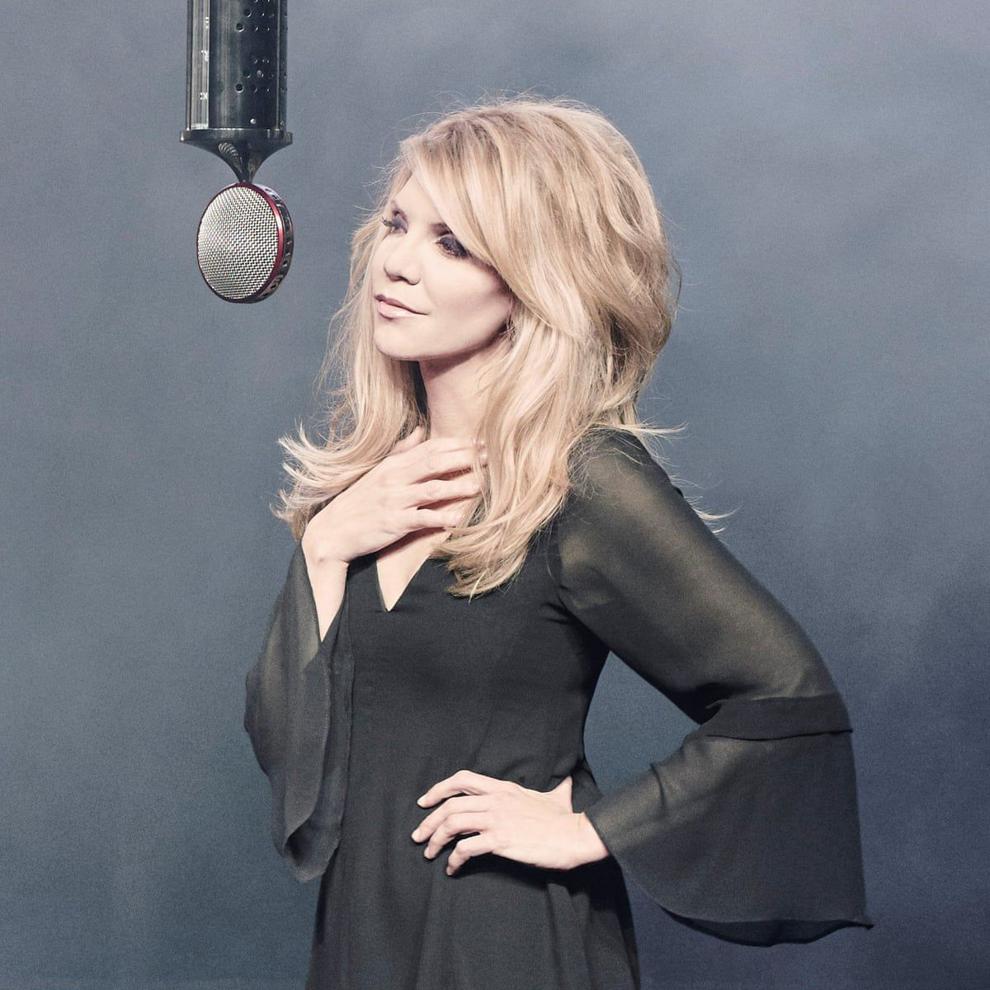 Alison Krauss

Provided

Raised a 27-time Grammy-winning fiddle player (Alison) and acclaimed bassist (Viktor) in Champaign
"First, being considered a guitar player is way too generous. In the '50s, my father, very out of character, decided to take a few lessons and bought an Epiphone guitar which I took interest in.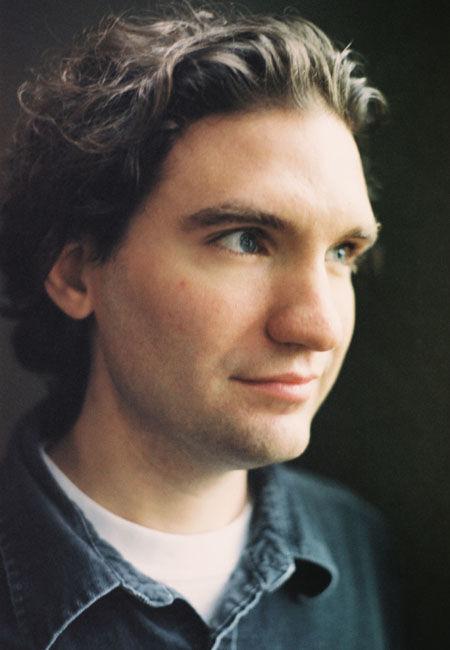 Viktor Krauss
"Later while I was in high school in the '60s, folk music became popular. At that time, I replaced his with a Goya classic purchased for $150 from a very small second-floor specialty music store in Chicago. I didn't play it much until my own family got active in fiddle contests years later.
"Eventually it was stolen, which coincided with everyone in our house having higher standards than I could ever have reached.
"Having many kinds of instruments in the house and opportunities in a college town to hear and play all kinds of music, did far more than my three-chord variations."
Holly Rushakoff
Urbana-based bassist, formerly of Triple Whip and Electric Bitters
"I bought my first and only bass guitar on October 19, 2002, at C.V. Lloyde's in downtown Champaign for $449.99. It's a lavender glitter Ibanez Soundgear SR-640, and I fell in love at first sight. I don't think I even tried any other guitar.
"I didn't play much during the pandemic — instead, I had to learn how to cook — but I've just re-established my music room, which had turned into my work-from-home office space, and intend to write again soon."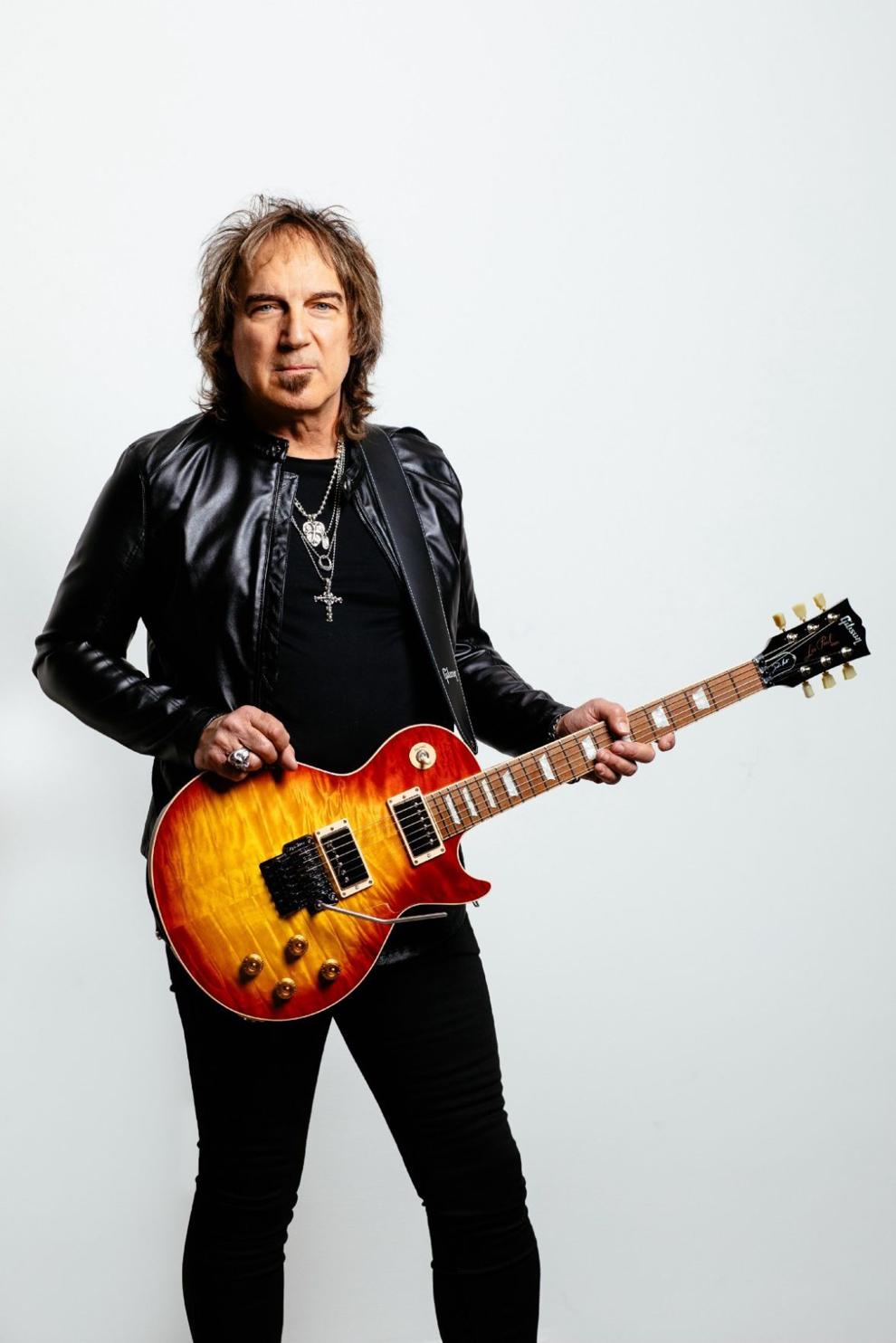 Dave Amato
Lead guitarist, REO Speedwagon
"My first guitar was a Harmony big body that my dad and mom got for me at age 8. I decided to put a pickup on it that would clamp on 'cuz I really wanted it to be an electric.
"After that, my dad got me a lime green Gretsch anniversary model electric from a guy at work for 60 bucks. I don't have those guitars anymore but a couple of years ago I bought a lime green Gretsch reissue in honor of my dad and mom, who started me on this guitar journey which I'm still on all these years later."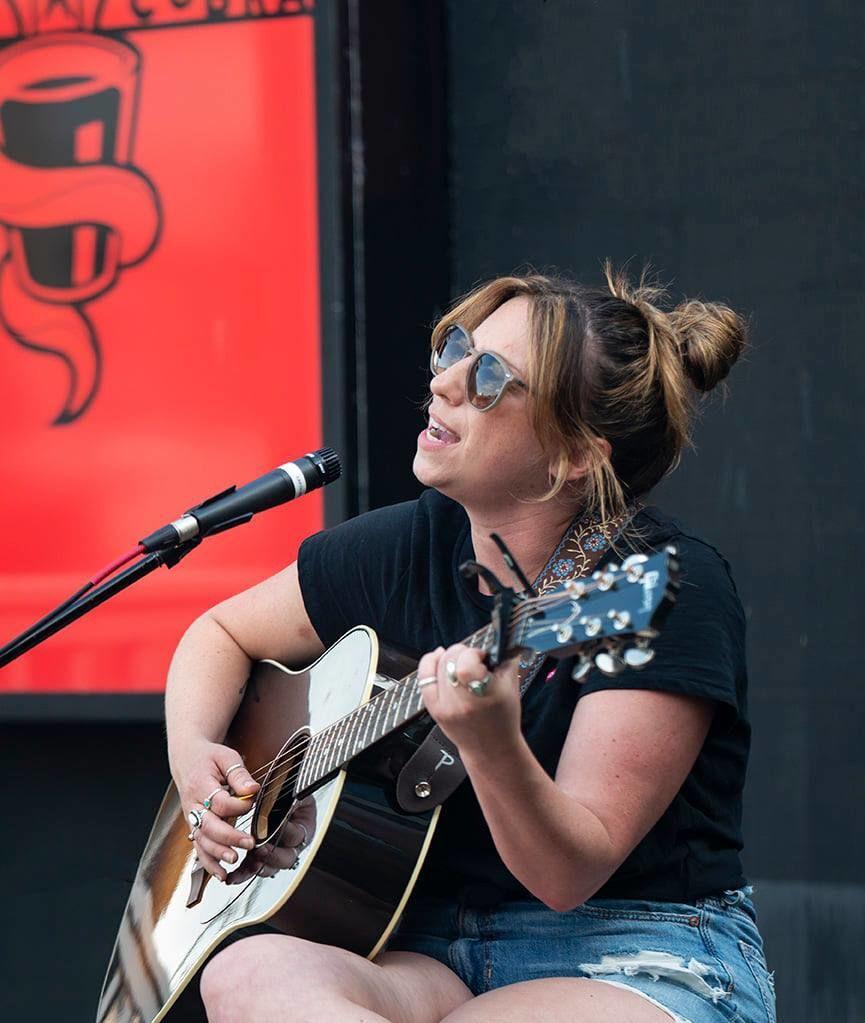 Carrie Chandler

Eric Frahm

One half of Champaign's The Bashful Youngens
"I grew up heavily involved with music via marching percussion and singing in chorus. I focused so much of my instrumental capabilities on marching percussion, as I was supposed to go on to college to play, but unfortunately hurt my back badly going into my senior year of high school, which jeopardized my opportunity to pursue marching band in college.
"I was a bit bitter about this and finally asked for a guitar for my birthday to challenge myself with another musical outlet that would allow me to write music and accompany myself.
"It was a black Ibanez V70CE. It cost, like, $200 and was an absolutely cheap, not great-sounding model. But it got the job done."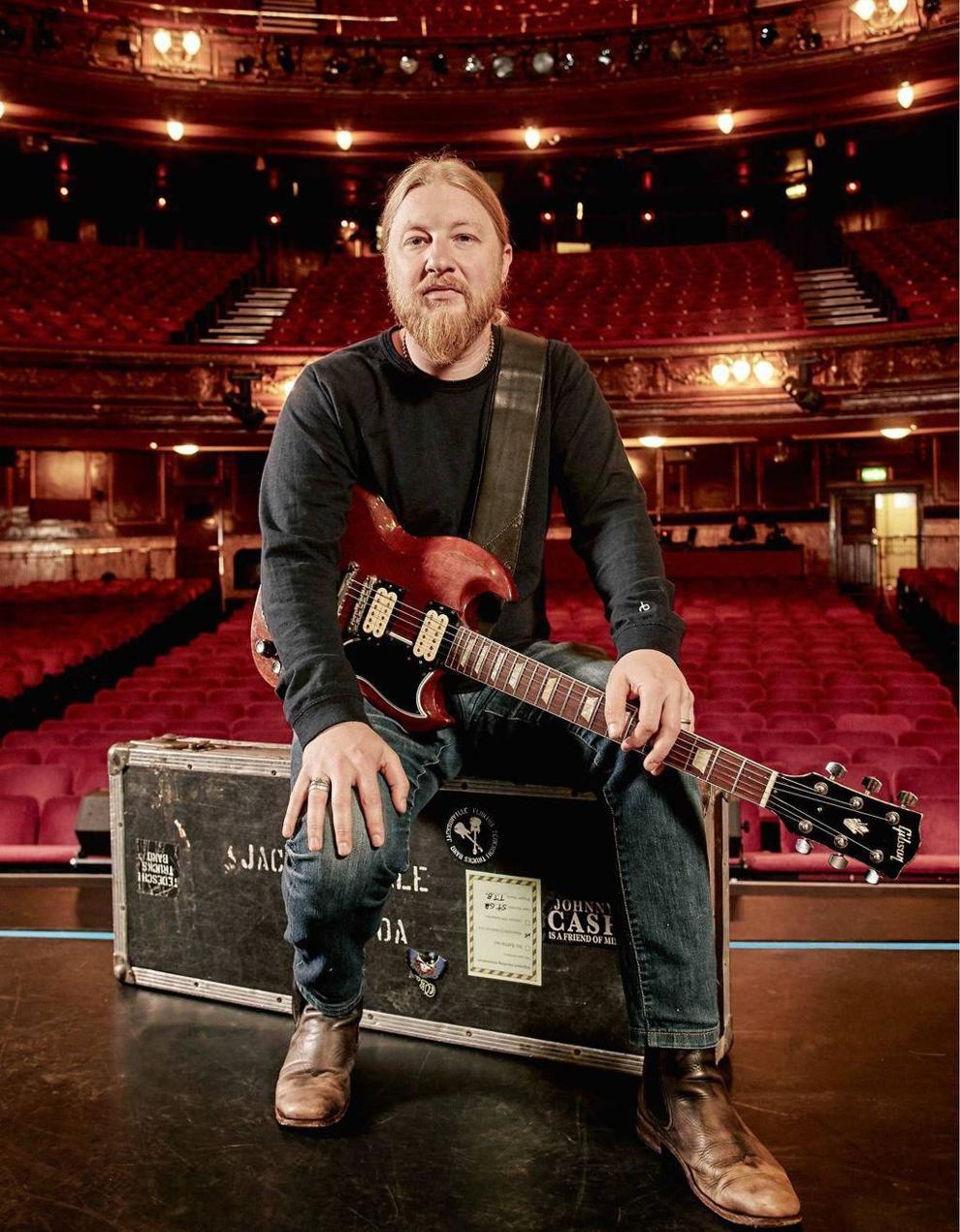 Derek Trucks
No. 16 on Rolling Stone's 100 Greatest Guitarists of All-Time list, ahead of Prince, Bo Diddley and Carlos Santana
"My very first guitar was a Kay knock-off acoustic, and it was called a Jay. I got that one in a garage sale back when I was 8 for about $5.
"It's not a good guitar, but it got me started. I still have it and it's almost playable.
"My parents then got me a pawn-shop Yamaha acoustic, which was definitely better than that garage-sale Jay. Jim Graves came over and taught me what the strings were, what the notes were and just how to play cowboy chords.
"But the first guitar I was really excited about was the SG, which I got when I was 11 or 12."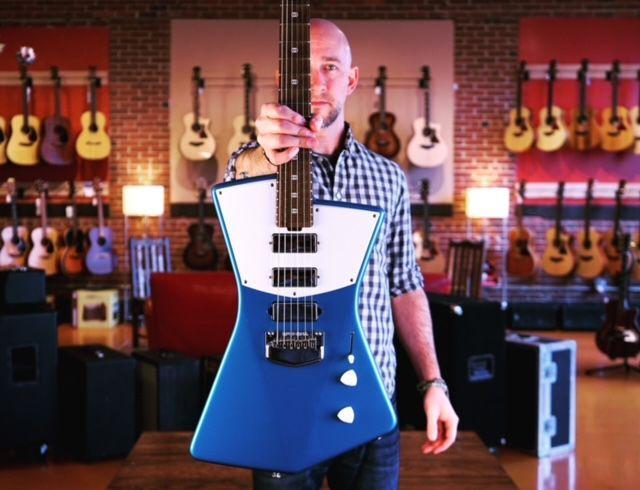 Ricky Bright

Provided

Owner, The Upper Bout of Champaign
"My father bought a guitar for me for Christmas when I was 11. I remember specifically that it hurt my fingers and did not play well. I thought to myself: 'Why would anyone do this?'
"My dad had plucked it from the discount shelf at a Sears in Terre Haute.
"It was a Lyon made by Washburn Guitars, and I simply called it 'my lion.' It was bright red and cool.
"It's the foundation of my passion for guitar."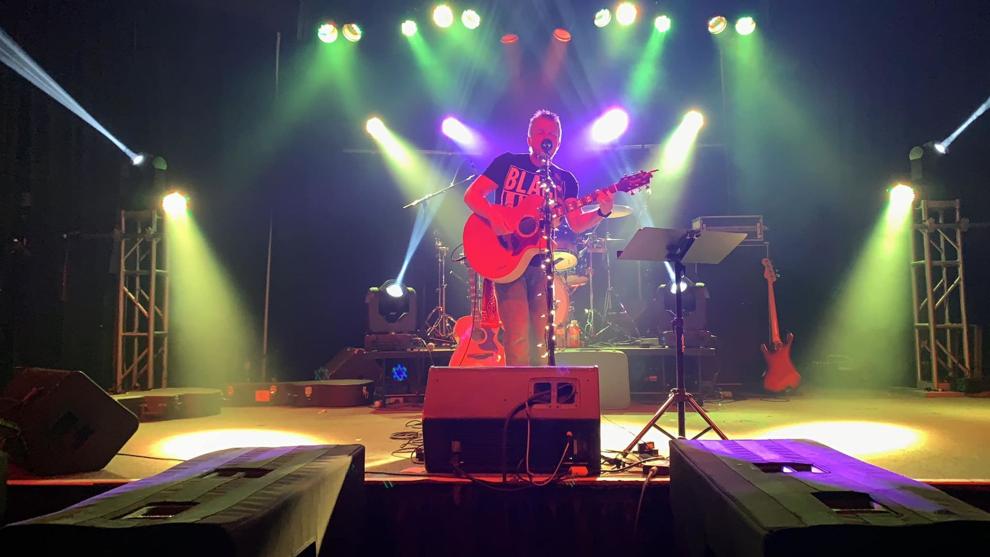 Mike Ingram

Provided

Champaign County recorder of deeds, longtime local musician/promoter
"I learned how to play the guitar on an old nylon-string classical guitar that had belonged to my Uncle Bob in the '70s and '80s. I was 18, and tired of being a drummer.
"It was a nightmare, with crazy-high action; but learning on a guitar like that was like taking practice swings with a weight on the bat. Once I had a little money saved, I took myself to Corson Music's downtown Urbana location and bought myself an Austin acoustic guitar.
"It was relatively cheap, but to me it was the fanciest thing in the world. It had a pickup. I could go to open mics and plug it in. It also was easier to string, to play and wear while standing.
"It accompanied me to my first real shows, and it's what I played when recording a little bedroom EP of originals for the first time.
"When I turned 'professional' musician — aka stopped everything else in pursuit of stardom — I went back to Corson and bought a very nice, very expensive Takemine Santa Fe with turquoise inlays.
"It was gorgeous, and I still have it today. In fact, it was seen hanging on my wall behind me in every pandemic Zoom meeting I attended.
"Unfortunately, to fund the purchase of the pretty guitar, I sold the Austin guitar — the first guitar I owned — to a friend who lives in Memphis.
"But he still has it and knows that I want to buy it back if he ever decides to unload it."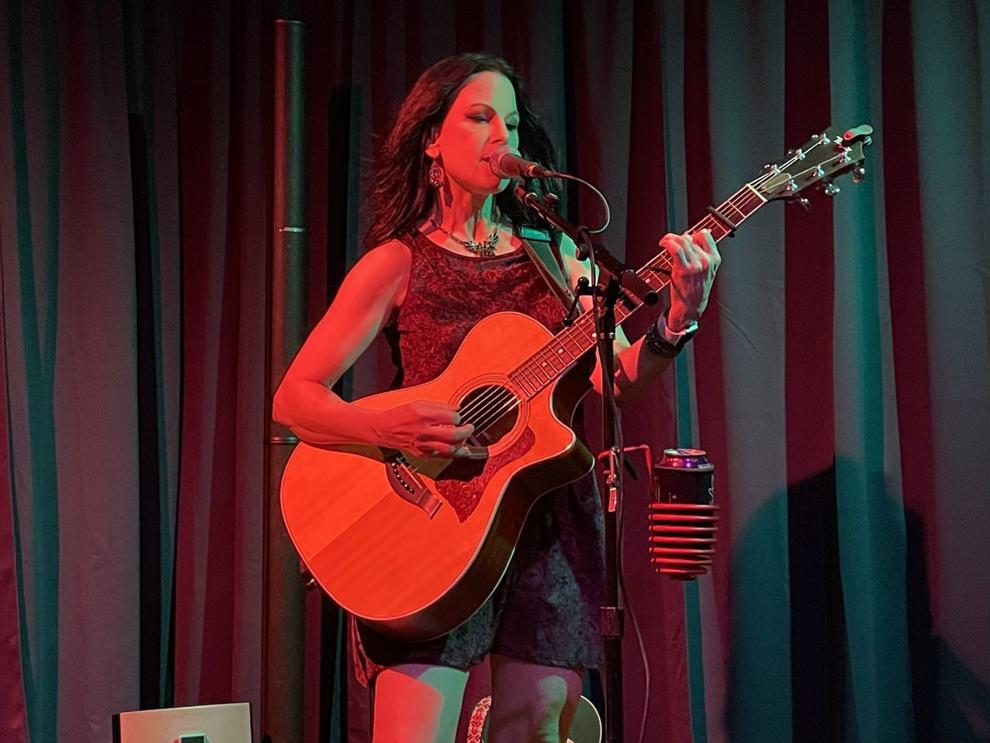 Gloria Roubal

Provided

Local singer, guitarist, songwriter and performing/recording artist
"I got my first guitar when I was 12. I'd been taking piano lessons since I was 6 and wanted to switch to guitar. My parents had been given an old small scale guitar that was just sitting around, and they somehow traded it to someone for an amazing Gibson acoustic that was fairly small-bodied.
"I loved it. I took some lessons at Skip's, the guitar shop kind of where the Canopy Club is now, from Dave Onderdonk, but mainly I am self-taught.
"Over the years, I've had some lessons with great teachers around here — Andy Lund, Matt Stewart and the best teacher for me, my husband Peter Roubal, and each has really helped me with different aspects of playing.
"But back then as a young teen, I figured out a lot of songs on that Gibson — I still have a cassette recording of a friend and I singing Cat Stevens' 'Moonshadow' as I accompanied on guitar. We were 13, and it's so funny to listen to. Within a few years, I got into the rock bands of the time — Aerosmith, Bad Co, Steve Miller, etc., and then a little heavier with UFO, Judas Priest, Scorpions, AC/DC, and so on.
"It was a phase — my musical taste has and always will be very varied and eclectic. I worked hard on those electric guitar-driven songs on my little acoustic and remember learning the solo, played entirely awkwardly but with the right notes, on 'Sweet Little Sister' by Bad Co, and I remember learning and practicing 'Rock Bottom' and other stuff like that.
"Guitarists I met couldn't believe I had that old Gibson as it was apparently a really nice one. The super sad thing is that in my late teens I traded it in at Skip's for a crappy electric. Some guitarist in town snapped it up and probably still has it.
"All of that is to say that I eventually went back to playing only acoustic guitars and have two Taylors and a Martin, and I love them all. Currently, I'm playing only solo shows, so it's just me and my guitars and voice.
"Having that great Gibson as a first guitar was no doubt a big factor in my love of nice acoustic guitars. I've written all of my songs on acoustic guitars, and still love to learn and perform covers as well. Nothing like Scorps or Cat Stevens these days, but just tonight was working on songs by Rufus Wainwright, John Mayer and Amy Winehouse — all new songs/artists for my catalog.
"I still love the smell when I open the case — I just put new strings on one of my Taylors and I got lost for a little while in the enjoyment of just playing. Didn't even work on singing tonight."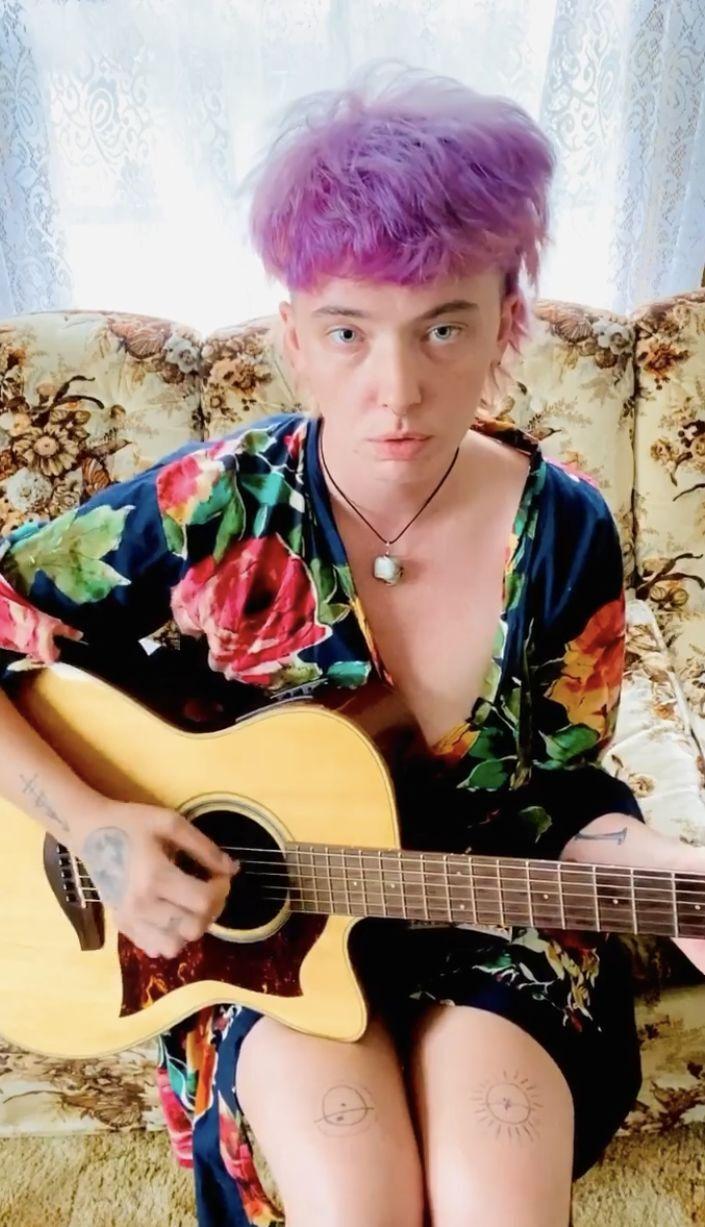 Kenna Mae Reiss
aka Sweetmelk, who's been booked for Saturday's opening night community event at the Virginia Theatre
"The first guitar I ever bought for myself was a Boulder Creek Acoustic, for 150 bucks from my band mate at the time and Rose Bowl celebrity, Phil Alley, when he was making the move from Urbana to Asheville.
"It's my 'gas money guitar.' I've always been more about the story of an instrument than the specs, and in some ways the guitar was already a familiar friend as it had accompanied me many times before at hootenannies and gigs with the band Wagon Fire.
"After almost 10 years, a few tours, a couple records, a handful of bands and some glue, we're still writing together but these days I preform as Sweetmelk and play a Fender Telecaster."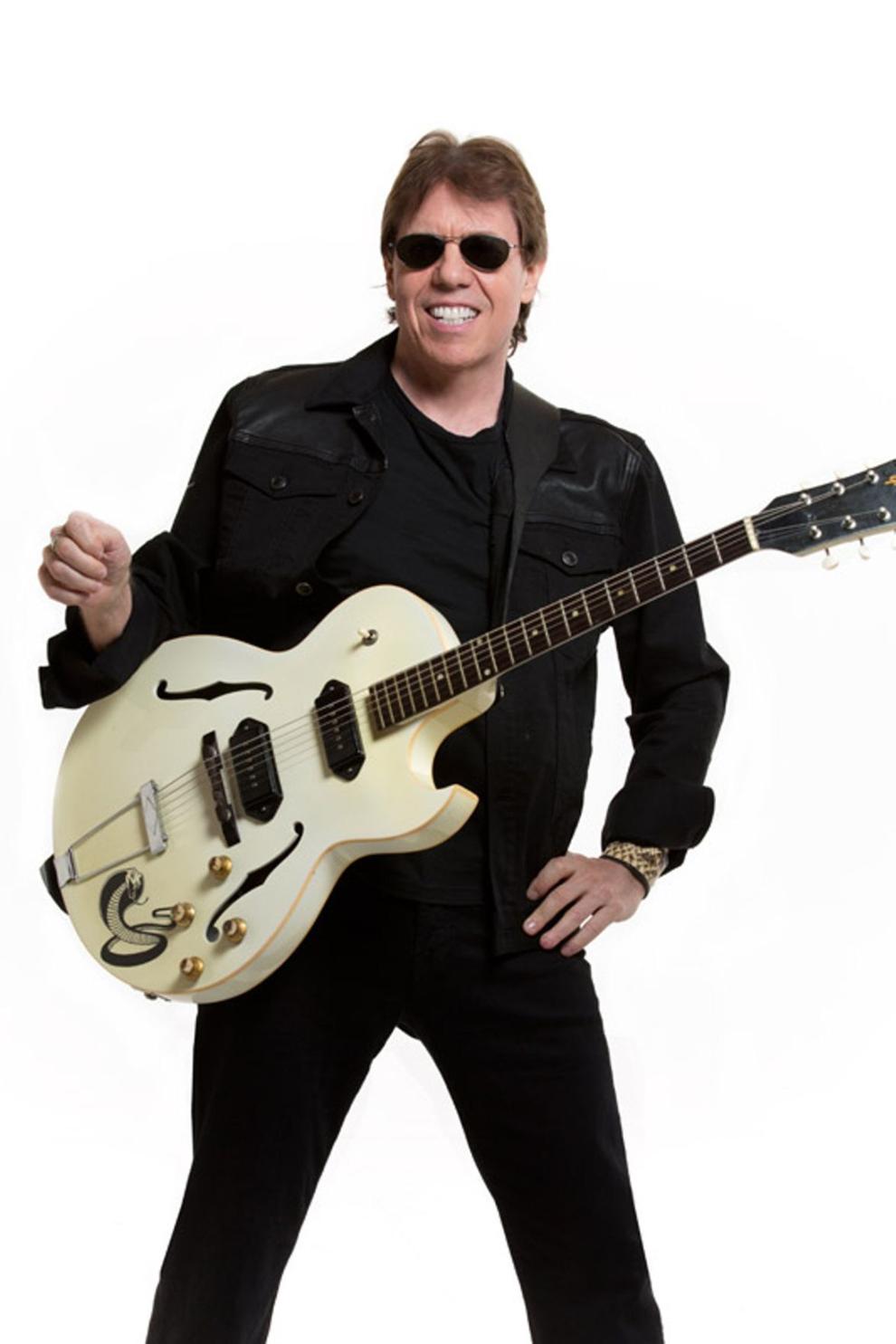 George Thorogood

Provided

Delaware Destroyers front man rocked Virginia Theatre five months before pandemic hit
"I got my first guitar as a gift from my parents at Christmas in 1965. Not sure how much it cost. It was a Segovia Acoustic.
"I had it for about a month, then traded it for a Framus Bass."