Ad Blocker Detected
Our website is made possible by displaying online advertisements to our visitors. Please consider supporting us by disabling your ad blocker.
What is a furry?
Christopher Polt, a Boston College professor invited "furries" and assigned students to create their own "fursonas" for his class on "Beast Literature."
A tenured professor from Boston College assigned students to make their own "fursonas" and invited furries as visitors to his "Beast Literature" class last week, according to tweets and a course wesbsite.
Christopher Polt, an associate professor specializing in Latin literature, tweeted photos on Feb. 23 of a classroom with furries — people who dress as animals and take on fictional personas.
Christopher Polt, a tenured Boston College professor invited "furries" to his "Beast Literature" class on Feb. 23. (Twitter)
"This is the most amazing class I've ever had," he tweeted with a photo of the furries sitting at desks in a classroom.
WHAT IS A FURRY?
WATCH MORE FOX NEWS DIGITAL ORIGINALS HERE
He also tweeted a photo of a cake that with the words "sorry for making you furries."
"Since my students all made their own fursonas, I brought them the traditional cake," the tweet read.
I'M A COLLEGE PROFESSOR CHEERING ON THIS GREAT AMERICAN PUSHBACK AGAINST WOKE EDUCATION
According to the Boston College's website, Polt earned his PhD from the University of North Carolina at Chapel Hill and has taught courses on ancient and modern comedy, nature and the environment in the ancient world, various language courses and more.
On Feb. 28, Polt tweeted a screenshot of anonymous posts.
"Why is BC funding a furry?" one poster asked.
In another tweet the same day, Polt said that "students thinking I'm a weirdo is nothing new — that's been my brand since preschool, and I don't especially care."
"The gap between how wholesome and positive my furry class days actually were and how degenerate and meaningless outsiders imagine they were is breathtakingly funny and sad," Polt said in another tweet.
The Boston College classical studies department announced Polt's beast literature class in October as one of its new advanced classical culture seminars.
One Twitter user asked Polt if he was going to "find a way to include fandom furry content" in his course.
Polt responded that the class would have "fuzzy guest visitors" and that his students "will be making their own fursonas."
According to the syllabus on the class's official website, students are assigned to examine "beast literature," or discussing animal characters in "ancient Greece and Rome, Medieval Europe and the contemporary world."
COLLEGE STUDENTS URGE OTHERS TO TAKE PRIDE IN FAITH, DITCH SOCIAL MEDIA FOR GOD: 'COOL TO BE A CHRISTIAN'
"From Mother Goose's fairy tales to Disney films and furries, we imagine non-human animals often speaking as humans do," the syllabus says. "But what are we saying when we use animals to talk with and about one another? And what does art and literature featuring articulate animals say about our attitudes towards both human and non-human animals and the lines we draw between them?"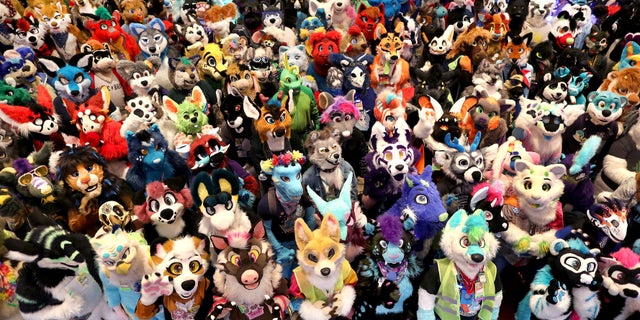 Close to 500 people dressed in animal costumes crowded filled the Grand Ballroom of the Park Plaza Hotel on Feb. 19, 2022. (John Tlumacki/The Boston Globe via Getty Images)
'Intro to Furries'
The beast literature class's syllabus issues a content warning for materials that "students may find sensitive, uncomfortable, and disturbing (e.g., graphic physical and sexual violence; gender, sex, and sexuality; religious matters; etc)."
According to the course website, students are assigned to journal each week about their experiences with "non-human animals."
"[E]ach week you will choose some aspect of your relationships or experiences with non-human animals, broadly construed, and write a short journal entry on how our discussions or assignments for that week make you (re)think that relationship or experience, or else how that relationship or experience actively shapes how you're engaging with that week's course material," the website reads.
The class schedule lists names for each week's lesson, including "Sexy Beasts," "Dog Saints and Lambs of God," "The Golden A** 3, Gender and Control."
GUTFELD: WILL LGBTQIA+ INCLUDE AN 'F' NOW FOR FURRY?
On a week titled "Furry Culture" in the class schedule, one class session is titled "Intro To Furries." The furries attended the following lesson, "Animal Selves."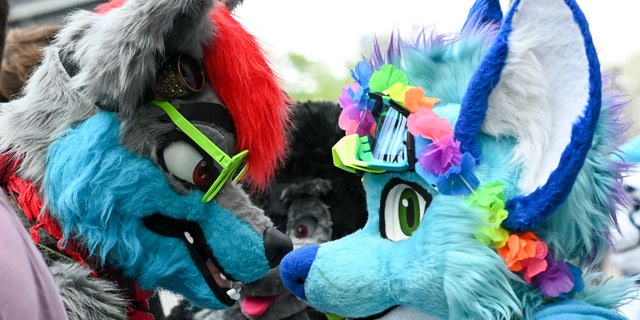 Christopher Polt asked people dressed as "furries" to attend his Feb. 23 class at Boston College. (Jens Kalaene/picture alliance via Getty Images)
The assignments for the intro to furries class include watching the documentary, "The Fandom." One of the discussion questions listed for after the viewing asks students to discuss "furry spaces," which the documentary depicts as "more supportive and inclusive environments than those found in non-furry life, and as a sort of Utopia."
The assignment listed on the website for the Feb. 23 class instructs students to create their own "fursonas." It asks students to consider aspects they want their personalities as a furry to include, such as its personality traits, biography and a new name.
The assignment tells students to pick a species, "whether 'real' (e.g., fox), 'fictional' (e.g., gryphon, dragon), or a hybrid of multiple species (e.g., folf = fox-wolf) for your fursona to be." The assignment then asks students what their fursona looks like.
"Please come to class with a ref sheet (either on paper or digital) that includes your fursona name and at least one front-facing full body design with colors," Polt wrote. "I'll ask you all to share and discuss your fursonas with the class."
One of the questions for a follow-up to the assignment asks students to imagine living as their fursona for a month, "assuming everyone you interacted with thought it was perfectly normal."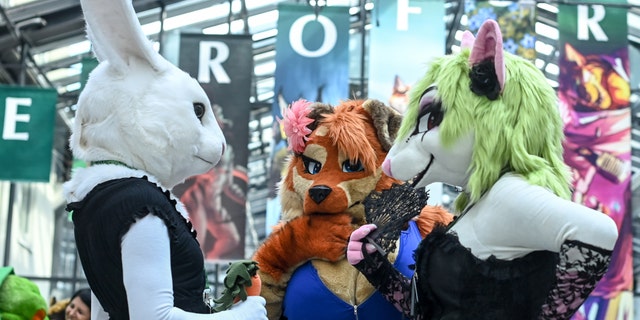 In recent years the furry fandom have been pushing to be included under LGBTQ+. (Photo by Jens Kalaene/picture alliance via Getty Images)
NYT FLAMED FOR STUDENT OP-ED ARGUING PROGRESSIVE UNIVERSITIES 'ALIENATE' CONSERVATIVES: 'SCIENCE FICTION'
The website includes the biographies for the "furries" that planned to visit the class including "Chipper Wolf" who, according to the website, is a post docorate at University of California, Berkeley, and earned a PhD in English and studies of women, gender and sexuality from Harvard University in 2021, "making him the smartest dumb dog who ever dreamed of not being tethered to one form."
"Gale Frostbane" from Boston and "Geist, also known as NONSTOPPUP," were also planned guests.
On the website, Polt claims that students will receive an "A" if they show up to most classes, are prepared, participate, and submit "good-faith and thoughtful efforts for all the course activities." If not, Polt says students will receive an "F."
Alpaca fursona
Polt himself has an alpaca fursona that he claims he chose because he believes they share traits that he views are the "best or most essential parts" of himself including friendliness, curiousness, gentleness, socialness, and shyness, his tweets show.
"I first met alpacas about 10 years ago and instantly felt a connection," he added.
According to one of his tweets, Polt had his students play a game of "hot alpaca" in October.
"I regret to report that my students did not respond as enthusiastically as I had hoped to our game of 'hot alpaca' (hot potato, but…with an alpaca)," he tweeted with a photo of the stuffed animal. "They did, however, learn the words 'cush' and 'pronk' and get a brief overview of alpaca dental care."
In a follow-up tweet, he joked about an interaction with a student regarding his fursona.
The day before the Feb. 23 class, Polt tweeted about people's perceptions of his teaching style.
"I genuinely feel sorry for people who complain when they see others finding joy in their work," he said. "Like, I'm sorry you're a miserable, incurious killjoy, but that's not going to make me change what or how I teach."
"Don't like it? Go spend 10+ years earning a PhD, publish your a** off, jump through the hoops to get tenure at an R1, and develop your own boring courses," he continued.
In a January tweet, Polt joked that if one of his students have a nickname that is "some animal thing, you're legally obligated to tell me so that I can say that's f****** rad."
CLICK HERE TO GET THE FOX NEWS APP
In another tweet, Polt expressed his love for his job.
"Have I ever mentioned how much I love that my actual, factual job involves getting students to read the manga, watch the anime, and discuss talking foxes (and other animals) for 16 weeks? Because yeah, that's foxin' awesome," he wrote.
Neither Boston College nor Polt responded to Fox News' request for comment.
Polt posted on Twitter that Fox News reached out with "ridiculous questions" regarding his class.
"Thank goodness it's almost Spring Break," he added.
To learn more about furries on campus, click here.