Ad Blocker Detected
Our website is made possible by displaying online advertisements to our visitors. Please consider supporting us by disabling your ad blocker.
Jan 13, 2023
ORCHARD PARK, N.Y. — Buffalo Bills general manager Brandon Beane was coming off three straight days spent at the hospital with Damar Hamlin as the safety continued his recovery.
At the end of an emotional week for Beane, he sat down with the media via Zoom.
The Bills had reached half of the goals they set out for themselves before the season: make the playoffs, win the division, get home-field advantage and win the Super Bowl. But a new priority arose that trumped those: the health of Hamlin after he suffered cardiac arrest during the first quarter of the "Monday Night Football" game in Week 17.
When Beane was asked about the adversity his team had experienced, his feelings were hard to fight back.
"I probably get emotional if I talk too much about it, but I'm so proud of our organization, our team, just so many people the way we've dealt with so much this year. Definitely not the way you draw it up," Beane said. "I don't know what's going to happen the rest of season on the field, I really don't. This is a group of winners, and I will forever remember this team, this season, the moments of it. I'm still hopefully optimistic that we can make a run. But I don't know if there's ever a team I'll be more proud of than this."
The Bills have faced all sorts of obstacles along the way, ranging from the very serious — including Hamlin's injury and a deadly historic blizzard in western New York — to a season-ending ACL injury for star linebacker Von Miller.
Despite those, they Bills notched 13 wins for the fourth time (2020, 1991 and 1990) in team history, won the AFC East for the third season in a row and earned the No. 2 seed in the playoffs — all while not having yet played a complete game.
Buffalo is getting healthy at the right time, too — starting safety Micah Hyde could be returning soon from a neck injury that has forced him to miss most of the season — which leads to the question: As the Bills enter the postseason for the fourth time in coach Sean McDermott's five seasons leading the team, could this be the year they break through and reach the Super Bowl for the first time since the 1993 postseason?
The Bills have made it to the postseason in four out of Sean McDermott's five seasons as coach. AP Photo/Jeffrey T. Barnes
The team still has plenty of question marks that need to be sorted out, but some things are working in the Bills' favor.
While the No. 1 seed fell out of reach after playing just 16 games (their game against the Cincinnati Bengals was canceled following Hamlin's life-threatening injury), Buffalo no longer has to worry about going to another team's stadium if they get to the AFC Championship Game. If the Chiefs and Bills both make it, the game will be played at a neutral site — Mercedes-Benz Stadium in Atlanta — and in any other scenario with the Bills in that game, they are hosting.
The Bills can boast having one of the NFL's most well-rounded teams. The offense ranks No. 2 in points per game (28.44), efficiency (67.92) and QBR (71.0). The defense ranks No. 2 in points allowed per game (17.88) and is tied for fourth in takeaways (27). They also led the league in special teams EPA (39.78).
The team has been in five playoff games over the past two postseasons, so nothing at this point is new to it.
"It might be a little bit more attention to detail, but again, this is the standard that we set for ourself and Coach McDermott sets for ourself with 'playoff caliber,' and now that we're here it's 'championship caliber,'" quarterback Josh Allen said. "There is always going to be that little 'up' in effort or attention to detail. … We're playing for each other; we love each other, and we know we've got a job to do."
The Bills have already beaten three of the other six AFC playoff teams, although they split the season series with their opponent Sunday, the Miami Dolphins (1 p.m. ET, CBS). That experience should help the Bills in their preparation.
"We just have history," left tackle Dion Dawkins said. "It's just the history that comes with it. And sorry to keep that answer so simple, but it's just the history, like, if you go on a date with somebody three times, you should know that she or he, whoever you're with, likes a lemon drop or a Shirley Temple."
Along with Hyde, the Bills could get back wide receiver Jamison Crowder. Both had their 21-day practice windows open Wednesday while remaining on injured reserve after each spent months recovering from injury.
2022 NFL playoffs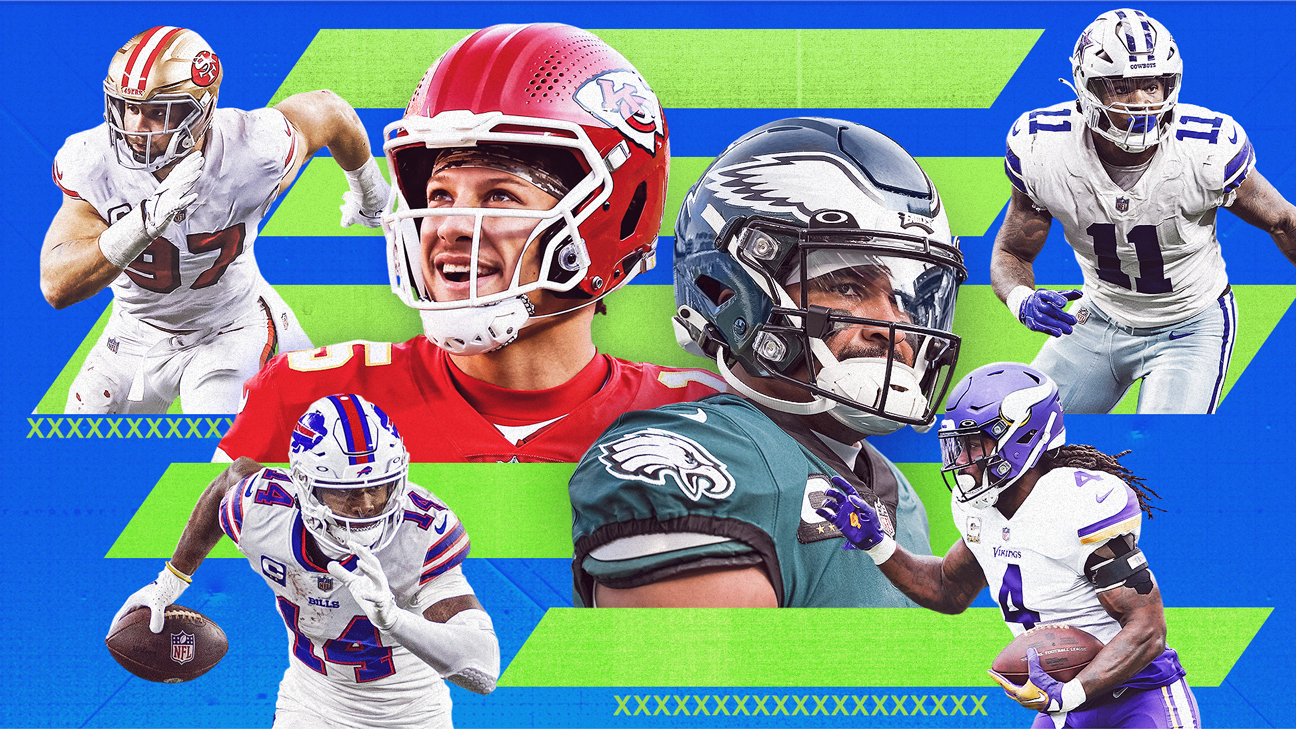 • Wild-card guide » | Matchup keys »
• First look at all 14 NFL playoff teams »
• Barnwell's bracket predictions »
• Playoff QB ranks » | Offseason guide »
Full playoff bracket and schedule »
Crowder and Hyde will not play against the Dolphins, but their eventual return should give the Bills a boost. Hyde would presumably return to the starting lineup — a position Hamlin filled with Hyde out — and team up again with Jordan Poyer. Hyde and Poyer have started 79 games together — by far the most of any safety pair over the past six seasons, according to the Elias Sports Bureau.
Hyde said the decision on his return from a neck injury is in his doctor's hands. He originally thought following surgery he would not return until next season.
"It's given me a different perspective on this game," Hyde said. "I'm grateful. I'm very, very grateful to be in the position I am now and to see my teammates throughout this whole season, all the things that we have been through, you name it — the weather, the injuries, D-Ham's situation — just seeing my boys, my teammates go out there and continue to fight. … I have to make it, I have to give it a go."
Adding Crowder to the wide receiver corps would also benefit an offense that has struggled with drops this season — finishing the regular season with a league-leading 34 — and needs more consistency at the slot position. Crowder's absence was part of the reason the team brought back wide receiver Cole Beasley to the practice squad and this week to the active roster. Crowder's return would create a surplus of receivers in the playoffs, which would be a good problem for the Bills to have.
The Bills' outside cornerbacks have been a concern. They'll be challenged against the likes of wide receivers Jaylen Waddle and Tyreek Hill when they face the Dolphins.
While cornerback Tre'Davious White is back on the field, he is still working his way back from the torn left ACL he suffered on Thanksgiving in 2021. He is coming off his best game of the season against the Patriots last week, per McDermott, including his first interception in over a year, but teams have been testing him at a high level with a 20.4% target rate, highest among Bills outside corners who have played significant snaps.
"The confidence that I and we have and Tre has never waned at all," McDermott said. "I mean, there's a process that you go through when you come back off of an injury like that. And he looks to be really rounding [into] form as we get through towards the back half of the season."
The other lingering issue is who starts opposite White. Lately it has been a rotation of 2020 seventh-round pick Dane Jackson and 2022 first-round pick Kaiir Elam, but Christian Benford, a sixth-round pick this season, has the potential to also be back in the mix after spending time on injured reserve. He was inactive last week. McDermott has said it would be ideal to have a set No. 2 corner, but whoever gets the call needs to step up.
Elam, who's back in the rotation after playing sparingly from Weeks 10 to 14 because of an ankle injury suffered in Week 9 and then was a healthy scratch against the Patriots in Week 13, is earning back his spot in the rotation partially due to freeing himself some mentally.
"Not trying to be perfect has definitely made me just play a lot faster, allowed me to trust my keys and just play," Elam said. "I wouldn't say pressure, just putting too much like expectation on myself, like I just, now I'm just playing."
Deep passes specifically have been a problem for the Bills defense, which allowed a 41.8% completion rate on passes of 20 or more air yards (24th) and six touchdowns on such throws (tied for 21st). Hyde's potential return could help there.
Another problem the Bills have struggled with is turnovers. Buffalo finished the season ranked 30th in turnovers (26) with six of those committed by Allen in the red zone, the most by any player since DeShone Kizer in 2017 (eight). Protecting the ball within the opponent's 20-yard line has been an issue for Allen in a way it was not earlier in his career. The quarterback threw five red zone interceptions in the regular season, the most in the NFL, including one against the New England Patriots in Week 18.
In the first four years of Allen's career, including playoffs, he threw only two interceptions on 311 red zone attempts.
"Decision-making, I think, is No. 1," Allen said earlier this season on reducing the turnovers. "Trusting the game plan, trusting the guys around me and not trying to do too much, and getting back to playing smarter football."
Last postseason, Allen went on a perfect run, throwing nine touchdowns to zero interceptions. Limiting the mistakes will go a long way toward getting past tougher opponents.
"You find a balance between knowing what works, what got you to where you are, but also understanding that mistakes might be heightened," center Mitch Morse said of the postseason. "The stakes are very high, the highest in the sport, but not letting that make you too rigid. Still having your personality, still having the fluidity of a conversation or practice and not being uptight because that's when you play outside of yourself."