Ad Blocker Detected
Our website is made possible by displaying online advertisements to our visitors. Please consider supporting us by disabling your ad blocker.
As the sports world held out hope for the recovery of Buffalo Bills safety Damar Hamlin, a video of him talking about his teammate and friend Dane Jackson who suffered a scary neck injury earlier in the season.
Hamlin appeared on "One Bills Live" a few weeks ago and talked about Jackson's injury. The video was shared by Bills legend Andre Reed among other NFL fans across social media.
CLICK HERE FOR MORE SPORTS COVERAGE ON FOXNEWS.COM
The Buffalo Bills gather as an ambulance parks on the field while CPR is administered to Buffalo Bills safety Damar Hamlin, #3, after a play in the first quarter of the NFL Week 17 game between the Cincinnati Bengals and the Buffalo Bills at Paycor Stadium in Cincinnati Jan 2, 2023. The game was suspended with suspended in the first quarter after Hamlin was taken away in an ambulance following a play.
(Sam Greene-USA TODAY Sports)
"I can't even describe it, but I cherish it every second that I can," Hamlin says in the clip. "Every second of every day. We just had our prayer, our DB prayer we do every Wednesday. He was next to me and I just grabbed his hand a little bit harder just because you know you never know when your last day could be that you get to experience something like this. I'm cherishing every moment that I can."
Hamlin and Jackson were teammates at Pittsburgh before both players turned pro. Jackson joined the Bills first in 2020 and Hamlin followed in 2021. Jackson suffered a neck injury in a game in September that caused him to get taken off the field in an ambulance.
DAMAR HAMLIN'S CHARITY RECEIVES MILLIONS IN DONATIONS AFTER HE COLLAPSES ON FIELD
Reed was among those who offered their condolences to Hamlin after he collapsed on the field.
"Rare but at a loss for words," Reed wrote on Instagram. "Fans banding together in solidarity for #DamarHamlin , #StephonDiggs – a real one —going to the hospital , people donating to Damar's toy drive …. this restores my faith in humanity. LET'S we be more like this in 2023. Remember what really matters in this lifetime."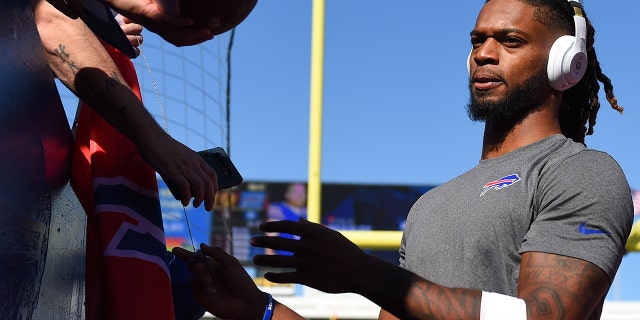 Buffalo Bills safety Damar Hamlin, #3, signs autographs prior to the game against the Washington Football Team at Highmark Stadium Sept. 26, 2021 in Orchard Park, New York.
(Rich Barnes-USA TODAY Sports)
The Bills said Hamlin suffered a cardiac arrest following a hit on Cincinnati Bengals wide receiver Tee Higgins. He got back up after the tackle but fell back down to the ground.
The Bills said Hamlin's "heartbeat was restored on the field and he was transferred to the UC Medical Center for further testing and treatment."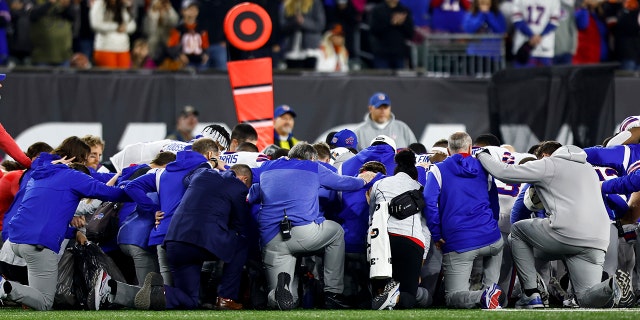 Buffalo Bills players and staff kneel together in solidarity after Damar Hamlin, #3, suffered a cardiac arrest during the first quarter of an NFL football game against the Cincinnati Bengals at Paycor Stadium on Jan. 2, 2023 in Cincinnati.
(Kevin Sabitus/Getty Images)
CLICK HERE TO GET THE FOX NEWS APP
"He is currently sedated and listed in critical condition," the team said.
The game between the Bills and Bengals were postponed.
Ryan Gaydos is the sports editor for Fox News Digital.