Ad Blocker Detected
Our website is made possible by displaying online advertisements to our visitors. Please consider supporting us by disabling your ad blocker.
The further we advance into the week, the higher the stakes get in the world of men's college basketball, as the major conference tournaments — including the Big East, Big Ten, Big 12 and Pac-12 — kick into high gear Friday.
The day began with an intense matchup between Big Ten regular-season champion Purdue and Rutgers, which saw the Scarlet Knights come up just short in a game that went down to the wire in Chicago.
Big East champ Marquette and defending national champion Kansas are currently playing, while Pac-12 regular-season champion UCLA will be in action later in the day.
We've got you covered with all the action from start to finish from around the league.
Here are the top moments!
UConn vs. Marquette (Big East)
Hot start!
Marquette came out of the gate swinging, setting the tone with a monster dunk on the first play of the game.
Big buckets
UConn didn't waste any time making a statement of its own, sinking a 3-pointer for its first points in Friday's tilt.
Penn State vs. Northwestern (Big Ten)
Style points
Northwestern took a 4-0 lead to start things off, but Penn State had a few tricks up its sleeve as well. Exhibit A:
Stay tuned for updates!
Ohio State 68, Michigan State 58 (Big Ten)
Hot start
Ohio State was first to strike in this one, but Michigan State's Tyson Walker sparked a run for the Spartans early.
Then, the Buckeyes heated up as the first half got underway, connecting on one shot after another to build a small lead.
Throw it down big man!
Ohio State big man Felix Okpara threw down a two-handed flush to give the Buckeyes a 24-17 lead over the Spartans.
The Buckeyes took a 33-24 lead into halftime.
Ohio State's Felix Okpara throws down a dunk
No quit
The Spartans went on a run early in the second half after a much-needed spark from Mady Sissoko, who came up with a massive block to swing the momentum Michigan State's way.
Michigan State's Mady Sissoko records a filthy block against Ohio State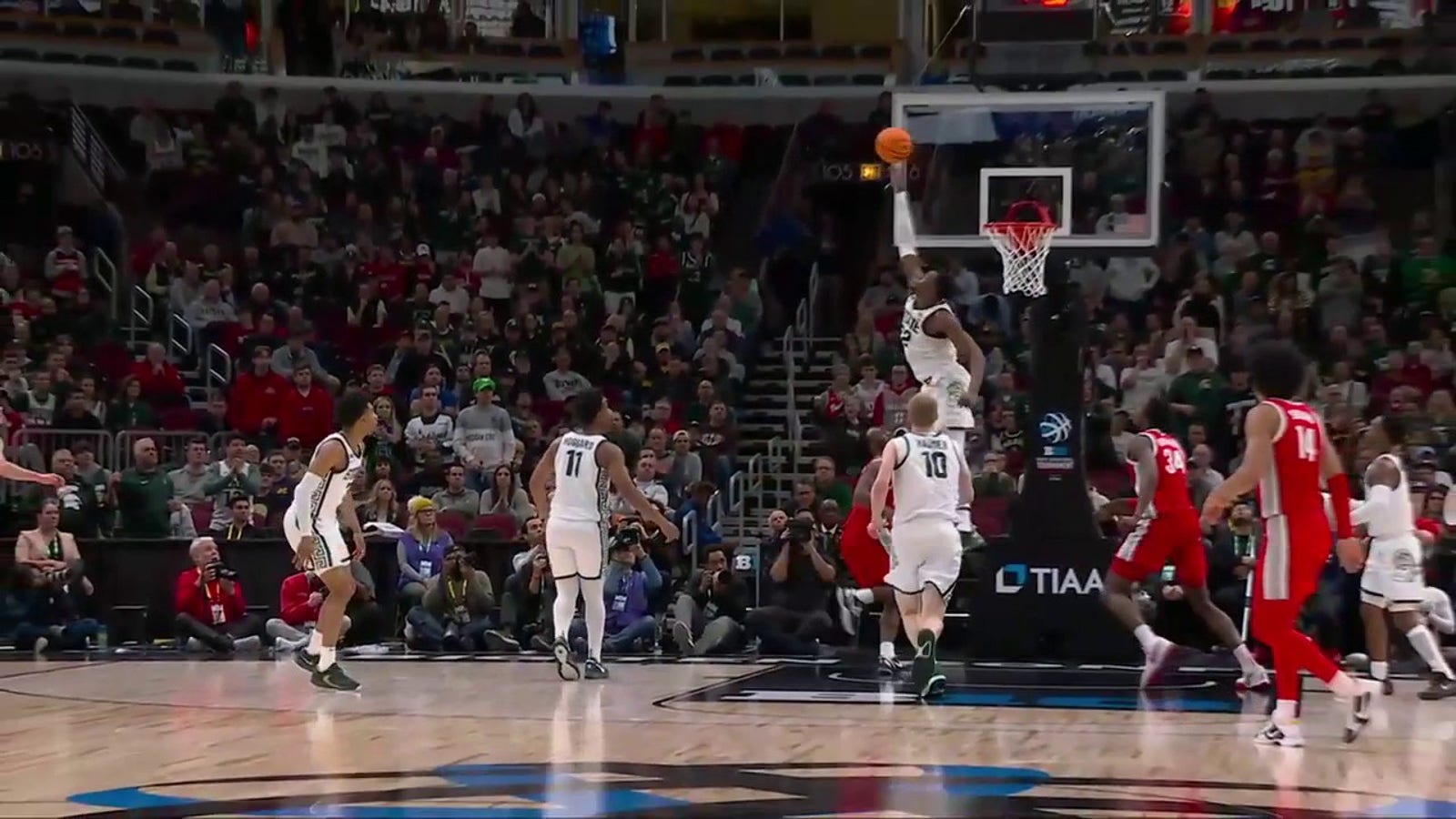 Eyes on the prize
Buckeyes guard Bruce Thornton drained a quick bucket thanks to a smooth pass from teammate Sean McNeil that extended their lead to double digits, 46-36, midway through the second half.
Ohio State held on to win by the same margin, 68-58.
Ohio State's Bruce Thornton makes the quick bucket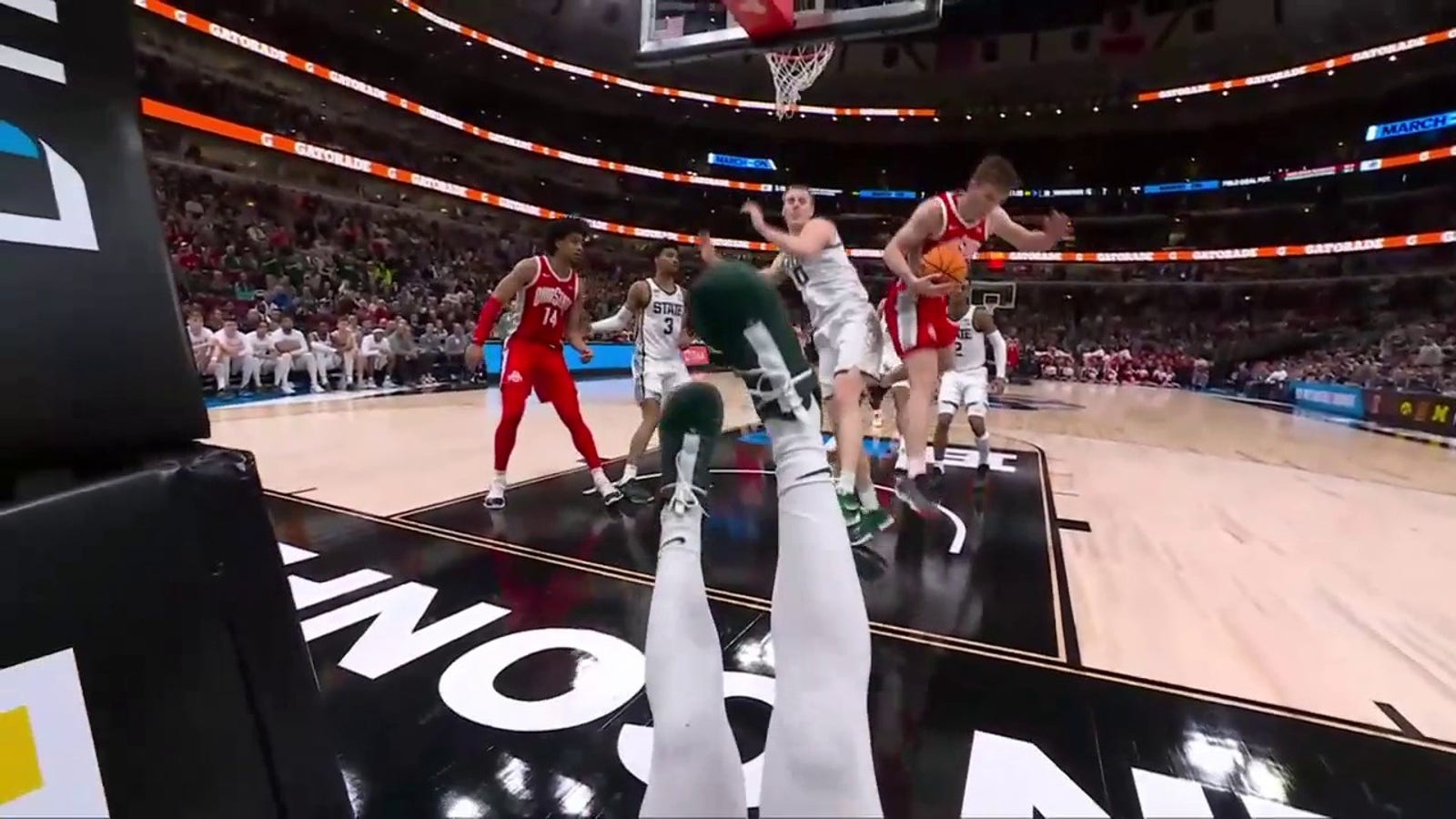 Purdue 70, Rutgers 65 (Big Ten)
And we're off!
Rutgers center Clifford Omoruyi accounted for the first points of the game on this smooth reverse dunk.
The Scarlet Knights jumped out to a 12-4 lead by the first official TV timeout, making a big statement early.
Rutgers' Clifford Omoruyi drops a one-handed reverse dunk vs. Purdue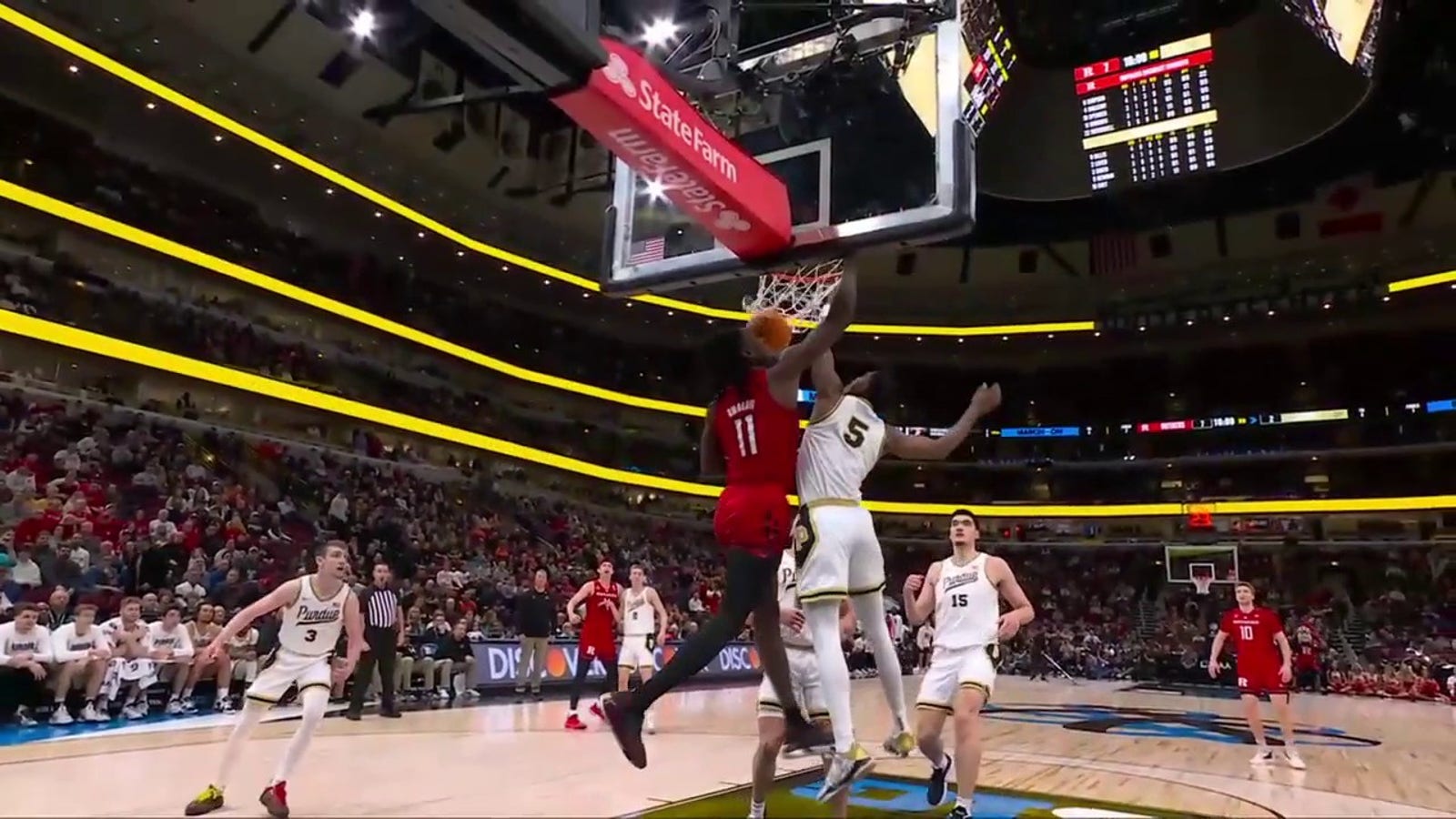 Keeping it close
Purdue went on a 5-0 run midway through the first half to keep Rutgers within arm's reach, 17-10.
The Scarlet Knights had a few tricks up their sleeve, however, as the first half continued. Exhibit A: Cam Spencer.
Boom!
Boilermakers center Zach Edey slammed it home to tie things up for Purdue ahead of the break.
It was a one-point game at halftime, 29-28.
Purdue's Zach Edey delivers a MONSTROUS two-handed jam vs. Rutgers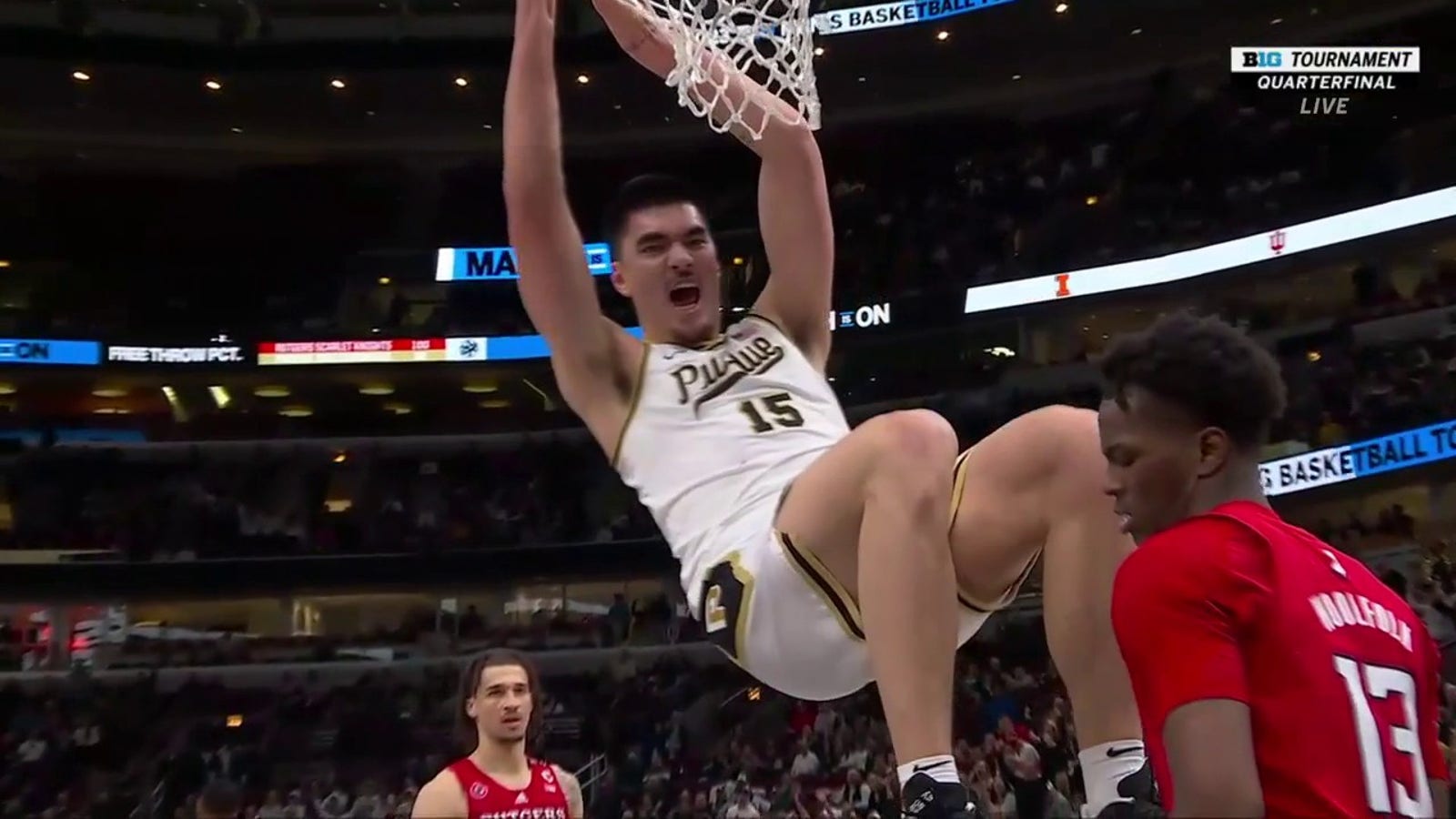 Back and forth
Rutgers regained the lead early in the second half, but Purdue turned up the heat and didn't stay behind for long.
Not how they drew it up
Rutgers guard Derek Simpson drained a 3-point jumper to make it a one-point game, 50-49, late in the second half after the team's initial play didn't go as planned.
Rutgers continued to bring the pressure with one big bucket after another as the game wound down.
Tensions running high
Things got heated as the final moments approached. Edey was assessed a flagrant 1 foul during the sequence, which involved players from both teams getting in a dust up on the court.
In the end, the Boilermakers were able to hang on to the lead and secure the win, 70-65.
COMING UP:
Iowa State vs. Kansas (Big 12)

Iowa State Cyclones
ISU
+7.5
+210
o139.5
3

Kansas Jayhawks
KU
-7.5
-333
u139.5
Maryland vs. Indiana (Big Ten)

Maryland Terrapins
MD
+2.0
+105
o135
19

Indiana Hoosiers
IND
-2.0
-143
u135
TCU vs. Texas (Big 12)
22

TCU Horned Frogs
TCU
+2.0
+110
o146.5
7

Texas Longhorns
TEX
-2.0
-149
u146.5
Creighton vs. Xavier (Big East)
24

Creighton Bluejays
CREI
-3.5
-182
o153
15

Xavier Musketeers
XAV
+3.5
+130
u153
Oregon vs. UCLA (Pac-12)

Oregon Ducks
ORE
+5.5
+170
o134.5
2

UCLA Bruins
UCLA
-5.5
-250
u134.5
Arizona State vs. Arizona (Pac-12)

Arizona State Sun Devils
ASU
+7.5
+230
o154.5
8

Arizona Wildcats
ARIZ
-7.5
-357
u154.5
Read more:
FOLLOW Follow your favorites to personalize your FOX Sports experience

College Basketball

Big 12

Big Ten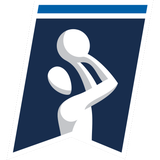 Get more from College Basketball Follow your favorites to get information about games, news and more