Ad Blocker Detected
Our website is made possible by displaying online advertisements to our visitors. Please consider supporting us by disabling your ad blocker.
John Fanta
College Basketball Broadcaster and Reporter
Editor's note: John Fanta is providing live reaction and analysis throughout a busy day of college basketball.
It's a busy day in college basketball, with several big games on FOX (read more here), an early look at the top 16 NCAA Tournament seeds (scroll below), and more. Let's take a look at what's happening around the sport.
Kentucky sends a message to the NCAA Tournament committee with commanding win over Tennessee
It was fitting that Kentucky hosted Tennessee immediately following the NCAA selection committee's reveal of their top 16 seeds. The committee placed Tennessee as its top team on the No. 3 seed line following the Volunteers' win over No. 1 Alabama on Wednesday.
It marked a golden opportunity for John Calipari's Wildcats — and they seized it in emphatic fashion.
The bubble talks? Question marks? Criticism surrounding Big Blue Nation? On this Saturday, all of that was silenced. Kentucky ran Tennessee off the floor in the opening 20 minutes, outracing the Volunteers, 39-19, and leading by 20 at the break. The 66-54 victory gave UK back-to-back Quadrant 1 wins and sent the Cats to the right side of the bubble.
With a pair of victories over teams that sit in the top 10 of the selection committee's current bracket, Kentucky has a strong case to present to the committee regardless of what happens from here. Oftentimes, the bubble conversation comes down to the teams that show the committee not why they're hanging around, but why they should be in the field. Big Blue Nation showed why a March run could be possible.
Kentucky's freshmen impressed on Saturday, with Cason Wallace going for 16 points, six rebounds and six assists. His presence has been invaluable for the Wildcats. He's totaled 23 assists in the last three games, showcasing his playmaking ability for an offense that is in need of it. What allowed Kentucky to achieve success on Saturday was the fact that it didn't rely on 3s. The Wildcats attacked the rim, shooting 44% and controlling the glass, 40-32.
The other key rookie for the Wildcats is Chris Livingston. Sometimes it takes time for a freshman to figure the college game out, but it looks like the 6-foot-6 wing is coming along. He's totaled 12-plus points in three of his last four games but broke out on the boards with a career-best 10 rebounds.
It didn't feel like Oscar Tshiebwe had to do everything inside, as the big man still went for 16 points and seven rebounds.
The other player who swings the Wildcats is Jacob Toppin. When he scores in double figures, Kentucky is 13-5. The senior finished with 11 points and five rebounds. With Sahvir Wheeler and CJ Fredrick still both out, there's no question that Kentucky has had to battle through injuries this season. But at this stage of the season, it's about fighting through things, and the Wildcats really made a statement this week.
On the flip side for Tennessee, I'll be honest: I have trust issues with Rick Barnes' team. The Volunteers just don't have enough ways to generate offense consistently, and when Zakai Zeigler is off like he was Saturday (2-for-10 from floor), everything gets put on Santiago Vescovi to make things happen.
Yes, it bears noting that Julian Phillips and Josiah Jordan-James were out, both of whom average nine points per game. But it's still three losses in the last five games for Tennessee.
No. 12 Kansas State's dynamic duo is too much for No. 19 Iowa State
Entering Saturday having lost four of five — hey, that's part of life in the Big 12 — Kansas State found itself in an eight-point halftime hole in a top-25 showdown with Iowa State.
Markquis Nowell took matters into his own hands in the second half, canning three triples in the first five minutes after the break. He scored 18 of his 20 in the final 20 minutes as the Wildcats outscored the Cyclones 38-24 on the way to a 61-55 victory.
Three things stood out about this game:
Nowell and Keyontae Johnson, who should be the comeback player of the year, are a duo capable of sparking a deep March run. Johnson, who collapsed on the court just over two years ago while at Florida, has gone from fighting for his life to a journey back to the hardwood, and this March, the NCAA Tournament. The Wildcats got great news on Saturday from the selection committee, holding the No. 12 slot in the top 16 reveal, while Iowa State came in at No. 11. Averaging 17.5 points per game and shooting 51% from the floor, Johnson's efficiency and size are really tough to stop. On Saturday afternoon, though, it was Nowell who hit shots over Iowa State's 1-3-1 zone and changed the game as a result. That allowed things to open up, leading Nowell to five assists in the process.
Sometimes, it's just not your day. Yes, Iowa State's offense can be inconsistent, but on Saturday afternoon, the Cyclones could not buy a bucket down the stretch. For Jaren Holmes and Gabe Kalscheur to shoot a combined 6-for-30 from the floor is pretty wild. Chalk it up as an off-day, but I would say this: Iowa State has lost three of four, including losses to Oklahoma State and West Virginia. Their offensive woes could leave them susceptible to getting picked off by a lower seed in the NCAA Tournament.
These types of games really only help the winning team. You can scoff, but the committee made it clear on Saturday that they are fully invested in the Big 12, which has seven teams in the top 25 of the NET rankings. With five teams in the top 12 of the NCAA committee's reveal on Saturday, the Big 12 is basically Scrooge McDuck in his pool of gold.
Up next for Kansas State: home to Baylor on Tuesday
Up next for Iowa State: at Texas on Tuesday
No. 14 Indiana edges Illinois, 71-68
I'll begin with a twist: Illinois did not win this game, but Brad Underwood's team should be encouraged about the way it played at Assembly Hall on Saturday afternoon.
Yes, there is no such thing as a moral victory, and Underwood surely is kicking himself after the Illini lost a nine-point lead with less than 13 minutes to go. But by the same token, Matthew Mayer showed why he was such an impactful transfer addition from Baylor this past offseason. With leading scorer Terrence Shannon Jr. (17.0 PPG) out due to concussion protocol, the thought going in was that it would be very difficult for Illinois to walk out with a win. But Mayer, freshman guard Jayden Epps and big man Dain Dainja were all in double-figures, while Luke Goode showed he can serve in a key role for this Illini team. While the Illini are an 8-seed in Mike DeCourcy's latest bracket forecast, I would not be surprised to see them go on a run, with a manageable schedule to close the regular season.
Turning to Indiana, the Hoosiers continued to show what they have over the last five weeks: the hopes of a run to the second weekend of the NCAA Tournament — at the very least — are real. They've won nine of their last 11 games, mainly because they have one of the best five players in the sport.
If Zach Edey wasn't the Big Ten player of the year, it would absolutely be Trayce Jackson-Davis. The Indiana senior superstar put up 26 points and 12 rebounds in the win, with 15 and nine boards in the second half. Over the last five contests, TJD has posted 24.4 points and 11.6 rebounds per game, elevating his production as the plot of the season thickens to a consistent All-American first-team level.
The key for Indiana down the stretch — and the key for this team in general — is what happens beyond Jackson-Davis. With Xavier Johnson out for a prolonged period but inching closer to returning from a foot injury, that has only made five-star freshman Jalen Hood-Schifino's role more important.
With Illinois up 56-51 with seven minutes left, the likely one-and-done prospect canned a triple to get the Hoosiers back within a pair. Down the stretch, when Indiana needed a lead guard to step up and make a play, Hood-Schifino took what the defense gave him and drilled an elbow jumper off a screen to tie it at 67. After a turnover by the Illini, Hood-Schifino stepped up again and was fouled on a shot, hitting two clutch free throws to give Indiana the lead. To score four straight in that spot is reflective of the crucial role he's played on this team. With the amount of attention Jackson-Davis receives from a defense, it opens things up for Indiana's guards, and Hood-Schifino has averaged 16 points over the last three games.
The bounce-back win for the Hoosiers puts them into third in the Big Ten behind Northwestern, and further cements Indiana's standing in the NCAA Tournament selection committee's eyes. IU was the No. 13 overall seed in Saturday's bracket reveal.
Overall: It was a quality home win for Indiana. But honestly, Illinois showed some toughness. It wouldn't surprise me to see the Illini make a deep Big Ten Tournament run in Chicago in a couple of weeks.
UConn picking up steam with four wins in last five games
UConn's 64-55 win over Seton Hall wasn't always pretty. The Pirates cut the lead to just two with over 12 minutes left, and Gampel Pavilion became quiet. But UConn showed composure and toughness in pulling away late. It marks the Huskies' fourth win in the last five games, and this team is starting to pick up some steam as we hit the home stretch.
UConn moved into sole possession of fifth place in the Big East, going to 9-7 in the league standings and sending the bubbly Pirates to 9-8. This is important because the top five teams in the conference end up getting a first-round bye in the Big East Tournament.
Sophomore superstar Jordan Hawkins didn't have his jumper going — he went 3-for-13 from downtown — he still ended up with a game-high 20 points. That's the mark of a great scorer, and UConn needs to ride Hawkins in moments when it needs a bucket. Andre Jackson also showed why he's such a handful, adding 15 and 10, and Connecticut imposed its will on the glass (39-25 rebounding edge) behind Adama Sanogo and Donovan Clingan.
Jordan Hawkins scores 20 vs. Seton Hall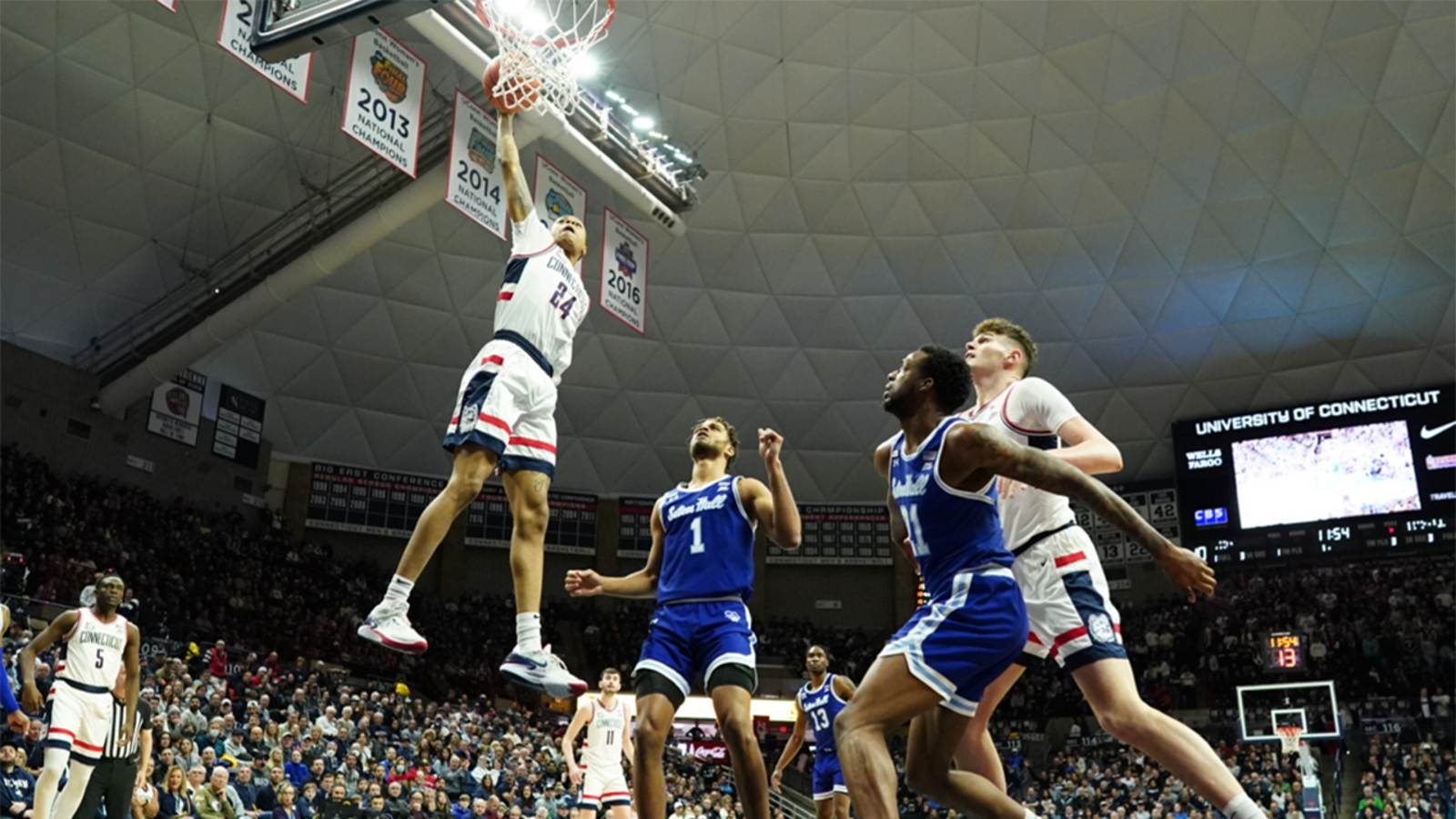 Jordan Hawkins led UConn past the Pirates on Saturday.
The bigger picture for UConn: NCAA Tournament selection committee chair Chris Reynolds revealed on Saturday's bracket preview show that the Huskies are one of four teams — with Creighton, Miami and Saint Mary's — that are just outside the top 16.
The Huskies have a chance to bolster their standing on Wednesday night (6:30 p.m. ET on FS1) when they host an NCAA Tournament team in Providence. If Connecticut is going to build a case to move up a seed line, it needs that one before matchups with St. John's and DePaul. A tricky regular-season finale comes at Villanova on Saturday, March 4 at 7:30 p.m. ET on FOX.
For the Pirates, who have lost three of their last four games, their NCAA Tournament hopes are dwindling. A must-win comes Friday at 7 p.m. ET on FS1 when The Hall hosts No. 16 Xavier.
Committee gives early look at top 16 seeds in NCAA Tournament
It's been a season of mystery in college basketball, but there is one thing the NCAA selection committee made very clear on Saturday afternoon: The Big 12 is by far the best conference in the sport.
The committee placed five Big 12 teams in its top 12 during its top 16 reveal Saturday:
No. 5 Kansas (1-seed)

No. 6 Texas (2-seed)

No. 9 Baylor (2-seed)

No. 19 Iowa State (3-seed)

No. 12 Kansas State (3-seed)
This would be a ridiculously good accomplishment for any league, let alone one with only 10 teams. For half of the conference to be included in the top 12 nationally is nothing short of incredible, and would be historic if it turns out that way three weeks from now on Selection Sunday.
Turning to the remainder of the storylines, the Alabama Crimson Tide are the overall No. 1 seed — yes, in basketball — in the current projection. Selection committee chair Chris Reynolds revealed on Saturday's bracket preview show that the Tide's 71-65 win at Houston on Dec. 10 is what separated them from the 24-2 Cougars, who check in as the No. 2 overall seed.
Despite losing three of its last four games, Big Ten front-runner Purdue notched the No. 3 overall seed, which is warranted at this moment. The Boilermakers won 22 of their first 23 games and are tied for second in the country with nine Quadrant 1 victories. None of their four losses have come outside the top quadrant.
The Jayhawks, who lead college basketball with 12 Quad 1 wins, were an easy pick for the committee to slot into the final No. 1 slot. Nobody else in college basketball has double-digit Quad 1 victories.
Turning to the 2-seeds, it was all Big 12 and Pac-12:
5. Texas
6. Arizona
7. Baylor
8. UCLA
It's certainly great news for the Pac-12 to have a pair among the top eight considering the league has not been strong beyond those two teams.
The Maui Invitational champion Wildcats built up strong results early, and wins over fellow top-16 members Indiana and Tennessee are a strong indicator of their strength. The Bruins are an interesting one because they only have a 4-4 Quad 1 record. But are 7-0 against Quad 2s and playing only four cupcake games in Quad 4 help their cause, along with the fact that Mick Cronin's team has won 19 of its last 21 games.
As for the Longhorns, to see them at No. 5 overall is a reflection of interim head coach Rodney Terry and a veteran core of players who did not give in when Chris Beard's off-court drama led to his firing. It's been a really impressive season in Austin, and Texas' resolve has been rewarded.
The other takeaway on the 2-line? One of the teams listed actually started Big 12 play at 0-3. If that doesn't sum up just how much respect the conference has earned, nothing does. Those were the circumstances for Baylor, but since that start to league play, the Bears have won 10 of 11 behind one of the best backcourts in America.
Turning to the 3-line:
9. Tennessee
10. Virginia
11. Iowa State
12. Kansas State
Based on the listing of overall ranking, Tennessee would have been on the 3-line regardless of Wednesday's result, but a 68-59 victory over Alabama only strengthens the Volunteers' case. It moved their Quadrant 1 record to 6-2 on the year. They also own wins over both the Crimson Tide and a neutral floor win over Kansas in the Battle 4 Atlantis championship game.
In ho-hum fashion, Virginia is very deserving of a No. 3 seed with a 4-4 record against Quadrant 1 and no losses outside the top quadrant. Perhaps the only reason why the Hoos aren't higher is that the Bruins played three fewer games in Quad 4 than the Cavaliers, who have seven wins against the worst competition.
Interestingly enough, Iowa State and Kansas State square off Saturday in Manhattan. The Wildcats need this game more than the Cyclones, as Jerome Tang's team has lost four of its last five games. Yes, the Big 12 is an absolute gauntlet, but to see a team that's 7-6 in its own league and has lost four of five games yet still in the top-12 of a bracket reveal is pretty wild. A home loss to Iowa State, and we could see K-State get bumped to the 4-line.
With a top-10 defense in college basketball, Iowa State has had a second straight strong year under TJ Otzelberger, and the eight Quad 1 wins — the third-most nationally — is a good reason for them to be included on the 3-line.
Again, can you tell the Big 12's cannibalization has only helped everyone out? It will be interesting to see if this conference will be as great when it comes to NCAA Tournament results, or if there's a bit of inflation going on. There's also something to be said about everyone beating each other up.
Turning to the No. 4 seeds:
Indiana
Marquette
Gonzaga
Xavier
The committee gave respect to the Hoosiers for playing a top-20 schedule according to KenPom, and a 7-2 record over the last nine games in a conference that could send nine teams to the NCAA Tournament. Indiana fans have Trayce Jackson-Davis to thank for them being in the top 16. A road win over Xavier in the Gavitt Games has also ended up being even bigger than maybe originally anticipated.
The Golden Eagles, who top the Big East at 13-3 in conference play, are certainly deserving of being in the top 16. Their claim to fame in non-conference play: a 96-70 victory over Baylor that totally changed the complexion of their season. That win carries unlimited mileage, exemplified by the fact that the Bears are on the 2-line.
The Zags may not be as strong by their standards and the expectations nationally, but they're still 22-5, and you could feel Mark Few getting rewarded for playing the non-conference schedule he does in Saturday's reveal. That slate ranks No. 5 in the country according to KenPom.
Finally, Xavier rounded things out in the top 16. A big takeaway on why the Musketeers may have slid in there? A season sweep of Connecticut, plus wins over Creighton and Marquette, who are all very much in the thick of things. Sean Miller's team is 5-5 against Quad 1, and a 6-1 record against Quad 2 certainly doesn't hurt.
Trayce Jackson-Davis among nation's best defenders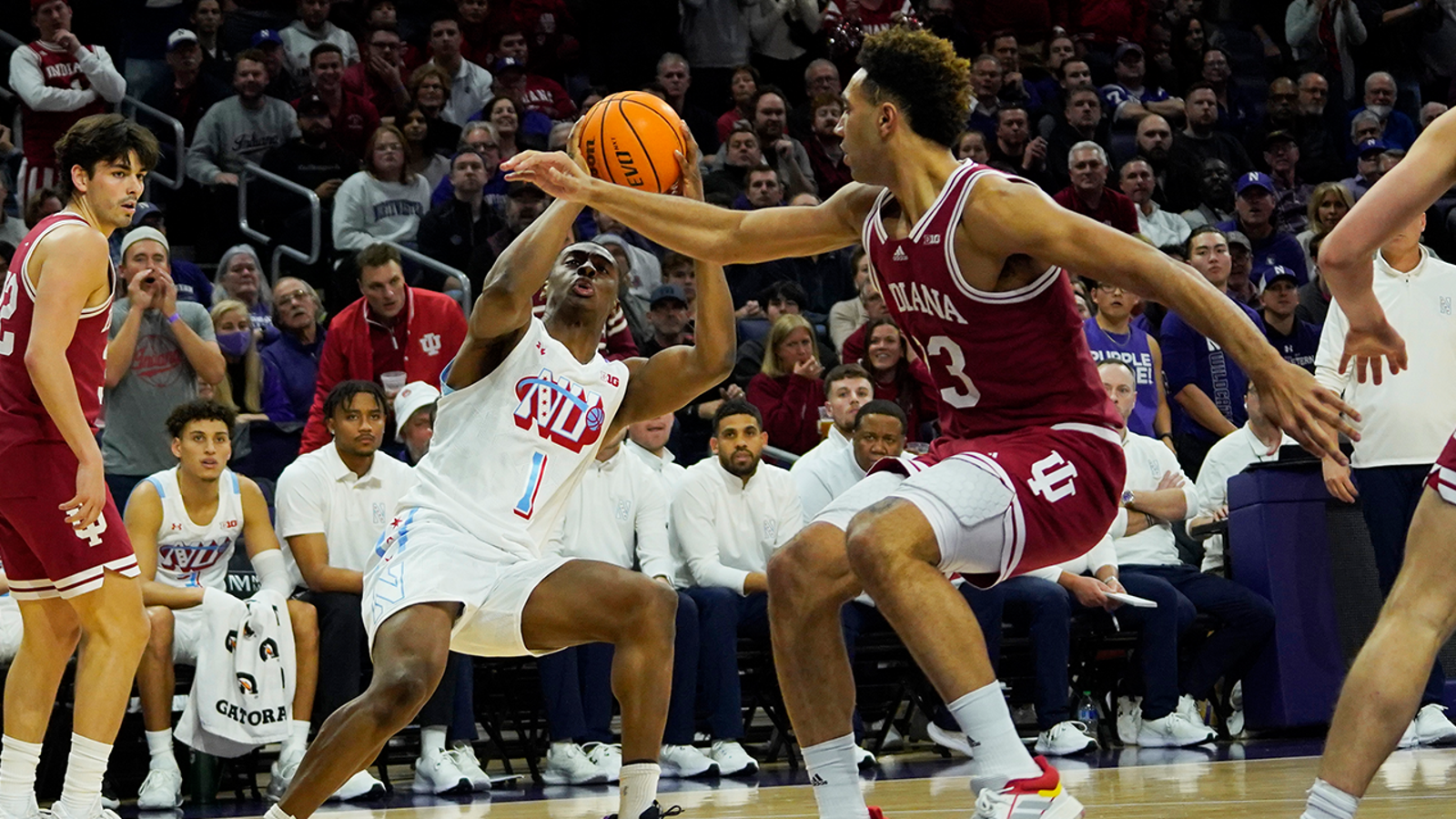 Andy Katz shares his three tiers of the best defensive players in college basketball.
The final takeaway from this reveal was the fact Reynolds released the next four teams on the committee's current bracket on Saturday's broadcast:
Creighton
Miami
Saint Mary's
UConn
For the Bluejays, who once lost six in a row this season, to be the "first team out" is a reflection of the challenging non-conference slate Greg McDermott went with, along with the fact the Bluejays have won eight of their last nine games to re-establish themselves. Creighton has St. John's tonight at 7:30 p.m. ET on FS1, before hosting Marquette on Tuesday at 8:30 p.m. ET on FS1. That's a prime chance against the Golden Eagles to make a move up with a win, while the Big East regular season title race only intensifies.
The Hurricanes not being in the top 16 may be a reflection of the ACC's lack of strength and the fact they own a Quad 3 loss. Saint Mary's not being rewarded does show the committee doesn't ONLY look at the NET, because the Gaels are No. 7 in that metric. As for the Huskies, they have to be disappointed to not be in the top 16 at the moment, especially after a 14-0 start to the year. But Dan Hurley's squad is still right in the conversation and has played better in recent weeks. A stretch run in the Big East could see them rise, especially with five Quad 1 wins and a 3-0 record versus Quad 2.
John Fanta is a national college basketball broadcaster and writer for FOX Sports. He covers the sport in a variety of capacities, from calling games on FS1 to serving as lead host on the BIG EAST Digital Network to providing commentary on The Field of 68 Media Network. Follow him on Twitter at @John_Fanta.
Read more:
Top stories from FOX Sports:
FOLLOW Follow your favorites to personalize your FOX Sports experience

College Basketball

Big Ten

Big 12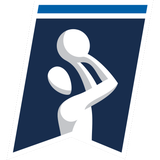 Get more from College Basketball Follow your favorites to get information about games, news and more