Ad Blocker Detected
Our website is made possible by displaying online advertisements to our visitors. Please consider supporting us by disabling your ad blocker.
Cosm, a global leader in experiential media and immersive technology that has its roots in Dallas, will build its second public entertainment venue at Grandscape in The Colony—bringing entertainment to life through its state-of-the-art technology that seamlessly bridges the gap between virtual and physical realities.
The company was founded in 2020 by Dallas-based Mirasol Capital through a series of acquisitions of businesses in spatial computing, specialty design, engineering, and immersive video production. It has an office at the Old Parkland campus, where Mirasol is headquartered.
Steven Winn, Mirasol Capital CEO and majority owner of Cosm, teased the announcement of the Grandscape venue earlier this month at a Venture Dallas event.
"Under the leadership of CEO Jeb Terry, Cosm is leveraging its technology to create a new category of immersive entertainment called 'shared reality,' working with partners globally to stream live content to physical venues and to virtual worlds alike," Winn said in a statement. "We're just getting started and have plans to open venues around the world."
Local venue will follow a first one in Los Angeles' Hollywood Park
Earlier this year, Los Angeles-based Cosm unveiled plans to build its first public venue in Los Angeles at Hollywood Park, adjacent to SoFi Stadium and Intuit Dome.
Because of its Dallas beginnings, opening a venue in North Texas has been in the company's plans from the start, the company said.
"Dallas and North Texas are in Cosm's DNA," Cosm CEO and President Jeb Terry said in a statement. "Not only is the area experiencing explosive growth, but I'm from Dallas and have family there. We've always seen a North Texas location as a core anchor for our business. There is an incredible opportunity to grow alongside The Colony community, and we're proud to call Grandscape 'home' to our second venue."
Cosm will add to Grandscape's attractions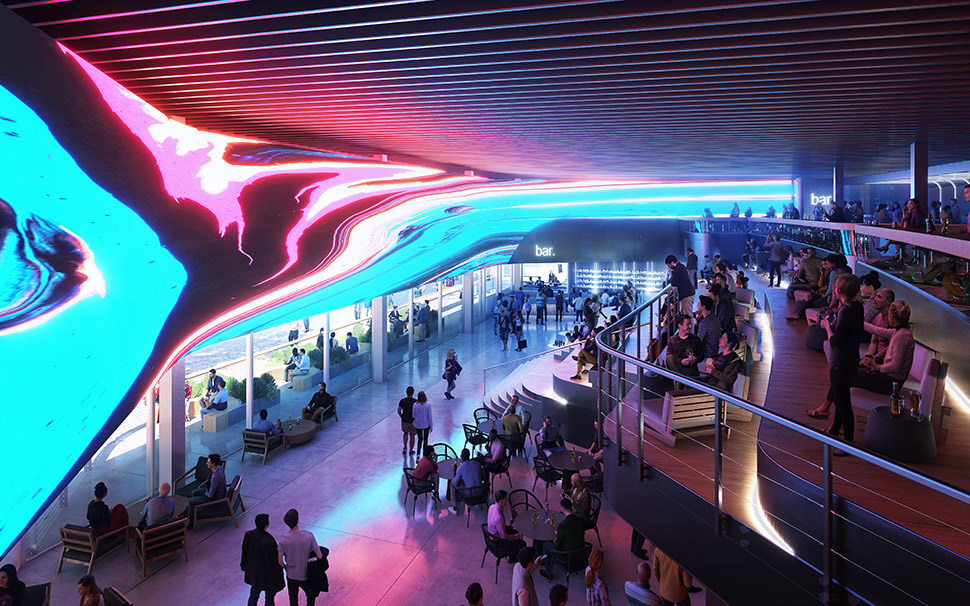 Grandscape is known as the home of Nebraska Furniture Mart as well as other retail, entertainment, and food destinations.
Once completed, Grandscape will be one of the largest and most unique mixed-use real estate developments in the nation. It covers more than 400 acres, and it expects millions of visitors per year to its retail, entertainment, residential, dining, and other attractions.
Cosm said it will be in the heart of Grandscape's entertainment area, by the popular outdoor stage and lawn.
"We're excited to have Cosm join the Grandscape family. This innovative venue will thrill visitors in a true one-of-a-kind immersive experience." Grandscape President Jeff Lind said in a statement.
Immersive content from live sports to experiential events, art, music, and more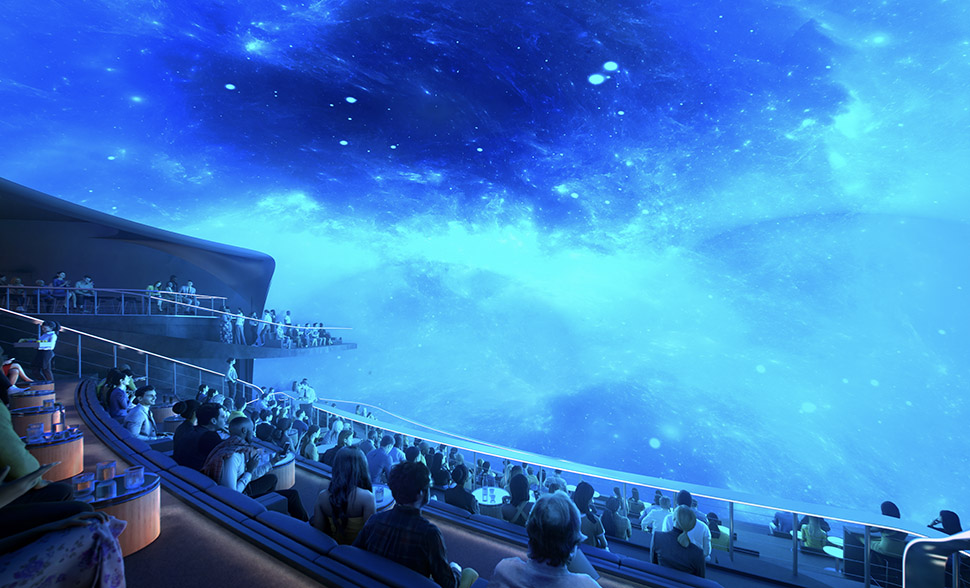 Cosm's second venue is designed by Dallas-based architects HKS, and it will be home to Cosm's proprietary technology, where guests will be able to directly experience immersive content across a variety of programming categories, including live sports and entertainment, experiential events, immersive art, music, and more.
"We've been very fortunate to design and shape the venues and physical environments for every major sports franchise in the DFW market. Adding our partnership with Cosm to this list is truly special since this new venue will host fully immersive, virtual environments," Mark A. Williams, FAIA and global director of venues for HKS, said in a statement. "Cosm offers unparalleled content through live sports, music, and entertainment. Consumers will be embedded into these events without having to travel to them, which is a fantastic evolution in the fan experience."
Idea for Cosm was hatched at a wedding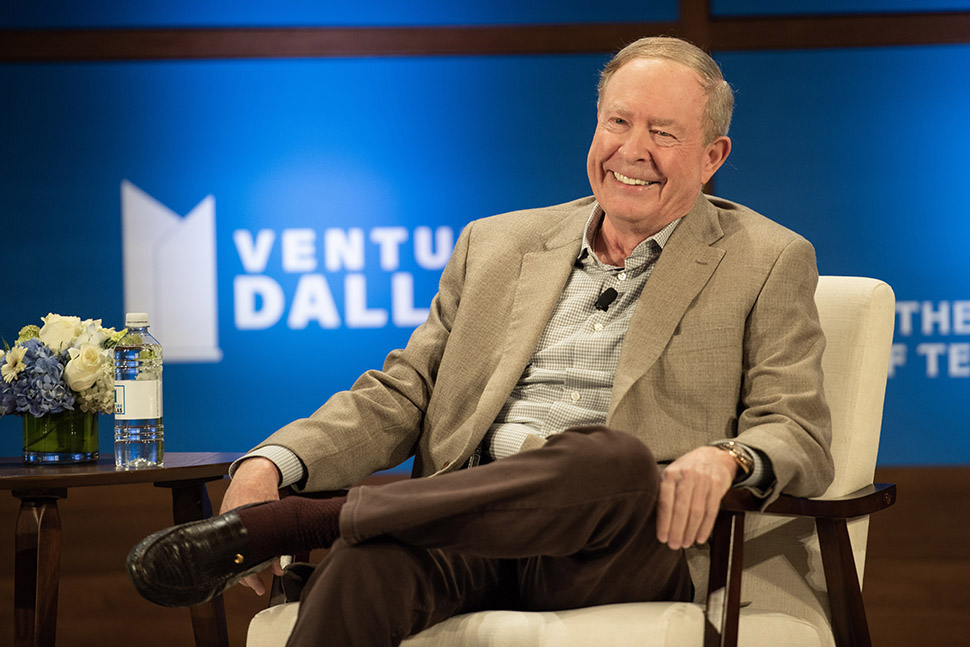 Winn, founder of Richardson-based RealPage, said at the Venture Dallas event that his relationship with Terry evolved from both attending a wedding in San Diego.
"One of my son's friends, Jeb Terry, was at the wedding," Winn said at the Venture Dallas event. "Jeb's an ex-NFL football player and had started a streaming broadcast company that he sold to Fox Sports. I talked to Jeb and we began to talk about the potential of immersive entertainment and new forms of entertainment."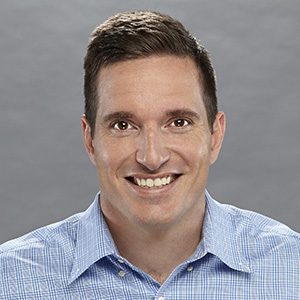 Winn said that led to buying the largest planetarium company in the world because "we were intrigued with the dome."
He said the visitors had to view the projection map in the dark, which wasn't good.
"We started to envision what would this look like if we converted it to LED so you could see it in the day, and it was much clearer, and we rotated the dome on each side," Winn said at the Venture Dallas event. "We then believed that we could put you in the front seat of a live-streamed NFL, NBA, UFC, European soccer, cricket, and you couldn't tell you weren't there."
Test facility was built in Utah
The company then built a test facility in Salt Lake City, Utah.
"And we've run, I guess, close to 2,000 broadcasters and REIT owners and large-screen cinema people through this," Winn said at the Venture Dallas event. "Without exception, they all agree that this is a new form of experiential, immersive education and entertainment."
In building its new business venture, Cosm draws on its 75 years of creating the largest and most prestigious planetariums around the world.
Mirasol Capital is an investment firm that pursues uncommon opportunities in real estate, technology, and entertainment that reimagine how we live, work, and play.

Get on the list.
Dallas Innovates, every day.
Sign up to keep your eye on what's new and next in Dallas-Fort Worth, every day.
R E A D N E X T
The startup's nail painting robot provides a "fast-casual" version of a manicure.

"It's thrilling to see the Proto M step out into the real world." David Nussbaum Inventor and Founder Proto Inc. .…on bringing the first public activation of Proto's new hologram device to Dallas Proto Inc. is the creator of technology that makes hologram-based communication a reality. With awards from CES, SXSW, and Fast Company, the Tim Draper-backed startup is the innovator of a plug-and-play, self-contained holoportation device. Nussbaum's original holoportation device, a human-sized Epic (above) has grabbed headlines for beaming people around the world in 3D, lifesize form. Now it's launched a mini-me version of the Epic called the Proto…

Sensors and autonomous tech have made cars and trucks safer for years. Now Grapevine-based AllOY aims to do that for boats—by building its own line of electric-powered, autonomously enhanced boats complete with sensors and backup cameras. "Sitting on the back of the boat with a glass of wine, it just became clear that those same things were going to have a radical impact on marine," CEO Brandon Cotter told Dallas Innovates.

Here's how your company could be named one of North America's most named one of the most innovative, fastest-growing companies. The prestigious Fast 500 rankings honor companies large and small, public and private. The application deadline for the 2022 Technology Fast 500 Awards has been extended to July 8.

Richardson-based Tech Titans has announced the newest additions to its board of directors. Tech Titans is the largest technology trade association in Texas, representing a quarter million employees through its 300 member companies. The organization says it strengthens the North Texas' technology community and its reputation by acting as the innovation hub for entrepreneurs, universities, and corporations. The group recently hosted its signature event, the 2022 Tech Titans Awards, where it announced the 22 fastest-growing North Texas companies and honored the award's 43 finalists. The organization said it accomplishes its mission of "Technology lives here" by: Growing future tech leaders…