Ad Blocker Detected
Our website is made possible by displaying online advertisements to our visitors. Please consider supporting us by disabling your ad blocker.
Amazon Prime Video's newest TV show "Daisy Jones & The Six," based on the popular 2019 novel by Taylor Jenkins Reid, is reviving the 1970s rockstar look. The so-called 'Me Decade' is known for its wild creativity and individuality, so naturally, the miniseries provides loads of vintage hair and makeup inspiration throughout — especially in the form of Riley Keough's lead singer Daisy Jones.
Consisting of flashbacks of a Fleetwood Mac-inspired group as they're interviewed for a documentary years after their breakup, the series' strong beauty aesthetic stretches across a 20-year timespan. The primary task of hair department head MaryAnn Hennings and makeup department head Rebecca Wachtel was to transport viewers back to the mesmerizing period when the tumultuous, fiery Daisy catapulted to fame as the frontwoman for The Six, a band led by Sam Claflin's Billy Dunne.
The process of bringing the characters to life was no small undertaking — especially with the book being so beloved by readers — so doing a deep dive on '70s makeup and hair was paramount. Wachtel says she created boards for each character's makeup looks, charting their journey from beginning to end, while also pulling from old magazines and watching music documentaries. "It was a really good reference point," she says. "I wanted the integrity of the characters to really hold true to the book because I know there's a big fan base and I want them to feel like the characters really embody who they were in the book, makeup-wise."
Flawlessness wasn't necessarily the goal in terms of hair and makeup. Wachtel says she aimed to capture the organicness and realness of the band. "People are not polished and I feel like that's relatable to the audience when you're watching it," she says. "You can relate to characters when they don't look like these perfect cutouts of a caricature of the '70s. They're actually real people with flaws, even visual flaws in their makeup."
Not to say there aren't plenty of looks you'll find yourself itching to recreate. Hennings and Wachtel are most anticipating viewers seeing Daisy come to life on screen, with her bold red waves and natural, glowy look. Daisy isn't made up all the time, though, as she experiences some major drug-induced lows throughout the series — for some scenes, Hennings even told Keough to come to set with untouched hair, and Wachtel would use makeup to wash her out and add dark circles under her eyes. However, when the band performs on stage, her show looks are just as mesmerizing as her vocals, progressing from earthy and sunkissed to messy and flashy as her stardom grows.
Hennings and Wachtel shared some of their go-to hair and makeup products that they used on the cast, so if you're jonesing to enter your '70s rockstar era after watching the show, we have you covered.
'Daisy Jones & The Six' hair care essentials

During the filming of the concert scenes — most of which took place in the New Orleans heat, rain and humidity — Hennings and the hair team dealt with a lot of fast transitions. She would hide behind speakers with her tools and products, and as soon as they'd cut, she'd quickly touch the band members' hair up or wet them down. For the latter, Hennings' go-to was Evian Facial Spray.
Hennings described one instance of using the product on Suki Waterhouse, who plays keyboardist Karen Sirko: "She just loved the look [of her hair], and she didn't want me to wet her down, but it's near the end of the concert," she says. "So I would come up behind her and pat her on the shoulder and she'd turn around, look, and I'd squirt her with the Evian."
@suki_waterhouse
back shooting daisy jones 💘
♬ We Dont Talk About Bruno But Theres A Platypus – David T. Simon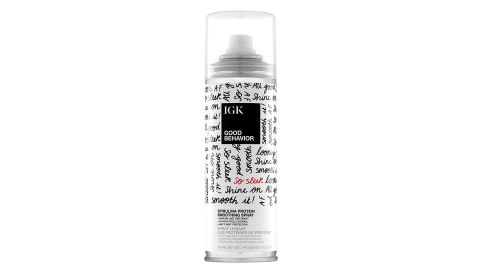 Getting the styles to hold was key during the band's on-stage performances, so Hennings would use IGK's Keratin Spray to coat their hair before using hot rollers on them. "It locked it in, so they could sweat a little longer before it started to fall," Hennings says. "That made the hair last through the elements as much as possible."
She'd also use IGK's beach spray on both the guys and girls, especially for the scenes when the band members are younger, to achieve their effortless-looking style. "It's a lot of beach sprays and diffusing and trying to make it look like they didn't do anything," she explains.
Instead of curling irons, Hennings mainly used hot rollers on the women to maintain '70s authenticity — but she couldn't run out with hot rollers in between scenes to touch up their waves. Hennings instead turned to the Dyson Airwrap as her product of choice.
"I used it mainly for touch ups because I could quickly change the barrel to the size the curl would be," she says. "The hot rollers are a little fuzzy and a little looser looking, so I would just do minimal touch ups with the Dyson Airwrap because the air blew it, so it still had that little bit of frizz and not the tight, tight curl that an iron would [make]."
Needing to be close to the stage for touch-ups, Hennings liked Dyson's cordless Corrale straightener, which allowed for more movement. To replicate Daisy's waves, Hennings recommends "turning it, making a 'C' on a curl" and then making the same shape in the other direction, continuing the movement down the hair. "It gives it a really light beach wave," she says. "So that worked well for me and it worked well for the continuity on set."
When the band members were running through a crowd or on stage, in between scenes, Hennings would fluff their hair with a spray texture, including one from Oribe. "I used spray texture on almost everybody because the '70s was more flowing and bigger waves," she says.
"It's like a dry hairspray, but it's not a hairspray — it just gives volume," she explains. As for a tip on how to get the texture you see in the show at home, she says, "You flip your head upside down, spray that all over. Your hair will come out crazy, and then you adjust it to how you like it. You just bring it down to size."
Hennings says that even though she didn't discover Jennifer Aniston's hair care line LolaVie until about a month into filming, she got hooked on it. "They have this leave-in conditioner and detangler that just worked so well for the guys, for the curly hair, just because it gets tangley," she explains. "It was great to use [the detangler] with the leave-in conditioner, and then I would diffuse their hair. Then I would add product accordingly if the hair is bigger or tighter."
If you're aiming to fully lean into the characters' looks and channel your inner rockstar, Hennings recommends Clairol, who has color matches for each character. Daisy's vivid red is the Natural Instincts Bold in shade Copper Sunset.
Hennings says the color tone felt right for who Daisy is — they didn't want something too harsh, like black, that wouldn't also show her softer side. "The producers, Riley and myself, we wanted something extreme, something that made her look like a rockstar, and there was a delicate balance of her when she shows her vulnerability," she explains. "Red makes a statement. It shows a confidence. It's beautiful."
Hennings wanted to go the opposite route for earthy, grounded Camila Dunne (played by Camila Morrone), who is part of a love triangle between her partner Billy and Daisy. Her color is Nice' n Easy in shade Medium Brown.
"I wanted it just beautiful, soft, worn brown," Hennings says. "She's just this soft, beautiful hippie, almost, like in the '70s when they put little flowers in their hair. I felt it was a good contrast because we wanted people to love both characters equally, for different reasons."
'Daisy Jones & The Six' makeup essentials

Wachtel says that for the whole band, the makeup team applied different levels of shine depending on whether they were at the beginning, middle or end of a performance. For the early stages, it was Jones Road Miracle Balm that gave them a glow.
"Even on Sam, I did it on his chest and neck and everything just to give a sheen, and then to build it up and make it a little more shiny as they get later in their performance, it's the Josie Maran Creamy Oil," she says. "Then we'd spritz water on top of it too, heighten it more."
For Daisy — as well as all the women in the main cast — Wachtel primarily used Chantecaille Future Skin as her base because it gave a no-makeup makeup look. "It's sheer and it looks like skin and I just really wanted her to look natural," she says. "You would do the foundation, a couple of different tones of it, to create the shadow for the face — the lighter tone is in the center and your darker tone is framing the face more."
To apply it, Wachtel would use a Beautyblender and her fingers to smooth it into Keough's face to give a more natural effect. "It was all cream," she says. "I didn't really powder her during the day."
For Billy's character, Wachtel used the Sol cream bronzer to help show his transition from a fresh-faced guy from Pittsburgh to a rugged, tanned LA rocker. She used the product on Daisy, too:
"The lighter tone is in the center and your darker tone is framing the face more," she says. "I would take the cream bronzer from Sol and blend all of the frame, and then I put a little on the bridge of her nose and give her that sunkissed glow."
Julie Hewett's cream blushes in Rosie and Peachie were Wachtel's go-to products to give the characters a sun-kissed appearance. "We used Rosie on [Daisy] forever," she says. "I would put that along the bridge of her nose and her cheeks to just give her a natural flush."
As the series' timeline moved into the mid-to late '70s at the peak of The Six's fame, Daisy's makeup moves in a bolder direction. At that point, Wachtel "kept the general shape of the '70s with blushes. They're wearing blush and it's not a natural cheek. It's like a contour blush."
Wachtel says Waterhouse's Karen stood out from the rest of the band, who are like "Laurel Canyon, '70s, rock and roll hippies." Karen, on the other hand, has an edgier, distinct style that resembles a "Debbie Harry, Brigitte Bardot, early punk vibe."
Throughout the series, Karen has different levels of a cat eye that they used the MAC BlackTrack liner to create. Aside from her eyes, most of her face was kept neutral. "Suki really wanted her little cat line," Wachtel says. "I think it's a kind of a signature thing for her and it worked for the character and how we incorporated it into the looks."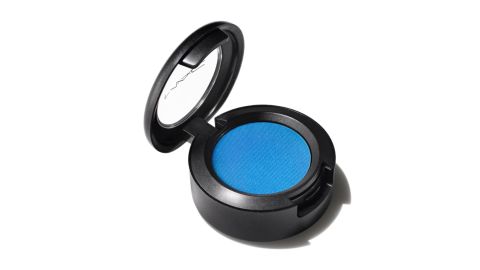 Wachtel's favorite Daisy makeups are the performance looks when she's falling apart. In particular, she loved her eye look that featured the MAC Triennial Wave blue eyeshadow (with the discontinued Stila Magnificent Metals eyeshadow in Comex Platinum on top).
Keough pushed for Daisy to wear blue eyeshadow, too — Wachtel says that as a collaborator, Keough had a "the crazier looks, the better" mindset — and they worked off of costume designer Denise Wingate's wardrobe to land on the perfect moment to incorporate it. "It's like the peak before she starts to really unhinge," she says. "So she's got this crazy blue eyeshadow on with a silver dust of glitter over top of it, and I didn't put a lot of color in her face. For me, it really sells her emotional state at the time."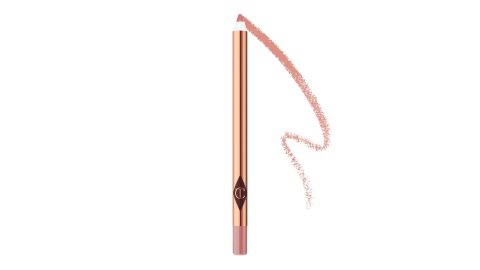 Who Wachtel calls the "grounding stone" out of all the characters, Camila's look is similar to Daisy and Karen's in that Wachtel aimed to make her makeup look minimal. "She's like this earth mama," she says of the character. "She used the Pillow Talk lip liner from Charlotte Tilbury for lips and we just kept it all really natural and soft."
Wachtel kept a similar shape to Daisy's eye the whole time for all her show looks, adjusting the density and color tones. Her final show in Chicago at the turn of the decade, naturally, is one of the most striking in terms of makeup. Wachtel put glitter on her for the first time in that scene, using Lemonhead Spacepaste in Gildebeest on top of Inglot AMC Eyeliner Gel 77, which was applied messily in a cat-like shape.
"It's a little rougher," Wachtel says. "It's like, what direction is Daisy gonna go in her life? It's her progression from being this earthy, hippie girl and where's she going to go? But I think that earthy hippie girl stays within her always and even when we see her in the documentary, she's a little more put together in a way and older but she still has a groundedness in her look."
As she becomes a bigger star and the tour progresses, Wachtel shifts Daisy into a red lip. For Daisy's blue eyeshadow look as well as for the Chicago show, she applied the MAC Lip Pencil in Brick with a custom made red from the Bobbi Brown Pro Lip Palette, which is no longer sold online.
Nabiyah Be's disco queen Simone Jackson, which Wachtel says was one of her favorites for researching and creating, finds herself on a path similar to Daisy, both of them trying to make it as singers in LA. Simone's makeup starts as a soft, shimmery early disco look that appears similar throughout because Wachtel wanted to convey how "she is who she is, all the way through." Her eye looks become a bit more bold, however, with more glitter and bigger lashes as her fame heightens.
"I did a whole succession of building her up to be like this disco queen with different lashes getting bigger," Wachtel explains. Though Wachtel used vintage, older-style lashes on Be that she sourced from makeup stores in LA, Ardell's "Mega Volume" Lash collection may be a close second.