Ad Blocker Detected
Our website is made possible by displaying online advertisements to our visitors. Please consider supporting us by disabling your ad blocker.
A Democratic congressman deleted a tweet posted late Friday that described the killing of Tyre Nichols as a result of "white supremacy" — even though all of the police officers charged in relation to his death are Black.
"Doesn't matter what color those police officers are," Rep. Maxwell Frost, D-Fla., tweeted on Friday evening.
"The murder of Tyre Nichols is anti-Black and the result of white supremacy," he added.
The tweet was later deleted.
REACTION SWIFT AFTER TYRE NICHOLS POLICE FOOTAGE RELEASED: 'THESE MEN WERE STREET FIGHTING'
Rep. Frost's tweet about the death of Tyre Nichols.
(Screenshot)
The tweet had come shortly after the release of four videos from the Jan. 7 traffic stop that preceded the death of Tyre Nichols, who spent three days in the hospital before succumbing to his injuries, according to authorities.
The brutal encounter led to the firing of five Memphis police officers, who now face numerous charges, including murder. Hours after the department released the videos, Shelby County Sheriff Floyd Bonner Jr. announced that he was relieving two deputies of duty and launching an internal investigation of his own.
CNN'S VAN JONES SAYS TYRE NICHOLS' DEATH MIGHT HAVE BEEN 'DRIVEN BY RACISM' DESPITE BLACK COPS BEING CHARGED
The footage, taken from body cameras as well as a nearby street camera, shows Nichols attempting to flee from the officers, who chase him down, tase him, repeatedly curse at him, punch and kick him, spray him with pepper spray and leave him bloodied and dazed.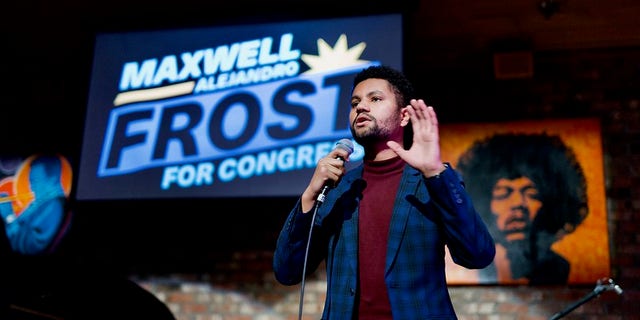 Rep. Maxwell Alejandro Frost at a campaign event. Photo courtesy of the Frost For Congress campaign.
(Frost For Congress)
Frost's tweet was one of a number of attempts to present the death of Nichols as a racial issue.
"If you think the Memphis police officers had to be white in order to exhibit anti-Blackness, you need to take that AP African American Studies course [Florida Gov.] Ron DeSantis just banned," Former Rep. Mondaire Jones, D-NY, tweeted.
"Yes, the police officers who brutally murdered him must be held accountable. But even their conviction on the strongest possible charges cannot bring Tyre back. We must do everything in our power to end police violence against people of color," Sen. Bernie Sanders, I-Vt., said.
TYRE NICHOLS BODYCAM: MEMPHIS AUTHORITIES RELEASE VIDEO IN DEADLY TRAFFIC STOP
Meanwhile, CNN commentator Van Jones attempted to make the case that the former Memphis police officers responsible for the death of Nichols "still might have been driven by racism."
"From the King beating to the murder nearly three years ago of George Floyd, American society has often focused on the race of the officers — so often White — as a factor in their deplorable acts of violence," Jones wrote. "But the narrative 'White cop kills unarmed Black man' should never have been the sole lens through which we attempted to understand police abuse and misconduct. It's time to move to a more nuanced discussion of the way police violence endangers Black lives."
CLICK HERE TO GET THE FOX NEWS APP
"At the end of the day, it is the race of the victim who is brutalized — not the race of the violent cop — that is most relevant in determining whether racial bias is a factor in police violence. It's hard to imagine five cops of any color beating a White person to death under similar circumstances. And it is almost impossible to imagine five Black cops giving a White arrestee the kind of beat-down that Nichols allegedly received," Jones said.
Fox News' Joseph A. Wulfsohn and Michael Ruiz contributed to this report.
Adam Shaw is a politics reporter for Fox News Digital, primarily covering immigration and border security.
He can be reached at [email protected] or on Twitter.