Ad Blocker Detected
Our website is made possible by displaying online advertisements to our visitors. Please consider supporting us by disabling your ad blocker.
On the Future of Electric Vehicles & Transportation
1:30 p.m.
Studebaker National Museum, Wiekamp
Auditorium, 201 Chapin St., South Bend
Peter H. Bauer, professor of electric engineering at the University of Notre Dame, will discuss both current and future trends in electrical transportation, focusing on battery-powered electric vehicles. The industry is currently undergoing a revolution not seen since the end of the 19th century, and changes are happening quickly, according to information provided by the museum.
The program is part of the Studebaker Museum Speaker Series, presented by the Campisi Family Education Fund. Admission is $2 or free for campus members.
The Studebaker National Museum is open 10 a.m.–5 p.m. Monday through Saturday, and noon to 5 p.m. Sunday. Admission is $11 for adults, $9.50 for seniors older than 60, and $7 for youth ages 6-18.
For more information, call the museum at 574-235-9714, toll free 888-391-5600, or visit the website at www.studebakermuseum.org. For an additional cost, visitors can tour the museum, which adjoins the Studebaker National Museum.
Winston Choi

Photo contributed

Concert Series: Winston Choi
7 p.m.
Ruthmere Museum, 302 E. Beardsley Ave., Elkhart.
Former Beardsley Piano Prize judge Dr. Winston Choi of Roosevelt University in Chicago is the first performer of the Ruthmere's Spring Concert Series. The first of four musical artists to bring classic music to the Game Room of the Elkhart museum, Choi will bring his own award-winning talents to the Steinway piano owned by the Ruthmere Foundation.
Tickets are $40 for non-members and $25 for members of the Ruthmere. Season passes are also available to members only at $100 and include all four concerts. Season pass tickets come with reserved seating.
For more information, or to make reservations call Ruthmere at 574-264-0330, ext. 104. All concerts begin at 7 p.m. and open seating is limited on a first-come, first-seated basis behind reserved seats. Doors open at 6:30 p.m.
Free Movie: "Keep the Change"
7 p.m.
Goshen Theater, 216 S. Main St.
When aspiring filmmaker David is mandated by a judge to attend a social program at the Jewish Community Center, he is sure of one thing: he doesn't belong there. When he's assigned to visit the Brooklyn Bridge with the vivacious Sarah, sparks fly and his convictions are tested. Their budding relationship must weather Sarah's romantic past, David's judgmental mother, and their own pre-conceptions of what love is supposed to look like.
Under the guise of an off-kilter New York romantic comedy, "Keep the Change" casts actors with autism to play characters with autism, offering a refreshingly honest portrait of a community seldom depicted on the big screen, according to information provided by Goshen Theater.
The film is not rated, but does contain adult language. Admission to this event is free, but donations are suggested.
Reserve tickets at https://www.tix.com/ticketsales/goshentheater/6557/event/1259311.
Doors open at 6:15 p.m., and the bar and concession stand will be open, COVID-19 permitting. This event is sponsored by The Community Foundation of Elkhart County.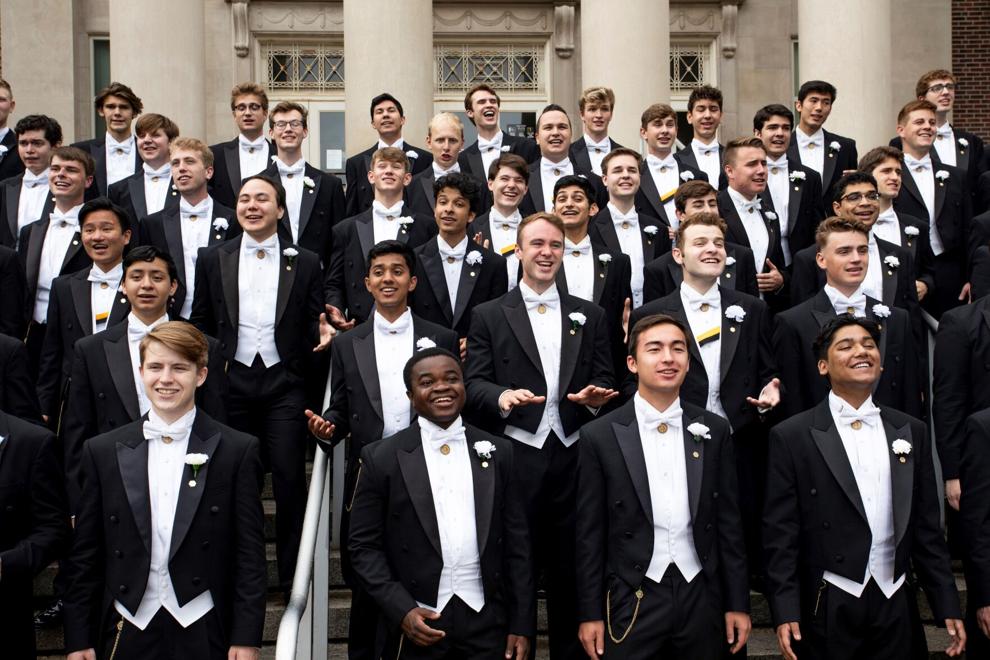 The Purdue Varsity Glee Club, presented by Chautauqua Wawasee, will perform at Wawasee High School.

Photos provided

Quebe Sisters, ft. Jesse Stolzfus and Aaron Sawatsky-Kingsley
7:30 p.m.
Ignition Music Garage, 120 E. Washington St., Goshen
There are still tickets available for the Quebe Sisters show at the Ignition Music Garage.
The Western swing style was made iconic by Bob Wills, an inspiration of the Quebe sisters, Grace, Sophia and Hulda. Western swing combines the swing dance of the '30s and '40s with a country-western style of Texas to create a unique sound. The Quebe Sisters add to that sound by incorporating triple fiddle and triple harmony.
Special guests for the event are Jesse Stoltzfus and Aaron Sawatsky-Kingsley and profits for the concert in celebration of Earth Day go to the Trees for Goshen to help with the planting of local trees.
Tickets are $18-$25 each. The show is safe for all ages.
Purdue Varsity Glee Club
7:30 p.m.
Wawasee High School, Auditorium, 1 Warrior Path, Syracuse
For the first time in nearly two years, the Purdue Varsity Glee Club is back on the road in 2022. Chautauqua-Wawasee is bringing them to Syracuse for Friday's performance. This dynamic musical troupe offers a versatile repertoire including gospel, vocal jazz, swing, contemporary hits, romantic ballads, classical choral selections, barbershop, folk melodies, patriotic standards, familiar opera choruses, country, and novelty tunes, and utilizes small groups and outstanding soloists to further enhance each show.
The event will be hosted at Wawasee High School's auditorium with doors opening at 7 p.m. Early bird tickets are available now for $20 at www.ChautauquaWawasee.org, their Facebook page, or by calling Debbie at 574-377-7543.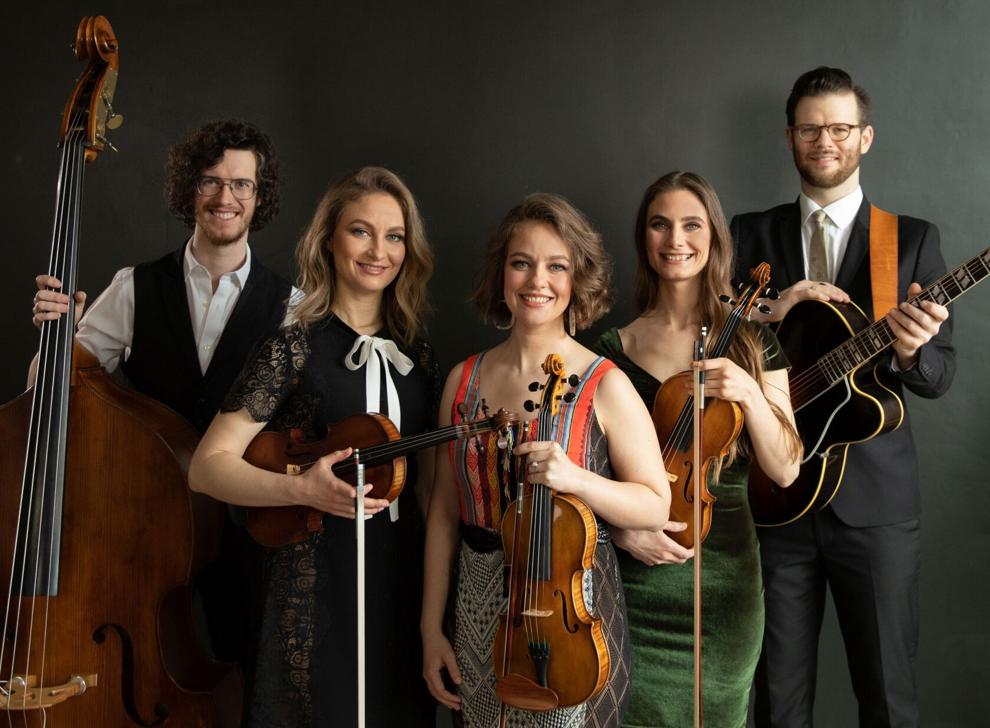 Daniel Parr, Grace, Sophia and Hulda Quebe and Simon Stipp make up the Quebe Sisters Band.

Photos provided

"Noises Off"
Wilson Auditorium at South Bend Civic Theatre, 403 N. Main St., South Bend.
South Bend Civic Theatre presents "Noises Off" Friday through May 12. Called "the funniest farce ever written," "Noises Off" presents an ambitious director and a manic menagerie of itinerant actors rehearsing a flop called "Nothing's On." Doors slamming, on and off-stage intrigue, a rotating set, and an errant herring all factor in the plot of this classic comedy.
A synopsis of the play reads: "What could possibly go wrong with a set consisting of seven doors, one attic, two offstage portals, and a very fluid fourth wall? Sprinkle in a few complex romances, a producer cast in the lead, a bottle of whisky, and an ax and you have all the ingredients to pull off a memorable comedic production."
"Noises Off" will be performed at the Wilson Auditorium at South Bend Civic Theatre Showtimes are April 22, 23, 27, 28, 29, and 30 at 7:30 p.m., and early shows are on April 24 and May 1 at 2 p.m. Tickets can be purchased for $27-$32 through the South Bend Civic Theatre at https://sbct.org/.
Shakespeare Day Soiree
11 a.m. – noon
Goshen Theater,
216 S. Main St.
Friends, Romans, countrymen, join the Goshen Theater in celebration of Shakespeare on his birthday.
Goshen Theater will present sonnets and scene readings during lunchtime this Saturday.
This is a free event for the Goshen community, and donations are welcome at the door.
Doors open for seating at 10:30 a.m. in the Goshen Theater lobby. The bar, with concessions, will be available.
Visit https://goshentheater.com/patron-and-attendee-policies/ for Goshen Theater's up-to-date COVID-19 policies.
Goshen College Short Film Festival
7–8:30 p.m.
Goshen Theatre,
216 S. Main St.
The public is invited to join the Goshen College Communication Department as they showcase their student short films for the semester in the third annual Goshen College Short Film Festival. Entry is free, but donations are welcome at the door.
Shorts films for the evening are "Not Alone" by Madison Swartzendruber, "Disc Jockey" by Jeremiah Sherrill, "DMPception" by Cormac Koop Liechty and Taviome McClaw, "A Night to Remember" by Macinsy Sanchez, "A Birthday Wish" By Aliah Campbell and Sam Stolpe, "I am Speed" by Alyssa McDonald and Silas Immanuel and "Mentalist" by Tyson Miller and Gus Morris.
Entry to this event is free. Doors open at 6:15 p.m.
Dave Bennett
7:30 p.m.
Goshen Theater,
216 S. Main St.
The Goshen Theater will welcome jazz clarinet player Dave Bennett in his tour "Swing to Rock." Bennett has been a featured soloist at Carnegie Hall with The New York Pops in 2013 and has been featured with 35 other U.S. and Canadian orchestras including Nashville, Detroit, Rochester, Omaha, Toronto, Vancouver, Orlando, San Antonio, Jacksonville and Portland, Oregon, and Portland, Maine. Some of his annual appearances include The Elkhart Jazz Festival, The Suncoast Classic Jazz Festival, The Arizona Classic Jazz Festival, The Sacramento, Hot Jazz Jubilee and The Clambake.
Bennett has been featured on NPR Radio's "Jazz at Riverwalk."
Bennett is currently recording a new album of rock originals, composed during 2020, which will be released in 2022.
Seats for the concert begin at $35. Get tickets for the concert at https://www.tix.com/ticket-sales/goshentheater/6557/event/1247821.
Underwriters of the event are Don and Theresa Gunden and Toni and Bill Johnson.
An after-party opportunity to meet Bennett is also available. Tickets are priced at $150 and include preferred seating for the concert and admission to the after party, with desserts, champagne, and cognac tasting.
Theater Workshop
Parkview Ballroom at Eagles Theatre, 106 W. Market St., Wabash.
Manchester University is offering a Theatre Odds and Ends Workshop on April 29 and 30.
Gabrielle McAfee will do a workshop on special effects and stage makeup at 6 p.m. Friday, April 29, followed at 9 p.m. by a workshop on distressing costumes by theater director Angelina Funk.
On Saturday, a tour of the Eagles stage will begin at 1 p.m., and then from 2-4 p.m. attendees will attend a movement and focus workshop with Kira Lace Hawkins. From 4-6 p.m. there will be a dance technique and musical theater dance audition technique with Heather Closson; and from 7-10 p.m., a monologue workshop with Funk.
The workshops are free and open to anyone of high school age and up. Registration is required. To register, email the university's theater director Angelina Funk at [email protected], by April 27.
Bethel Gala
5:30 p.m.
Wiekamp Athletic Center,
813 W. McKinley Ave.,
Mishawaka
Bethel University will host its fifth annual Bethel Gala with singer/songwriter Steven Curtis Chapman as the special guest. Chapman is the most awarded artist in Christian music history.
In a career that has spanned over 30 years, Chapman is boasts 59 Gospel Music Association Dove Awards, five Grammys, an American Music Award, 49 Number One singles, and has sold more than eleven million albums and has ten RIAA-certified gold or platinum albums to his credit.
This year's Bethel Gala will celebrate the 75th anniversary of Bethel University, honoring the rich history that's been fostered by students, staff, alumni, faculty and donors. The purpose of the evening is to raise money for the Bethel Fund, which supports student scholarships and areas of greatest need. Last year's Gala raised more than $135,000.
Sponsorship opportunities are available for individuals and businesses, with varying levels and benefits. Individual tickets for the event are $100. For more information visit BethelUniversity.edu/BethelGala.
Music of John Williams
7:30 p.m.
Morris Performing Arts Center, 211 N. Michigan St., South Bend
The South Bend Symphony Orchestra welcomes legendary film score composer John Williams in the final installment of the 2021-22 Indiana Trust Pops Series at 7:30 p.m. Saturday, April 30.
The Indiana Trust Pops Series is sponsored by Indiana Trust Wealth Management. The South Bend Symphony Orchestra acknowledges additional operating support from the Indiana Arts Commission.
Tickets may be purchased online at: www.morriscenter.org/events/category/symphony, by phone by calling 574-235-9190, or in-person at the Morris Box Office between 10 a.m. and 2 p.m. Tuesday through Thursday or two hours before any performance.
For more information, visit www.southbendsymphony.org.
Insights in History – Unveiled: Wedding Traditions
1:30 p.m.
The History Museum, 808 W. Washington St., South Bend
Deputy Executive Director Kristie Erickson will discuss the bridal gown worn by Anna Oliver in 1885, a wedding kimono from Japan, and men's and women's jewelry and accessories and other items showcased in the new exhibit, "Unveiled: Wedding Traditions."
Admission is $3, or $1 for members. Reservations are required by May 2.
Insights in History is sponsored by Tuesley, Hall, Konopa, LLP. A tour of the exhibit, "Unveiled: Wedding Traditions" will be offered during the program.
For information, call the History Museum at 574-235-9664 or visit www.historymuseumSB.org
Taste of Nappanee and Spring Artisans Market
10 a.m. – 4 p.m.
The Barns at Nappanee,
1600 W. Market St.
Experience several restaurants and businesses that make Nappanee their home at the third annual Taste of Nappanee and Spring Artisans Market.
The public is invited to enjoy samples of food from many of the city's eateries, bakeries and more. In addition, over 60 local artisans will have booths set up to share and sell their handcrafted items.
Admission is free.
To become a food or Nappanee business vendor, call 574-333-6201
The Martins
6 p.m.
Northside Baptist Church, 53198 C. R. 9, Elkhart
The smooth, rich sounds of multi-Dove Award winning and multi-Grammy nominated trio the Martins will be featured in Elkhart, at the Northside Baptist Church
The public is invited to join The Martins as they share their trademark harmonies.
Complete information is available by calling 574-264-6713 or visiting www.martinsonline.com.
"Arsenic and Old Lace"
Bristol Opera House,
210 E. Vistula St., Bristol
"Arsenic and Old Lace" play centers around two Brooklyn spinsters, Martha and Abby Brewster, who run a Brooklyn rooming house where they take pity on the lonely gentlemen who come looking for a room, and put them out of their miseries with glasses of poisoned elderberry wine, according to information provided by Elkhart Civic Theatre.
Their nephew Mortimer is a drama critic who discovers their activity by accident, the release reads. Mortimer's harmless brother Teddy believes he's Teddy Roosevelt as he buries his aunts' guests in the basement. When their homicidal brother Jonathan arrives with his own dead body, and a doofus cop by the name of O'Hara who dreams of being a playwright, tries to sell his bad play to Mortimer, it becomes obvious that just about everyone in the Brewster house is off their rocker.
It is a period piece set in the early 1940s. The movie, starring Cary Grant, is largely faithful to the play, although there are some significant changes, in particular to the ending. For more information, call Elkhart Civic Theatre at 574-848-5853.
Gordon Lightfoot
8 p.m.
Furth Center at Trine
University, 500 W. Maumee St., Angola
The legendary folk singer Gordon Lightfoot was originally supposed to appear at the Furth Center at Trine University in 2019, but was forced to postpone the appearance until 2020 due to injury. Due to COVID and yet another injury, Lightfoot was unable to return to Trine until this year.
His song catalog is vast and includes such classics as "Early Morning Rain," "If You Could Read My Mind," "Carefree Highway," "Sundown," "(That's What You Get) For Lovin' Me," "The Wreck Of The Edmund Fitzgerald," "Canadian Railroad Trilogy," "Ribbon Of Darkness," "Beautiful," "Song For A Winter's Night" and "Rainy Day People," to name a few. Lightfoot has recorded 20 albums and has five Grammy nominations. His songs have been aired regularly for more than 50 years, earning him Radio Singles Chart Positions in North America achieved by few others.
Remaining tickets are available for $45 to $70 at trineutickets.universitytickets.com. The concert will begin at 8 p.m. on the Ryan Concert Hall stage, with doors to the Furth Center opening one hour prior. For more information on concerts and other events at Trine University's T. Furth Center for Performing Arts, visit trine.edu/furth.
Rick Springfield
9 p.m.
Four Winds' Silver Creek Event Center, 11111 Wilson Road, New Buffalo
Rick Springfield is the creator of some of the finest power-pop of the '80s, a Grammy-winning singer, songwriter, and musician who has sold 25 million albums and scored 17 U.S. Top 40 hits, including "Jessie's Girl," and "Don't Talk to Strangers." Ticket prices for the show range from $59 to $79, plus applicable fees, and can be purchased online. Hotel rooms are available on the night of the concert and can be purchased with event tickets.
To purchase tickets, go online to: https://www.fourwindscasino.com/newbuffalo/entertainment/event-center/?item=2397#2397.