Ad Blocker Detected
Our website is made possible by displaying online advertisements to our visitors. Please consider supporting us by disabling your ad blocker.
Documentary producer Robert Craig and his team are challenging Americans to have greater empathy for the homeless and revealing emotional stories about their time investigating the ongoing crisis in major American cities.
His production company, Robert Craig Films, is set to release a feature film titled "No Address" and a one-hour documentary, "Americans with No Address." The projects resulted from extensive research, including three weeks of visiting 13 states.
Speaking with Fox News Digital, Craig recounted several stories that helped shape his perception of the homeless and gave him a deeper understanding of what needs to be done to address the issue.
During a trip to Los Angeles' infamous Skid Row, the crew stumbled upon police cars, garbage trucks and sanitization crews attempting to remove encampments in the street and along the sidewalk. At one point, a small bulldozer began lifting tents and garbage and scooping it away. They were able to capture a small amount of footage before being spotted.
NEW JERSEY MAN WALKS ACROSS US TO RAISE NEARLY $100K FOR HOMELESS VETERANS: 'RESPECT AND REVERENCE'
The City of Los Angeles uses a bulldozer to remove a homeless encampment. (Robert Craig Films )
"As soon as they saw our camera crew, they all stopped working and they stared at us," Craig recalled.
The crew walked to the end of the block and tried to wait it out in hopes that the city would resume their project. A half-hour passed, but the city employees remained idle, refusing to continue their work.
According to Craig, these government-ordered removals cause enormous stress for the homeless population.
In September, the documentary team spoke with a man named Samuel. Samuel owned a camper with many personal belongings, all meticulously organized. He feared the government would one day come to bulldoze his home.
Last week, Craig received a text from Samuel. The city gave him a six-week notice to pack his things and leave. Craig said these actions by cities and states move the problem from one location to the next, failing to solve underlying issues.
He revealed that the solution to fix homelessness is simple but expensive. Through his travels, he found that wraparound services with housing have produced the best results for cities with significant homeless populations. Within this infrastructure, case managers are assigned to help a person experiencing homelessness hold themselves to account.
"I haven't seen a bonafide government organization, paid by the government, all housing and all services," Craig said. "I think that's what they want to do. I think they're realizing that's what they need to do, but the cost of doing that is so great as opposed to just moving the encampments with a tractor every couple of weeks to another part of the town."
For individuals trying to make a difference, Craig said they should help and donate to organizations that already have a proven solution.
'FAMILY HAS POWER': RECOVERING ADDICT WHO WITNESSED MORE THAN 100 OVERDOSES RESCUED BY LONG LOST SISTER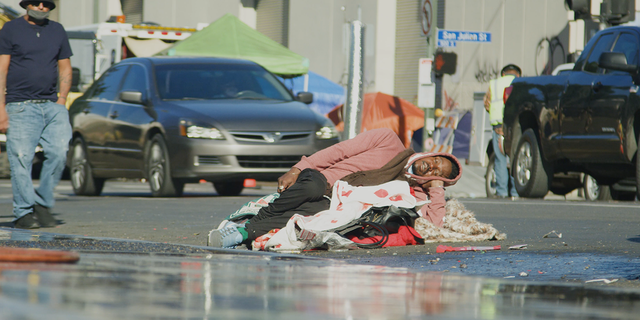 A man sleeps atop a pile of belongings in the street as The City of Los Angeles moves a homeless encampment. (Robert Craig Films )
The Salvation Army, for example, has around 300 food trucks, which they call a "canteen." Depending on the unit, each truck can feed between 500 and 5,000 people.
They also offer housing and three meals a day. If a person is experiencing a financial or psychological issue that has led to homelessness, these organizations can provide the appropriate services. Furthermore, Craig said that the Salvation Army could assist the homeless in finding a job and acquiring proper documentation should they lack a license or birth certificate.
There are various versions of these programs at other nonprofits, including St. Vincent de Paul (SVDP), Union Rescue Mission in Los Angeles, The Bowery Mission in New York and many more. Craig said it would also be great to see more organizations, like Family Promise, that cater to families such as single mothers or fathers with children.
During their trek across the U.S., Craig and his team encountered haunting images of sadness. People walked around encampments riddled with drug use. Needles lay scattered across the ground. Security came with the crew to every location they visited.
But, for Craig, the most striking memories came not from the images of the encampments but from the conversations he had with the people living there.
During the production of the documentary, the team spoke with Les Jones, a man experiencing homelessness. Jones got an apartment and a job through the Step Up on Vine nonprofit and was able to get his life back.
"Because he experienced homelessness, he experiences the solution of what works and now he is a breathing testimony to others who come in, who feel like they have no hope," Craig said.
In Sacramento, California, the crew interviewed several people living on the streets. Throughout these discussions, one question continued to crop up: "What is your story?"
JUDGE TEMPORARILY BLOCKS HOMELESS ENCAMPMENT CLEANUP IN SAN FRANCISCO AMID LAWSUIT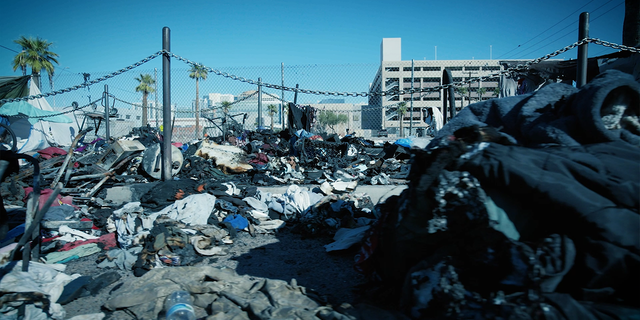 This photo depicts the homeless encampment that burned down in Phoenix, Arizona. (Robert Craig Films )
This question was posited to a woman named Christina. Just a few years ago, she was living in an apartment. She was having issues at work and had no close family or friends. One day, she was no longer able to afford rent. Soon after, she became homeless in a car with her boyfriend and dog.
Craig said her story illustrates how homelessness is not always the result of poor behavior, lifestyle choices, or drugs.
"You have people that are just like you and me, that had a job, they lost their job, or their rent went up and they flat out couldn't pay it. I mean most people are one or two paychecks away from homelessness," Craig said. "It's amazing how simple it is, how someone can slip into homelessness."
To highlight this truth, the team decided on the tagline for the film, "Homelessness Can Happen To Anyone."
When asked whether they wanted to be homeless, the team received various responses from interviewees.
"Some ironically would say, you know, this is good for me. I get like 700 bucks a month from the government. I don't have to pay rent. The money can buy food. Maybe they do drugs. I don't know," Craig said.
Others broke down crying.
"I don't want to be here," some said. "Please help me get out of here."
The team had heard about homeless encampments burning down throughout their travels but had never witnessed it firsthand. That changed while visiting Phoenix, Arizona.
Craig recalled walking down one of the encampments. The smell of soot filled the air and he wandered upon several tents. They looked like garbage somebody had left out on the side of the street. Craig did not realize they were what was left of people's belongings.
Suddenly, a woman came up to Craig and began raising her voice.
"I didn't really know what to do because she kept saying that's my stuff, it's my stuff, but it was all burned up," Craig said.
LOS ANGELES MAYOR KAREN BASS, COUNCIL UNITE ON CITY'S RAMPANT HOMELESS PROBLEM: 'NEW DIRECTION'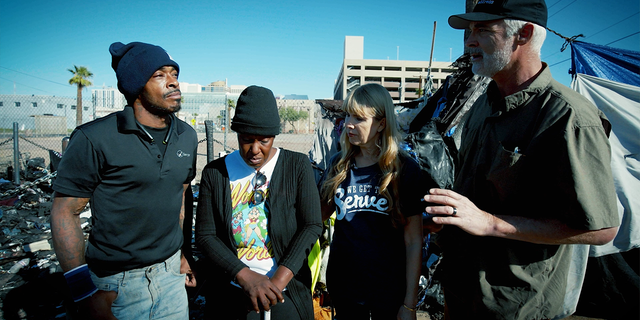 Producer Robert Craig speaks with Aisha and James, a husband and wife experiencing homelessness in Phoenix, Arizona. (Robert Craig Films )
He and the camera crew left, but soon after, Craig had a strange sensation wash over him. Something inside of Craig was telling him to go back and talk to the woman. When he returned, the woman was still there, as was her husband. Their names were James and Aisha.
"I realized that even I was devaluing their property even though, to me, it looked like garbage. But to them, that was all they had. To them, it was really important. I just felt so sorry."
Craig spoke with James and Aisha extensively. Neither appeared to be on drugs and they revealed they had been homeless for a couple of years. Like many stories the crew had heard, the fire was caused by a barbecue gas burner inside the tent. The gas was turned on, but it was not lighting. Somebody was smoking a cigarette when the tent exploded. Nearly everything inside and around the tent was destroyed.
Shortly after that, the crew gave the couple money to repurchase some of the things that had been lost in the fire.
"[The conversation] just reminded me that, you know, these are real people. They need to be loved. Leave judging at the door and just try to do what you can to help people get back on their feet," he said. "It's hard to get the sadness out of your heart."
To create the "No Address" film and "Americans with No Address" documentary, Craig said he surrounded himself with experts from both sides of the political spectrum to get a common denominator and ensure authenticity.
"You don't need to be someone of faith or not of faith. We just need to work collectively from the left and right and down the middle to fix this problem," he said.
NBA LEGEND BILL WALTON CO-AUTHORS OP-ED ON PLAN TO RELOCATE SAN DIEGO'S HOMELESS POPULATION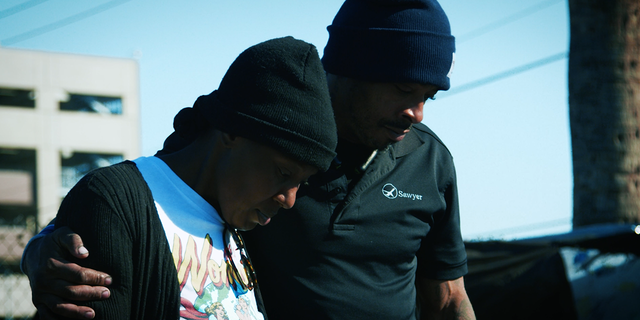 Aisha and James look down at their destroyed belongings following a fire at a homeless encampment in Phoenix, Arizona. (Robert Craig Films )
The result speaks for itself. The film has already garnered over 60 best screenplay awards and has been accepted to over 150 film festivals worldwide.
The documentary includes interviews with CEOs, executives and politicians. It focuses on tried-and-true solutions to homelessness in the U.S. This ideology extends to a curriculum Robert Craig Films is cultivating alongside experts, which they hope will be used in churches and nonprofit organizations.
The team also hired a variety of prominent voices to help raise awareness among a larger audience. They hired acclaimed actor Xander Berkeley, who also happens to be an accomplished painter, to create portraits of other celebrities involved in the project. These portraits will be auctioned off and 100% of the funds will go to nonprofits.
The team is also venturing into books and music as a multimedia mission. New York-Times bestselling author Ken Abraham is writing a book based on the team's travels and Ashanti, who also stars in the "No Address" film, offered to create an original song for the project.
Her music will be included on an album of 12 songs featuring other unrevealed artists.
CLICK HERE TO GET THE FOX NEWS APP
Craig said it was important to put equal emphasis on marketing and promotion of the projects, with the ultimate goal of bringing more awareness to the issue plaguing over half a million Americans on any given night.
"There's probably tens of millions in our country that are trying to do what they can to fix the problem and hopefully, this documentary and the movie will make a difference," he said.
Nikolas Lanum is an associate editor for Fox News Digital.