Ad Blocker Detected
Our website is made possible by displaying online advertisements to our visitors. Please consider supporting us by disabling your ad blocker.
By Bob Pockrass
FOX Sports NASCAR Writer
DARLINGTON, S.C. — Hendrick Motorsports ended the 2022 regular season with Chase Elliott and Kyle Larson appearing to go one way, and William Byron and Alex Bowman going another.
But Elliott said he didn't think that narrative was accurate. And it certainly wasn't for the start of the playoffs, which kicked off Sunday at Darlington Raceway.
Both Byron and Bowman posted top-10 finishes, and if they continue to rattle off that type of result, they should advance from the postseason's first round.
On the other hand, Larson and Elliott, the previous two Cup Series champions, had playoff openers to forget.
Larson found himself three laps down at one point early, due to what he thought was an engine issue. He rallied to finish 12th, but he knows he can't count on rallies such as that if he has more mechanical issues.
"It felt like it was blowing up," Larson said. "It sounded like it was down a cylinder. It was slow like it was down a cylinder.
"I don't know if it was fuel pressure or what. … I'm proud of the rebound and the fight."
Elliott had an even worse day, finishing last in the field after he uncharacteristically lost control of his car.
With the result, the regular-season champion saw a 33-point cushion on the playoff cutoff drop to 14 as he plummeted from the points lead to ninth overall.
Chase Elliott's day ends early after collision with Turn 1 wall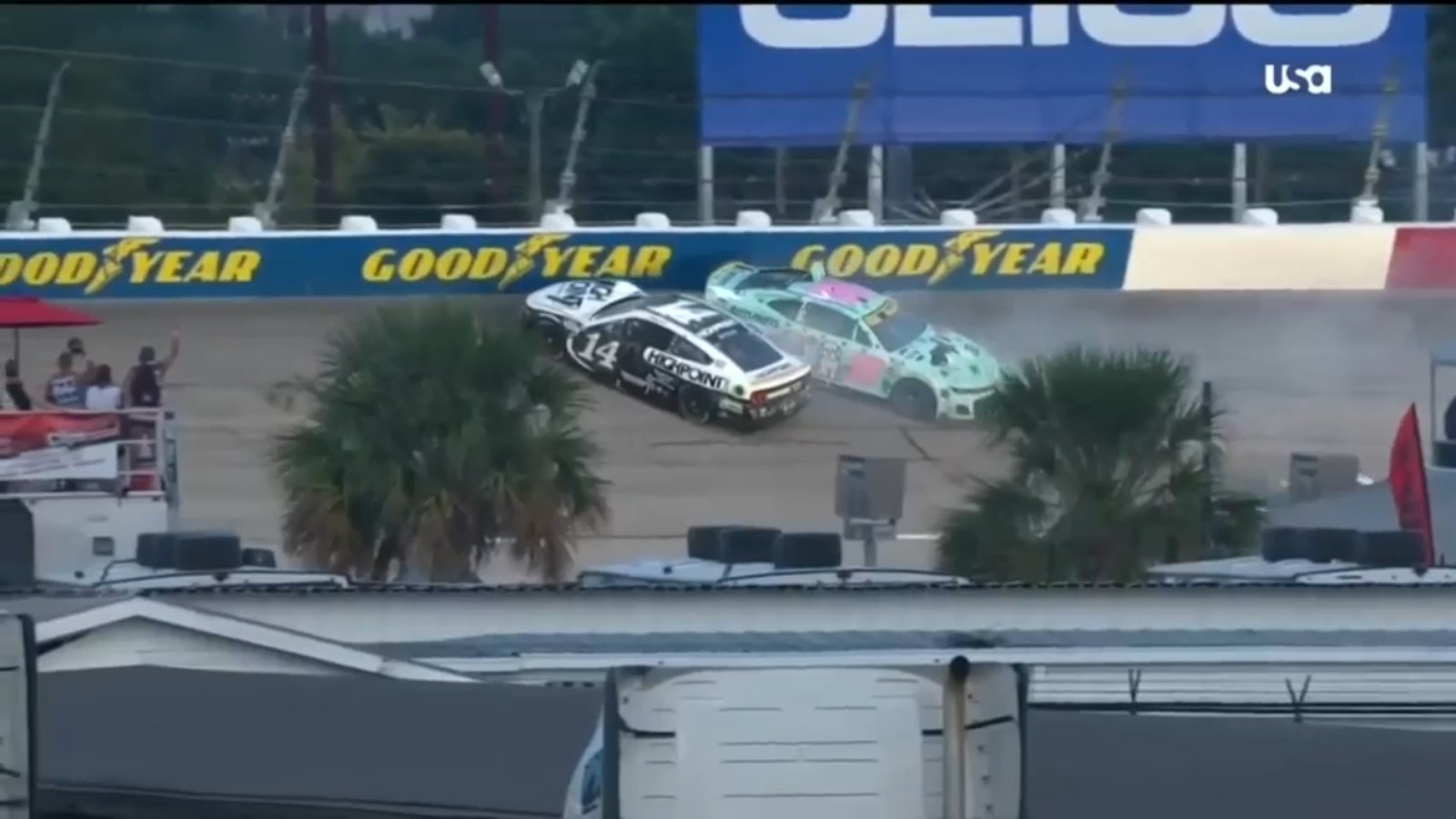 Chase Elliott's day ends early after he collides with the Turn 1 wall in the 2022 Southern 500 at Darlington Raceway.
The other three drivers improved their margins, with Bowman going from three points outside the cutoff to 10 points, Larson going from 12 points up on the cutoff to 17 up and Byron going from seven points up to 32 up (and second overall).
Byron had just one top-10 in the previous 18 races, and Bowman had just one top-10 in his past 12 races.
But what do those drivers have in common? They both made the playoffs each of the past four years.
"We just needed a smooth, solid race," Byron said Sunday. "We did that. The car was competitive.
"As the pace picked up, we weren't quite as good, but I think we know why, and we have a really good idea going to Kansas [next week] of what we need to do, so I'm pretty excited."
Both Byron and Bowman acknowledged that there have been times when they were a tick behind their teammates — but maybe not as often as the results showed.
"The early part of the summer, we were definitely behind," Bowman said. "The last couple of weeks, I'd say it's just results. … We've just got to keep digging."
That's what Bowman did Sunday. He lost a lap when a caution came out, and he had to rally to finish 10th.
"We deserve more and could have been on the better side of the points, but still a solid day," he said. "We overcame a lot today and proud of the guys."
Last year, Bowman had plenty of days when he probably got the best result he could, but he can't say that this year. Larson has seen that for both Bowman and Byron.
"They have had a lot of bad luck," he said. "I feel like William has been really fast all year. I was looking at our stats just the other day, and I was shocked to see his stats, but I feel like he's been up front more often than I've been.
"But I think that just shows, like, some bad luck and misfortune. And same with Bowman."
While they all have experience, it isn't the easiest thing, Larson said, to turn that luck and misfortune around
"It's hard to dig yourself out of that," he said. "It's easy to talk about, just moving on and forgetting about it.
"But you approach races differently when you have a few bad races in a row, and then it can just compound because you're trying not to make mistakes and stuff."
Still, what has Byron looking forward is the fact that he thinks the playoff schedule plays into his hands.
"A lot of the playoff tracks are good tracks for us," he said. "Hopefully we can show the speed that we're capable of."
All in all, the teammates have confidence in one another.
"I view William and Alex as threats just as much as Chase and I would be," Larson said. "They've been every bit as fast as we have. We have just had some things go our way that maybe they haven't."
Looking for more NASCAR content? Sign up for the FOX Sports NASCAR Newsletter with Bob Pockrass!
Thinking out loud
NASCAR can expect more frustration out of drivers like what it heard from Kevin Harvick on Sunday. Harvick dropped out of the race after there was a fire in his car. He isn't the first driver this year to have a fire in the rocker box, a box near the exhaust area.
Because teams don't build the parts and pieces for the cars (or design the car), when something goes wrong, NASCAR and/or its parts vendor will get the blame — just as Goodyear has gotten blame in the past.
With the playoff system of three-race rounds in which one problem can be a devastating blow, the impact of a manufacturing or design issue or flaw is significant. The fire issue and its impact on the playoff will be something NASCAR must be cognizant of as far as the need to address issues quickly.
Social spotlight
Stat of the day
The Erik Jones victory Sunday was the 200th for the No. 43 car.
They said it
"I never lost any belief in myself through any of it. I knew I could still do it." — Erik Jones
Bob Pockrass covers NASCAR for FOX Sports. He has spent decades covering motorsports, including the past 30 Daytona 500s, with stints at ESPN, Sporting News, NASCAR Scene magazine and The (Daytona Beach) News-Journal. Follow him on Twitter @bobpockrass, and sign up for the FOX Sports NASCAR Newsletter with Bob Pockrass.
Get more from NASCAR Cup Series Follow your favorites to get information about games, news and more. in this topic
Hendrick Motorsports