Ad Blocker Detected
Our website is made possible by displaying online advertisements to our visitors. Please consider supporting us by disabling your ad blocker.
Two years ago, the Jehovah's Witness Kingdom Hall in Pinconning sat empty. Now, it's Hidalgo Hall, a thriving entertainment venue drawing visitors from around the region.
For 16 years, Frank Hidalgo has operated an entertainment company. Now, he's opened an event venue in Northern Bay County.Owned by local entertainment veteran Frank Hidalgo, the hall at 317 N. Water St. is the site of weddings, homecomings, and business celebrations. The hall is the latest addition to Hidalgo Entertainment, a business Hidalgo has owned and run for 16 years. Dubbed "Superman" by those who know him well, Hidalgo has offered entertainment services for nonprofits, such as Relay for Life of Bay County, and other events throughout the state since 2006.
"It seemed to be a good fit, and the more services we offer, the more we can expand the business," says Hidalgo of his move to purchase the building.
He acquired the building just weeks prior to the pandemic beginning in 2020. Hidalgo spent much of the shutdown updating and preparing the space.
"We re-painted the entire inside of the hall. We didn't have to do any structural changes but wanted to give the place a facelift."
A state-of-the-art LED dance floor is one highlight of Hidalgo Hall in Northern Bay County.Since then, Hidalgo has been hosting events and continuing to expand the services and items available. Hidalgo Entertainment can provide a venue, an officiant, an entertainer, a photobooth, and table and chair linens, in addition to a variety of other add-ons.
"We have podiums, projectors, screens, older couches for boudoir shoots or weddings, a couple chairs, and four thrones that are commonly used, two white and two gold. We also just acquired decorations and vases that can be used."
Perhaps the most exciting addition to the hall is the state-of-the-art LED dance floor Hidalgo recently purchased, which can be set up as large as 20' by 20'.
"It is portable and comes in cases with tiles. We can do logos, names … you wouldn't even need DJ lights because it provides so much lighting. We are the only hall in the state that owns one," Hidalgo explains.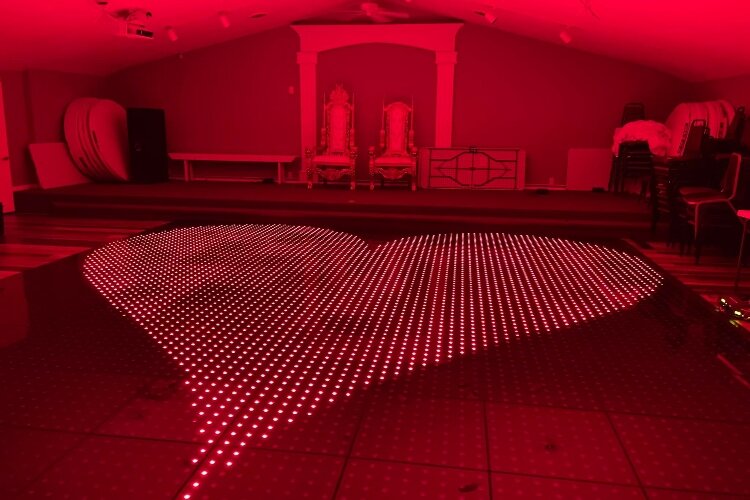 The dance floor can show a range of colors and shapes.With a capacity of 200, the hall has hosted weddings, showers, graduation parties, birthday parties, and even post-funeral gatherings. Hidalgo also envisions it being ideal for business meetings or presentations.
What's more, Hidalgo is just finishing up a nearby outdoor venue that can be used for wedding ceremonies or other similar events. That space, also located in Pinconning, will offer 50 rustic wooden seats, a 7-foot octagon arch with lights, various farm implements and tools, and a shabby chic vibe, according to Hidalgo. He's even hauling in a 1959 panel truck to the site to add to the rustic theme.
Hidalgo says he envisions something even more grand in the future of Hidalgo Entertainment.
"Our dream is to get a bigger hall. I want something huge. The next goal is to save up for a hall at least twice the size of the one we've got."
Hidalgo is currently booking events for dates in 2022 and beyond. Contact the business's Facebook page or Hidalgo himself at (989) 737-1789.