Ad Blocker Detected
Our website is made possible by displaying online advertisements to our visitors. Please consider supporting us by disabling your ad blocker.
Feb 24, 2023
OSCAR DE LA HOYA walked into Jake Paul's locker room ahead of Paul's third professional bout, a matchup with former UFC fighter Ben Askren in Atlanta in April 2021. The Hall of Famer, who starred on the biggest stage in boxing as the face of the fight game throughout the 1990s and 2000s and was on the broadcast team that night, looked Paul in the eye and said a few words that left an indelible mark.
"Know in the corner that you're ready," De La Hoya instructed. "Go out there and f—ing give it your all. You're not going to get tired. You 100 percent got the talent. You got the corner. You have the work ethic. … Jake, that's all it is, man. Mind."
"Every battle is won before it's fought," a fired-up Paul responded.
"A scared man never wins," De La Hoya replied.
And with those parting words of wisdom, Paul continued preparing for what was then the biggest fight of his life. Moments later, he finished the job in spectacular fashion with a single right hand that planted Askren face-first on the mat.

Jake Paul faces Tommy Fury on Sunday, Feb. 26 on ESPN+ PPV. Paul aims to remain undefeated when he faces his biggest test yet. Sign up for ESPN+ to watch the fight and much more exclusive boxing coverage.
Purchase Jake Paul vs. Tommy Fury on ESPN+ PPV
Fight after fight, Paul has delivered in a sport — and in a way — few imagined. Once known as a YouTube sensation-turned-boxer, Paul is now … a boxer.
There was no reason for anyone — not even Paul himself — to believe that two years later he would be boxing in main events promoted by his own company against notable names from the fight game. So far, those recognizable foes have presented themselves in the form of past-their-prime UFC fighters such as Tyron Woodley, Anderson Silva and Askren, a gradual step-up from his first two fights, which came against fellow YouTuber and former NBA player Nate Robinson.
But Paul's in-ring success has prompted calls for something more. And it's something that not many expected when he first stepped into the ring on the undercard of a title tripleheader in Miami three days before the Super Bowl in 2020.
"Fight a real boxer!"
On Sunday in Diriyah, Saudi Arabia (ESPN+ pay-per-view, 2 p.m. ET), in an eight-round fight at 185 pounds, Paul will tackle that task. No, Tommy Fury isn't a world-class boxer, but the younger half-brother of heavyweight champion Tyson Fury will be the most experienced pugilist Paul will have shared the ring with.
Fury is 23, undefeated through eight pro fights and having also competed in 12 amateur fights. Like Fury, Paul is a novice boxer, but maybe this surprising in-ring career will take a new turn. After all, this is boxing, a business masquerading as a sport, where the biggest attractions call the shots.
The next shot, however, might be completely unexpected. Paul, in a complete change of heart from when he first began this endeavor, now has his eye on real boxing gold.
"People, I think, are overcomplicating the path to the belt," Paul told ESPN this month. "They forget that I could just challenge the guy who has [the title]. I don't have to go through the rankings and all of that.
"No, I don't have to do that."
Paul, of course, is right. In a sport short on star power, Paul, 26, is brimming with genuine crossover appeal. He'll be afforded opportunities unavailable to other boxers. That's life. That's boxing. He has a dedicated following dating to his content-creator days on the now-defunct Vine — 22 million on Instagram and another 20 million-plus on YouTube.
Boxing needs A-sides, pay-per-view purchasers and the tens of millions of dollars they bring. If Paul wants a title show this year, he'll undoubtedly receive it. What top-level boxer is about to turn down a life-changing payday for a fight they are virtually guaranteed to win?
Fortunately for traditionalists, the majority of whom still shun the idea of content-creator fights, Paul isn't looking for a title shot anytime soon.
Purchase Jake Paul vs. Tommy Fury on ESPN+ PPV.
Jake Paul, left, takes on Tommy Fury in an eight-round fight at 185 pounds in Saudi Arabia on Sunday. Illustration by ESPN
PAUL HAS STEADILY improved while training in Puerto Rico under the guidance of former cruiserweight contender BJ Flores. He renovated a training compound there and has access to all the state-of-the-art tools necessary to give him the best chance at success. That includes recovery methods, access to the best sparring partners, strength and conditioning coaches, nutritionists and more. Money goes a long way in the fight game, where each athlete is essentially an independent contractor — though top-level boxers do receive stipends for training expenses.
Ask almost any professional boxer, and they'll tell you they're impressed by how well Paul boxes for someone who originally competed as simply a novelty act just a few years ago. Even the heavyweight champion of the world, Tyson Fury, has taken notice.
"I think he's a decent boxer," Tyson Fury told Sky Sports in January. "A lot of people think he's just a YouTube person who doesn't know how to box, but I've actually seen him training and I've actually seen his fights, and I think he's decent.
"He's like a novice professional. He's only had six fights, so he's exactly as good as he should be at this stage. He's not an Olympic boxer, but then again, neither am I."
Editor's Picks
2 Related
Above all else, Paul's powerful right hand stands out. He used it to erase Askren and then in spectacular fashion against Woodley in the rematch. And we can't forget the fight against Nate Robinson, either. But setting up that money punch against genuine boxers will present a new challenge.
Thus far, Paul's opponent on Sunday hasn't been impressed, or at least won't admit it. Tommy Fury contends that Paul looks unnatural in the ring, calling him "very stiff … very rigid," and vows to "welcome him harshly into the professional ranks."
Like Paul, Fury is best known for exploits outside the ring. Besides his standing as the brother of the best heavyweight in the world, Fury also starred on the British reality show "Love Island."
That fame, along with Fury's similar experience level and size, led to a natural matchup with Paul that was first scheduled for December 2021. The fight was scrapped after Fury withdrew with a rib injury. Then postponed a second time in July 2022 after Fury was denied entry into the U.S.
During that time, Paul has competed twice. That first fight, a rematch against Woodley, ended emphatically with the former UFC champion out cold from a single Paul right hand in Round 6. The second bout came in October when he defeated MMA legend Anderson Silva.
Paul was slated to fight his most experienced boxer yet, Hasim Rahman Jr., as a replacement for Fury this past August, but that fight, too, was canceled, because of a weight-cutting issue for Rahman. Surely, Paul gained valuable experience over those 14 rounds that have helped him improve considerably, right?
"I've not seen any improvement," Fury said. "At the end of the day, I think the people he is fighting, you can sort of do whatever you want against. He fought Tyron Woodley, he would just come forward with his hands up, kind of like a robotic action figure.
"… Every time Anderson Silva applied a bit of pressure on Jake, [Jake] didn't know what to do, but Anderson just didn't do enough of it. You know, [Silva is] plain and simple and add the fact that he's 50 years of age [actually 47]. So at the end of the day, I don't take anything from their performances because they're also not against boxers. … When you step in the ring with somebody who's been doing this since he's been 6, it's a very, very, very tall order."
"He's like a novice professional. He's only had six fights, so he's exactly as good as he should be at this stage. He's not an Olympic boxer, but then again, neither am I."
Tyson Fury on Jake Paul
Just how difficult the challenge will be remains to be seen, but oddsmakers have installed Paul as a nearly 2-1 favorite, according to Caesars Sportsbook. Paul hasn't been a major favorite yet, a testament to his willingness to take on genuine challenges for his experience level.
The victory over Silva, who had most recently beaten faded former world champion Julio Cesar Chavez Jr., provided Paul credibility with much of the public. The performance showed off Paul's strides in the ring and the nuance he has added to his game, especially when it comes to his defense.
Watch Real Time: Paul vs. Fury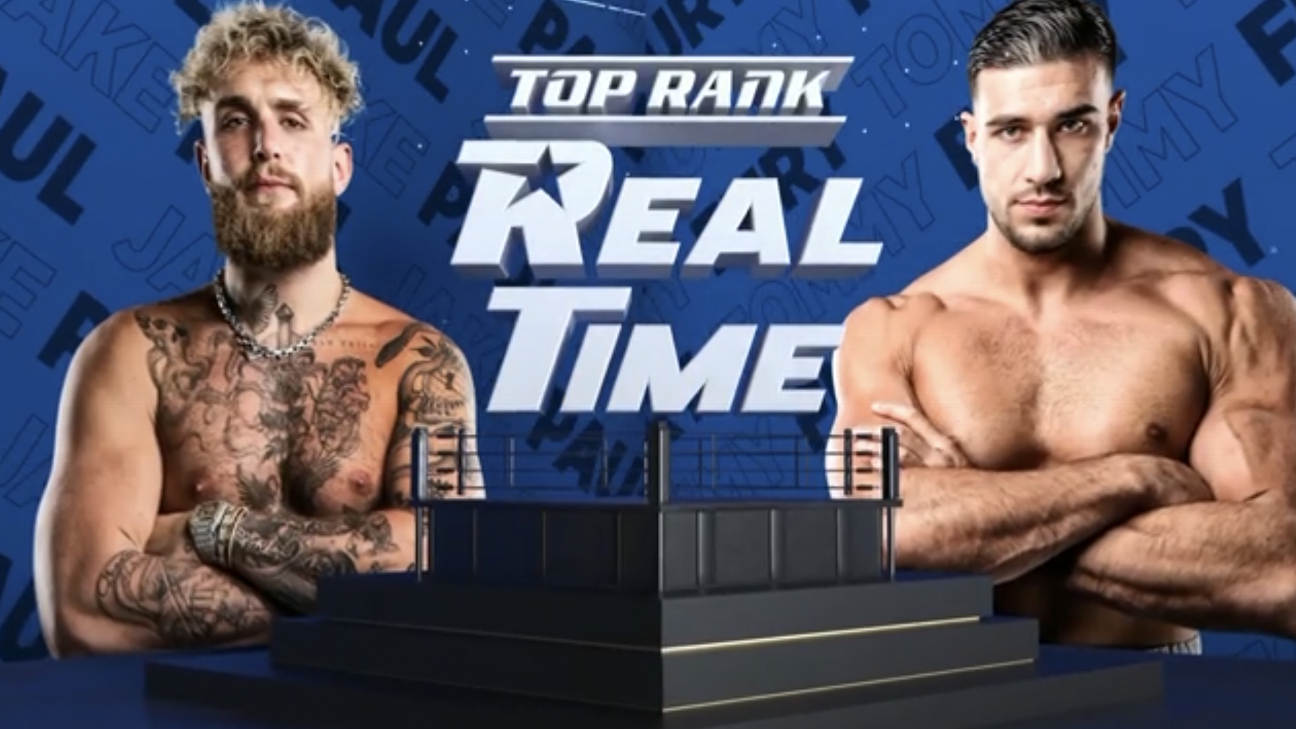 Episode 1 | Episode 2 | Episode 3
Episode 4 | Episode 5 | Episode 6
Episode 7 | Episode 8 | More boxing
"At first, I was just knocking everyone out and I didn't need defense, and I think that's how all these influencer boxers trained," Paul said. "They all just work on offense. Defense is really what allows you to slow everything down to take your time. Everyone knows how to punch. You could go fight someone in the street right now and probably knock them out just by swinging wildly. But not everyone knows how to defend.
"… Knowing when to slip the punches and when they're throwing them, catching jabs and picking and shooting … catching to the body … then coming up with an uppercut and a hook or a right hand to follow. All those little things that you have to do a bunch of times to get into the habit of. It's challenging, but that's what I've slowly been chipping away at."
The defense has most definitely improved, but Hall of Fame boxer Timothy Bradley Jr. says that it's the natural power of Paul that makes him stand out.
"We've seen Jake literally sleep guys. … When you have that type of punching power, I would say it hides a lot of your mistakes," said Bradley, a boxing analyst for ESPN. "Jake is not the prettiest fighter; he's still developing. He's still trying to figure out how to really operate inside the ring. But he does use tactics for a novice [such as clinching] that help him during the fight.
"I don't think he's an easy out for any novice fighter out there. I think he's tough; he's game; he's athletic in a way. And he believes in himself."
play
3:28
Jake Paul: Tommy Fury will choke in the spotlight against me
Jake Paul tells Stephen A. Smith he will knock Tommy Fury unconscious in their much-anticipated fight Sunday on ESPN+.
AN ANNOUNCEMENT FROM the WBC last week revealed that despite neither competitor having fought in a 10-round encounter, the winner of Paul-Fury will be ranked at cruiserweight by the organization. The decision by WBC president Mauricio Sulaiman raised eyebrows, but it came as little surprise. After all, the powers that be in boxing rarely miss a chance to jump on a money train. If Paul ends up fighting for even a minor title, the WBC will be ready to cash in on the sanctioning fees, the money that boxing's four major organizations collect from fighters, which is a percentage of the purse.
The chief-support bout on Sunday pits WBC cruiserweight champion Ilunga Makabu against Badou Jack, creating suspicion Paul could be set up for a title shot against the winner. Don't count on it.
"Maybe 2½ years from now, we'll look at the light heavyweight division and/or the cruiserweight division, because I'm kind of in between them, and see who is the person stylistically that I think I could beat that holds one of these world championship belts," Paul said. "And call them out and make the fight happen. It's as simple as that."
"As long as I stay inspired and continue to be in love with this sport and how rigorous it is, then I can become a world champion."
"You got to win. It's a sport where you have to win. Losing is not an option."
Jake Paul
Paul also doesn't see any reason to fight for the gimmicky bridgerweight title created by the WBC. Boxing already has 17 weight classes, more than double the UFC, but the Mexico-based organization introduced an 18th division between cruiserweight and heavyweight.
"It has to be legit and I'm too light to fight at bridgerweight," Paul said in regard to the 225-pound limit. "That would be really difficult.
"[The title fight] has to be something where nobody could hate on it because … otherwise people are going to pick it apart for sure."
He's right, of course. If Paul wants to be taken seriously as a title challenger at some point down the road, and have a chance to win, he must pivot to developmental fights rather than splashy events.
That's not to say eight rounds with Fury won't aid in his development. But Paul will need to fight far more frequently against progressively better competition to give himself the best chance to become a champion.
"At some point, there's going to be a transition from big fights to going for the belt." Paul said. " Right now, I'm just building up my skills to be able to one day have that experience, have that ring IQ, have the thousands of repetitions to be able to beat a world champion."
play
3:16
Mark Kriegel: Jake Paul is great for boxing
Mark Kriegel discusses why he thinks Jake Paul is great for boxing and what his lasting impact on the sport may be.
AN END TO his undefeated run at the hands of Fury would be beyond damaging. In fact, a loss for Paul at any point would probably do more harm to his career than most other boxers, given his complicated state as a combat attraction.
"You have to win," he said. "Otherwise, then they're going to be, 'Oh, you couldn't beat Tommy Fury and [you are] on an interview saying [you want] to be a world champion.'
"You got to win. It's a sport where you have to win. Losing is not an option."
But if Paul can indeed win once again, he'll continue on his unexpected path to a world title shot sometime down the road.
That journey, Bradley argues, should focus on Paul "trying to become a top prospect first, then becoming a top contender, and then shooting for a world championship."
"That is the only way to do it," Bradley said. "Testing yourself against different styles, stepping up the competition, depending on how well you're doing, taking the risk just like everyone else, right? That's important, instead of just these foreseen money grabs. He's fighting this guy because we know, he knows he can win and he's trying to get a lot of money. I get that. But if you're going to remain and be legit in the sport, you do it this way. He has a chance."
Mix in Paul's self-belief, ample means to improve at his disposal and star power, and Paul might have a better chance than others attempting such a seemingly impossible feat: winning a world title after entering the sport at such an advanced age for a boxer.
But there will be plenty of roadblocks, too. Paul doesn't need the money and could lose interest. There are countless opportunities available to him in entertainment, including WWE, where his brother Logan has already become a staple.
Top stories of the week from
Get exclusive access to more than 3,000 premium articles a year from top writers.
• New 2024 NBA mock draft »
• Best fits for top 50 NFL free agents »
• Most intriguing player on MLB teams »
More ESPN+ content »
Jake, too, is picking up another sport, and will need to balance his boxing career with MMA training as he prepares to potentially compete in the PFL.
Even if Paul loses to Fury, he can still fight on and surely make millions of dollars, even if the dream of someday winning a world title is all but extinguished. It would also depend on the nature of such a loss. A knockout, naturally, is far more damaging than a decision setback. Undoubtedly, many of the fans who pay for Paul's fights are there to see him lose, and if that happens, they might not be back for the next event.
When you're trying to sell pay-per-views as the A-side, the stakes are amplified. And in this post-Floyd Mayweather era, so much emphasis is placed on the 0 at the other side of the fighter's record. Even more so, perhaps, for someone who competes in novelty events as a novice boxer.
Just don't count out Paul yet. He's already accomplished far more in boxing than anyone imagined.
"I'm very realistic," Paul said. "I know my skill level, I know my capabilities and that's why I know I can do it. Not tomorrow, not next year, not the year after. This is a [long-term] plan. When the timing is right, lightning will strike and I'm going to become a world champion."