Ad Blocker Detected
Our website is made possible by displaying online advertisements to our visitors. Please consider supporting us by disabling your ad blocker.
2:42 AM ET
It was inevitable that Jon Jones would end up as the heavyweight champion of the world. When Jones choked out Ciryl Gane in just 2 minutes and 4 seconds on Saturday night in Las Vegas to capture the vacant UFC belt, it fulfilled a prophecy — right? Long ago, the foreshadowing began that Jones was bigger than light heavyweights could handle.
Jones' larger-than-life supremacy was evident right from the first time he stepped into the Octagon nearly 15 years ago and began tossing around his fellow 205-pounders, including a long line of former champions and future Hall of Famers. He stood taller than almost all matched against him, and his wingspan stretched to inescapable lengths. Jones' fights often looked like matchups of athletes from different weight classes.
At UFC 285, though, Jones picked on somebody his own size — or at least very close to it. Jones weighed in the day before at 248 pounds, a half-pound more than Gane, a career-long heavyweight. That meant Jones, returning to the cage after three years away from the sport, was 43 pounds heavier than the weight at which he had stepped on the scale before each of his record 11 title defenses in the 205-pound division. It was like he'd evolved into a whole new man.
UFC 285: Jones vs. Gane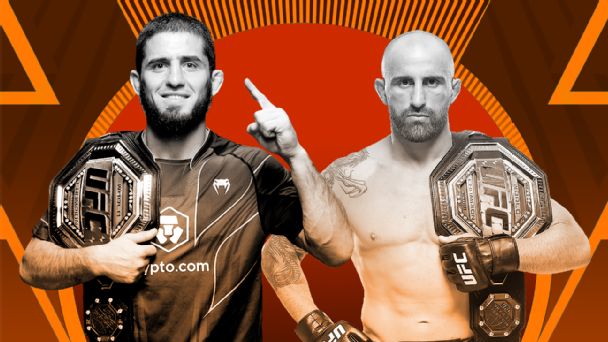 If the pay-per-view is purchased, all fights from UFC 285: Jones vs. Gane will be available to watch on ESPN+.
• Ciryl Gane vs. Jon Jones
• Valentina Shevchenko vs. Alexa Grasso
• Shavkat Rakhmonov vs. Geoff Neal
• Mateusz Gamrot vs. Jalin Turner
• Bo Nickal vs. Jamie Pickett
• Cody Garbrandt vs. Trevin Jones
• Derek Brunson vs. Dricus Du Plessis
• Viviane Araujo vs. Amanda Ribas
• Julian Marquez vs. Marc-Andre Barriault
• Ian Garry vs. Song Kenan
• Mana Martinez vs. Cameron Saaiman
• Jessica Penne vs. Tabatha Ricci
• Da'Mon Blackshear vs. Farid Basharat
• Esteban Ribovics vs. Loik Radzhabov
Watch the complete card on ESPN+ PPV
And yet one thing about Jones has not changed. The measure of his immensity at 205 pounds has never been confined to his physical stature. He has always expressed it even more emphatically in a metaphorical sense, in how he seizes upon big moments and thrives within them. The swagger of Jones was and still is massive enough to swallow up the whole sport. And in this weekend's return, he did not shrink from his latest monumental moment.
Jones put on a performance that was stunning in both its dominance and brevity. Walking out to a hero's welcome back from an adoring (and forgiving) crowd at T-Mobile Arena, Jones took time to soak in the moment, stopping at cageside to hug his father, brothers and fiancée. He then stepped inside the cage for the first time in 1,121 days and cartwheeled across the center, just like old times. After being introduced by Bruce Buffer as "the one and only," Jones showed why those words were not hyperbole.
The fight was not a minute old before Jones had Gane wrapped up and under control, and within another half a minute, he had the Frenchman on the canvas. Jones then straddled a seated Gane against the cage, rendering him helpless before sinking in the guillotine choke that made "Jonny Bones" a champion once more.
"Man, I'm so excited," Jones said after leaping on top of the cage to celebrate, then climbing down to lift up his father and carry him around, both wearing huge smiles. "I've been working for this for a long time. A lot of people thought I wouldn't even be coming back. I've been reading it all the time: 'This dude's never coming back.' But I've been faithful to my goal."
Jon Jones needed just two minutes to defeat Ciryl Gane and claim the UFC's heavyweight title. Jeff Bottari/Zuffa LLC via Getty Images
Winning the heavyweight championship in the way he did, after a long run of supremacy at light heavyweight, will reinvigorate the case for Jones being considered the greatest fighter of all time. Many already consider him the GOAT, but some observers — myself included — have leaned differently because of Jones' multiple performance-enhancing drug violations. However, the U.S. Anti-Doping Agency has since moved the goalposts regarding acceptable levels of some substances, to the point where Jones' drug test results would not have earned him bans in today's regulatory environment. Factoring that in, on top of this championship in the sport's marquee weight class, it sure is difficult to disqualify Jones from GOAT talk.
Along with the discussion over who's the greatest ever, there's also the matter of who's the greatest right now. Saturday's victory over Gane makes Jones the UFC heavyweight champion, which typically carries the designation of "baddest man on the planet."
But it's complicated in this case.
Editor's Picks
1 Related
Francis Ngannou, who recently surrendered the UFC belt and left the company after a contract dispute, also has a strong claim on being the baddest man, based on his long run of knockouts, including the one over Stipe Miocic that made "The Predator" the champ. However, Ngannou's final Octagon appearance was a five-round decision last year over Gane, the same man Jones finished in two minutes. Jones wins that comparison and soon might have another with which we can judge him against Ngannou. The UFC has indicated that Jones' first title defense will be against Miocic, so let's see how the new champ performs against the old champ.
What we can say now is that, at age 35, Jones is bursting with upside.
Of course, there are downsides as well. Just as Jones has always had a way of taking our breath away, he also has made us hold our breath in anticipation of his next instance of bad behavior. Three times he was stripped of his UFC light heavyweight title. He served three suspensions for doping violations, plus one in connection with an arrest following a hit-and-run accident that injured a pregnant woman. Jones has been arrested several times, including on a domestic violence charge and twice for suspicion of driving under the influence. Throughout his career, Jones has shown himself to be a virtuoso in the fine art of self-inflicted career sabotage.
At this point, when a fight card headlined by Jones is getting underway, the arena sound crew should set aside the UFC's usual "Baba O'Reilly" kickoff theme song. As a public service to fans who continually fall for Jones' repeated assurances that this time he's a new, better, grown-up man, the show should open with a different Who song: "Won't Get Fooled Again."
But this is not the time to dwell too gloomily on a future potentially soiled by a Jones downfall, even if his shadowy past suggests it is as inevitable as was this weekend's rise to the top of the heavyweight division. Instead, this is a night to stand in awe of Jones' comeback and his ability to not simply pick up where he left off but to raise his game. Who would have guessed that was possible?
Jones has reestablished himself as a champion among champions. He is indeed the one and only, and for as long as he can keep his balance at the top of the hill with the spotlight shining down on him, the sport of MMA will be richer for his presence.