Ad Blocker Detected
Our website is made possible by displaying online advertisements to our visitors. Please consider supporting us by disabling your ad blocker.
Silver Chang
Laticia Rolle, former model, current entrepreneur, podcaster, and influencer, is a self-proclaimed minimalist when it comes to beauty and wellness. Even when she noticed deepening lines between her eyebrows, the 34-year old shied away from cosmetic procedures. Then, she learned about Xeomin (incobotulinumtoxinA), a double-filtered, anti-wrinkle injection for frown lines. The injectable allowed her to stay true to her authentic, effortless aesthetic.
"Xeomin is known as the smart toxin, meaning that it does not contain unnecessary proteins that some other neurotoxins contain," explains Michelle Henry, M.D., a board-certified dermatologist based in New York City. The purity of the formula appealed to Rolle, and it turns out that it may also reduce the risk of developing treatment resistance. "The immune system could use those unnecessary proteins to create antibodies that may reduce the product's effectiveness over time," says Dr. Henry.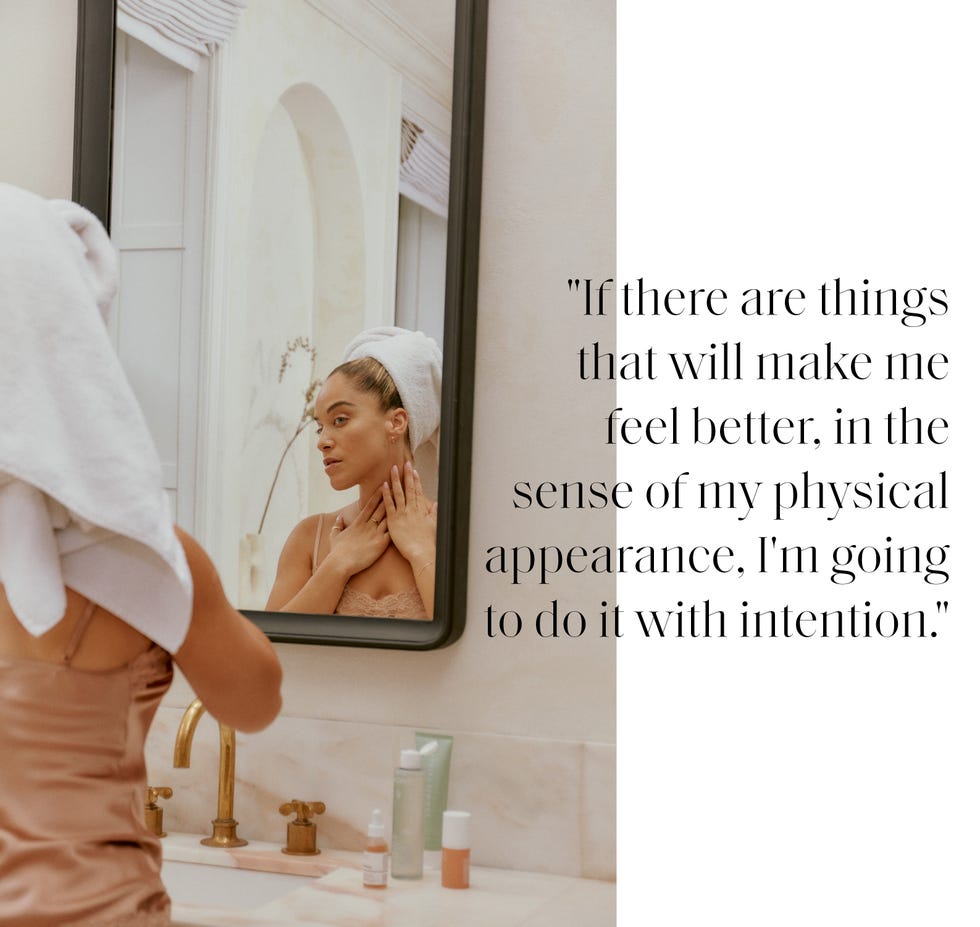 Silver Chang
Rolle first started looking into injectables when she found herself adding extra steps to her beauty regimen in order to achieve her complexion goals. Her process went from just-the-essentials, like cleansing and applying on serums, to techniques such as an involved gua sha routine. In addition, she would attempt to diminish the appearance of her eleven lines with makeup. "I looked at my lines and thought, Ugh, they're getting deeper—and to be honest, it would make me feel a little bit insecure," she shares. "But if there are things that will make me feel better about my physical appearance, like Xeomin, I'm going to do it with integrity and with intention."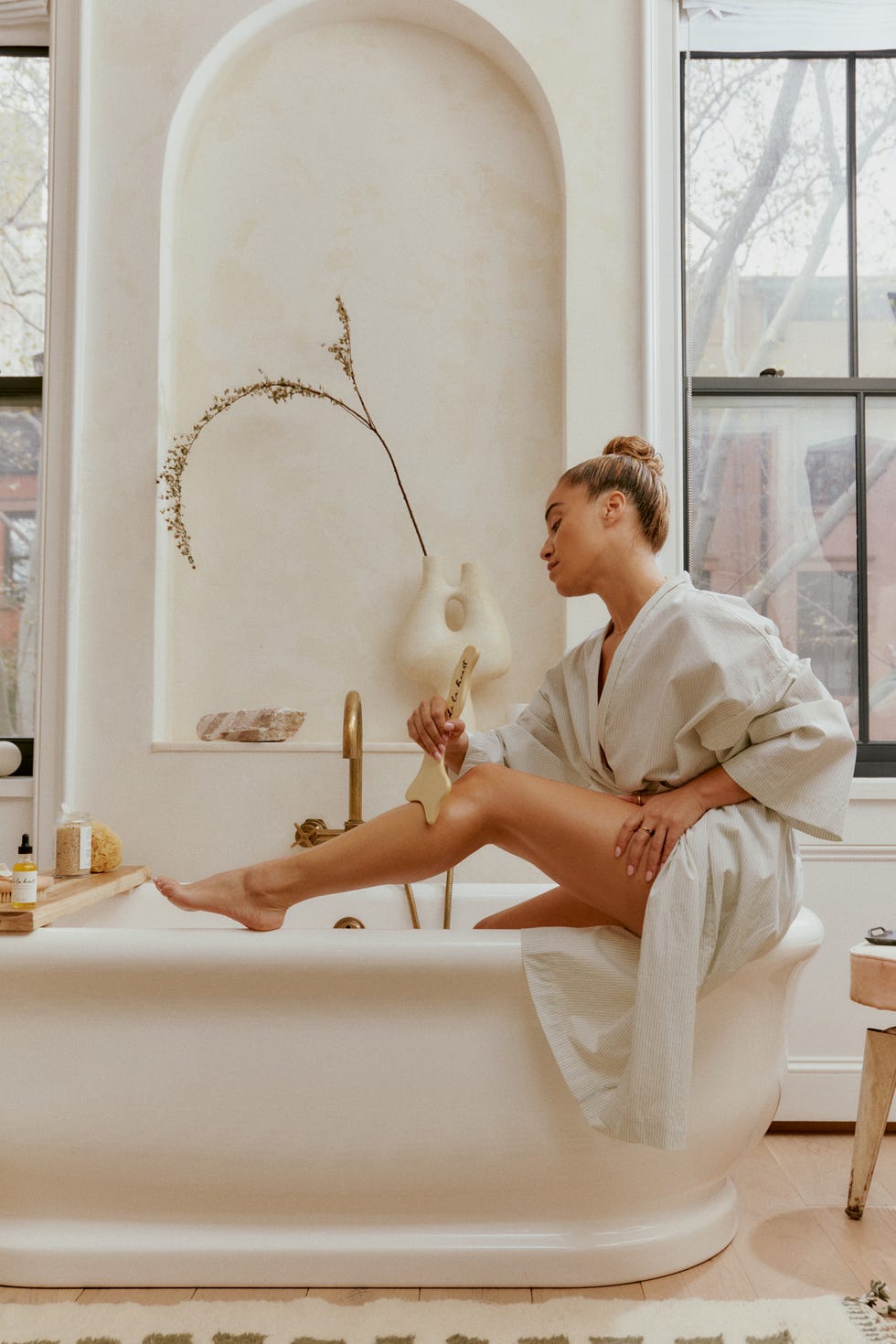 Silver Chang
It was Xeomin's skin-smoothing power, plus its reputation as a double filtered toxin, that appealed to Rolle. She also knew the effect she hoped to achieve: "I still wanted to look like me," she says. "I love me naturally."
Rolle says her intro to injectables was a surprisingly Zen experience. "The doctor assured me that it was going to be a seamless process and it was," she says. As for the results? "I still have a natural look and you can see my emotions," she shares. "You can still see me and that's why I love Xeomin."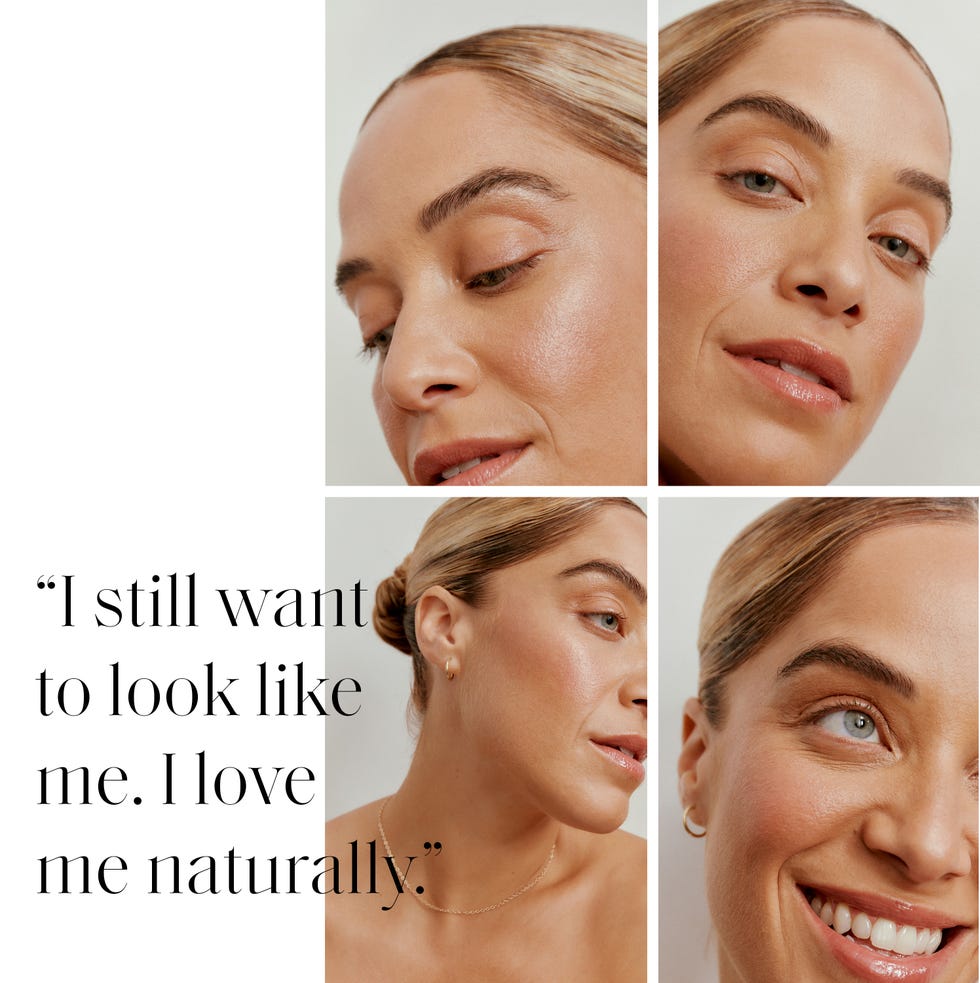 Silver Chang
Now that her frown lines are smooth, she's gone back to basics, and says she has an even more get-up-and-go beauty routine than before. "Now I put on my skincare, a little blush and mascara and I'm out," she says.
Since she's made the leap, she hopes to empower other beauty minimalists (talk to your provider to learn if Xeomin is right for you). "Xeomin is absolutely part of my self-care routine going forward," she says. "And I'm happy to share that because I think it's important to be open and honest with what you desire, because it's your life."
Head-to-head studies evaluating the relative risk of immunogenicity due to the presence or absence of complexing/unnecessary proteins have not been performed.
XEOMIN® (incobotulinumtoxinA) IMPORTANT CONSUMER SAFETY INFORMATION
Read the Medication Guide before you start receiving XEOMIN (Zeo-min) and each time XEOMIN is given to you as there may be new information. The risk information provided here is not comprehensive.
To learn more:
• Talk to your health care provider or pharmacist
• Visit www.xeominaesthetic.com to obtain the FDA-approved product labeling
• Call 1-866-862-1211
Uses: XEOMIN is a prescription medicine that is injected into muscles and used to improve the look of moderate to severe frown lines between the eyebrows (glabellar lines) in adults for a short period of time (temporary). It is not known if XEOMIN is safe and effective in children under 18 years of age. Please see additional Important Safety Information below and Full Prescribing Information and Medication Guide at XeominAesthetic.com.
Warnings: XEOMIN may cause serious side effects that can be life threatening. Call your doctor or get medical help right away if you have any of these problems anytime (hours to weeks) after treatment with XEOMIN:
• Problems with swallowing, speaking, or breathing can happen within hours to weeks after an injection of XEOMIN if the muscles that you use to breathe and swallow become weak. Death can happen as a complication if you have severe problems with swallowing or breathing after treatment with XEOMIN.
o People with certain breathing problems may need to use muscles in their neck to help them breathe and may be at greater risk for serious breathing problems with XEOMIN.
o Swallowing problems may last for several months, and during that time you may need a feeding tube to receive food and water. If swallowing problems are severe, food or liquids may go into your lungs. People who already have swallowing or breathing problems before receiving XEOMIN have the highest risk of getting these problems.
• Spread of toxin effects. In some cases, the effect of botulinum toxin may affect areas of the body away from the injection site and cause symptoms of a serious condition called botulism. The symptoms of botulism include: loss of strength and muscle weakness all over the body, double vision, blurred vision and drooping eyelids, hoarseness or change or loss of voice, trouble saying words clearly, loss of bladder control, trouble breathing, trouble swallowing.
These symptoms can happen hours to weeks after you receive an injection of XEOMIN. These problems could make it unsafe for you to drive a car or do other dangerous activities.
Do not use XEOMIN if you are allergic to XEOMIN or any of the ingredients in XEOMIN (see the end of this Guide for a list of ingredients in XEOMIN), had an allergic reaction to any other botulinum toxin products such as rimabotulinumtoxinB (MYOBLOC®), onabotulinumtoxinA (BOTOX®, BOTOX® COSMETIC), or abobotulinumtoxinA (DYSPORT®) or have a skin infection at the planned injection site.
Before receiving XEOMIN, tell your doctor about all of your medical conditions, including if you:
• have a disease that affects your muscles and nerves (such as amyotrophic lateral sclerosis [ALS or Lou Gehrig's disease], myasthenia gravis or Lambert-Eaton syndrome)
• have had any side effect from any other botulinum toxin in the past
• have a breathing problem such as asthma or emphysema
• have a history of swallowing problems or inhaling food or fluid into your lungs (aspiration) • have bleeding problems
• have drooping eyelids
• have plans to have surgery
• have had surgery on your face
• are pregnant or plan to become pregnant. It is not known if XEOMIN can harm your unborn baby.
• are breastfeeding or plan to breastfeed. It is not known if XEOMIN passes into breast milk.
Tell your doctor about all of the medicines you take, including prescription and over-the-counter medicines, vitamins and herbal supplements. Talk to your doctor before you take any new medicines after you receive XEOMIN.
Using XEOMIN with certain other medicines may cause serious side effects. Do not start any new medicines until you have told your doctor that you have received XEOMIN in the past. Especially tell your doctor if you
• have received any other botulinum toxin product in the last four months
• have received injections of botulinum toxin such as rimabotulinumtoxinB (MYOBLOC®), onabotulinumtoxinA (BOTOX®, BOTOX® COSMETIC) and abobotulinumtoxinA (DYSPORT®) in the past. Be sure your doctor knows exactly which product you received. The dose of XEOMIN may be different from other botulinum toxin products that you have received.
• have recently received an antibiotic by injection
• take muscle relaxants
• take an allergy or cold medicine
• take a sleep medicine
Ask your doctor if you are not sure if your medicine is one that is listed above. Know the medicines you take. Keep a list of your medicines with you to show your doctor and pharmacist each time you get a new medicine.
Possible Side Effects
XEOMIN can cause serious side effects that can be life threatening including allergic reactions. Symptoms of an allergic reaction to XEOMIN may include: itching, rash, redness, swelling, wheezing, asthma symptoms, or dizziness or feeling faint. Tell your doctor or get medical help right away if you get wheezing or asthma symptoms, or if you get dizzy or faint. See "Warnings."
The most common side effect of XEOMIN in people with frown lines include:
• headache
These are not all the possible side effects of XEOMIN.
Call your doctor for medical advice about side effects. You may report side effects to FDA at 1-800-FDA-1088.
General information about the safe and effective use of XEOMIN
Medicines are sometimes prescribed for purposes other than those listed in a Medication Guide. You can ask your pharmacist or doctor for information about XEOMIN that is written for health professionals.
Active Ingredient: botulinum toxin type A
Inactive Ingredients: human albumin and sucrose
Copyright © 2022 Merz North America, Inc. All rights reserved.resume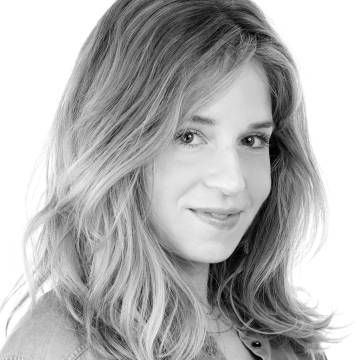 Nicole Catanese is a beauty and wellness editor.