Staff, tables and almost everything else will be decorated in theme-appropriate attire for Oct. 29's Murder at the Mansion at The Edge. Guests are also invited to dress in costume for the event.

Submitted

ANDERSON — A murder will occur and you could be left answering the age-old question of whodunnit?
On Oct. 29, The Edge in Anderson will host "Murder at the Mansion." Doors open at 6:30 p.m., with the event to follow at 7 p.m.
The cost is $55 per person, tickets may be purchased online. Groups of four to eight are recommended as they will be working to solve the murder together. According to a flyer for the event, guests ages 18 and over will be admitted.
A four-course Halloween-themed meal will be served. Creepy Crawly Greek Salad, Witch Hat Dippers, Eyeball Pasta, and Pumpkin and Chocolate Trifle. Those with dietary restrictions should contact the club. A cash bar will also be available at the event.
Upon arrival, guests will work their way to the ballroom, where for about two hours, they'll step into an old mansion.
Tina O'Connor, pub manager for the Edge said the building already looks like an old mansion, but everything from tables to the wait staff, will be decorated to enhance guests' experience.
Each person at the table will be given a script, which includes all of their character information needed to perform for their tablemates. Though they don't know who, guests will be left figuring out which person at their table is the murderer.
Glass' company, Occasions Divine, puts a team of writers together who come up with various mystery scenarios, including a high school prom, under the sea and a plane crash.
When asked why murder at a mansion was picked, Glass said it was an idea that coincided with Halloween.
Glass boasted that these mysteries have stumped law enforcement. Several years ago, she said, the then Anderson Police Chief had trouble solving one of their mysteries.
Guests are asked to watch their food, not because of anything nefarious, but because they may contain clues. In addition to food, Glass said clues could be embedded in things said by wait staff and so on, so pay attention.
O'Connor said normal operations will carry on as only the ballroom will be used for the event.
Tickets are purchased online. Those with additional questions, can contact the Edge at 765-642-4979.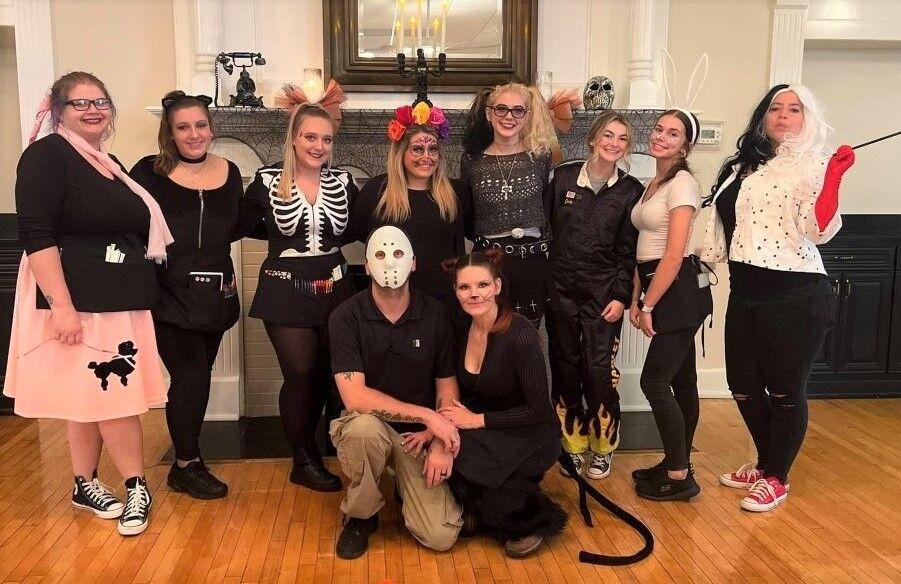 Staff from The Edge gather for a group photo. Each staff member is dressed in costume for a Halloween-themed event. On Oct. 29, staff will be dressed in costume, but this time for an event called Murder at the Mansion. Doors open at 6:30 p.m. with events to follow at 7 p.m. Tickets are $55 and may be bought online.

Submitted photos