Ad Blocker Detected
Our website is made possible by displaying online advertisements to our visitors. Please consider supporting us by disabling your ad blocker.
Laken Litman
College Football & Soccer Analyst
NASHVILLE, Tenn. — While the U.S. women's national team didn't put on a dominant performance by any means, it still came away with an important 1-0 win against Japan on Sunday at GEODIS Park in Match 2 of the SheBelieves Cup.
It took awhile for the U.S. to settle down and overcome Japan's ultra-organized and aggressive 3-4-3 lineup, but ultimately the Americans broke through, wore their opponent down, and Mallory Swanson once again scored the winning goal.
The USWNT now only has four games left before this summer's World Cup in Australia and New Zealand, including the final game of this tournament against Brazil on Wednesday in Frisco, Texas.
Here are three quick thoughts on Sunday's match:
Who else but Mallory Swanson?
It took the whole first half for the U.S. to find the back of the net, but it was no surprise who finally did.
In the 45th minute, Sofia Huerta won the ball on the back line, sent a long ball to Alex Morgan in the middle of the field, who settled it and served a crisp pass to Swanson, who was streaking down the left wing. Swanson only needed five touches before slipping a low shot past goalkeeper Ayaka Yamashita into the left corner of the goal to put the U.S. up 1-0 at the break.
Swanson has now scored six goals in four games for the national team so far this year and is on a five-game scoring streak dating back to last November. As U.S. coach Vlatko Andonovski said Thursday after Swanson's brace clinched a 2-0 win over Canada, "She's just feeling it."
There's no question about that. Swanson is unstoppable, a game-changer and a fearless attacker who dribbles through defenders like they're not even there, which is exactly what she did to Japan's Shiori Miyake on her goal.
Swanson was on the roster during the 2019 World Cup, but didn't get a ton of playing time. It was the Morgan and Megan Rapinoe show. This summer, however, expect the big moments to be Swanson's for the taking.
This is the time for trying things out
Andonovski's starting lineup against Japan included several different faces. Six of the 11 U.S. starters entered the game with fewer than 30 caps, including the entire back line of Emily Fox, Alana Cook, Naomi Girma and Huerta. Andonovski also gave starting goalkeeper Alyssa Naeher a break in favor of backup Casey Murphy.
The SheBelieves Cup is not only the last real chance for the U.S. to face World Cup competition in a World Cup style (three games in seven days is similar to the group stage), but it's also an opportunity for players to make their case for a roster spot and/or playing time. Andonovski can only bring 23 players to the World Cup (though there's still a chance FIFA changes that number to 26 like it did for the men's tournament in Qatar). And time is running out for certain players to make their final case.
Ashley Sanchez started in the No. 10 spot for the second straight game, with Rose Lavelle unavailable due to injury. She played 64 minutes alongside Lindsey Horan and Kristie Mewis, providing the U.S. with different looks that they could potentially use during the World Cup. Murphy started in goal and made a handful of big saves. Mewis started in the midfield and Lynn Williams got the nod up top.
After Thursday's win, Andonovski used Sanchez as an example of how he's thinking about trying new things and tinkering with his lineup.
"Games like this is what's going to help her get better because we can try certain things with her against a team that's not going to expose us," he said.
Developing a ruthlessness
One of the biggest differences between this current roster and the one that won the World Cup four years ago is more inexperienced players. In fact, 11 of the 23 players on this roster have fewer than 30 caps.
While Japan was more difficult to break down than Canada was a couple of days ago, the U.S. should have taken advantage of more scoring opportunities rather than let its opponent hang around and nearly score in the final five minutes.
Because there are so many young players that are still getting used to the USWNT environment, Andonovski has said that his team is still trying to develop that "ruthlessness" that's become an important characteristic of the national team for decades. But it can only come with more experience though.
Here's what Andonovski said about Trinity Rodman after the Canada match. It can be used to describe the rest of these young players, too.
"She needs to develop the ruthlessness," he said. "Sophia Smith, who is not here, and Ashley Sanchez, these are young players. They are great players, but it just takes a little more [time].
"When we are up 2-0 [against Canada], we could have easily scored another two or three goals. We created enough opportunities to score two or three more goals. That's when you score the third one and put the game away. But again, happy with everything that we got. We'll use those moments as learning opportunities, so we can show Trinity how she can be even better."
Laken Litman covers soccer, college football and college basketball for FOX Sports. She previously covered college football, college basketball, the U.S. Women's National Soccer Team and the Olympics at Sports Illustrated, USA Today and The Indianapolis Star. Follow her on Twitter at @LakenLitman.
Read more: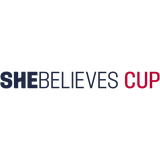 Get more from SheBelieves Cup Follow your favorites to get information about games, news and more