Ad Blocker Detected
Our website is made possible by displaying online advertisements to our visitors. Please consider supporting us by disabling your ad blocker.
Tesla founder and Twitter CEO Elon Musk called out music and entertainment magazine Rolling Stone for sharing a piece claiming cancel culture will "liberate us all."
Rolling Stone's Ernest Owens published a piece on Tuesday headlined, "Why Cancel Culture Is Good For Democracy." The piece is an excerpt from his book, "The Case for Cancel Culture: How This Democratic Tool Works to Liberate Us All" and claimed that "Cancel culture has leveled the playing field for those who can't always rely on the government to protect them."
ELON MUSK TOUTS TWITTER EXECS GRILLED BY HOUSE GOP: 'THE WOKE STASI FELT THE HEAT TODAY'
Musk, who became a hero to many free speech advocates after he acquired the Twitter platform, torched the piece and suggested it has tainted the brand of Rolling Stone itself.
"How blatantly obnoxious that they just want to keep canceling people! Do they ever write about music anymore?" he asked. "They should rename themselves 'Scolding Stone', as all they seem to do these days is holier-than-thou nagging."
Owens suggested that cancel culture as a phenomenon slowly improving the country and shifting it toward a more equitable society.
"Right now, bigots are protected under the First Amendment to fuel disgusting rhetoric without state-sanctioned consequence. The America that tolerated white supremacy in their policies and laws is the same country that wants to remind us how such forms of hate are still legal via free speech," Owens claimed. "Cancel culture is the poison to those in power that have benefited from unchecked free speech."
Owens rephrased his point that cancel culture is a tool of racial retribution.
"In other words, straight white men and other people with power aren't used to getting pushback for the ways they conduct themselves—and cancel culture has reset the ways society can react," he claimed. "Those who fear cancel culture may claim they fear suppression of speech, but it's accountability that they want to avoid."
The author went on to write, "Cancel culture is a way for a new generation of people to practice free speech."
He then quoted activist-attorney Preston Mitchum speaking about cancel culture, "It is a direct call to get better, do better, and be better for communities that are often marginalized."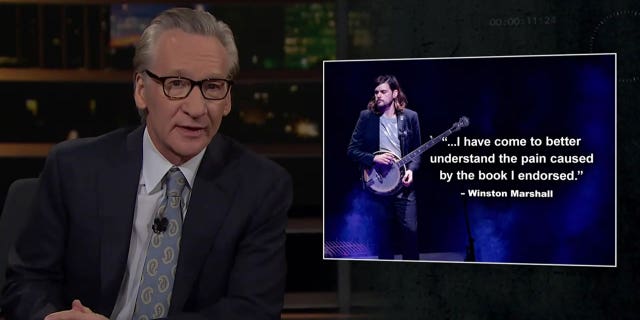 Bill Maher discusses cancel culture targeting former Mumford & Sons banjo player Winston Marshall. (HBO)
ELON MUSK SCORCHES MEDIA FOR BEING 'AGAINST FREE SPEECH,' ASKING WH TO MONITOR TWITTER: 'THIS IS MESSED UP'
Commentators across Twitter rallied around Musk's tweet, noting the decline of the music magazine once associated with a rebellious art scene.
"Canceling people is that rag's bread and butter now. I don't think they write about anything that doesn't have some woke angle," conservative Twitter personality Ian Miles Cheong wrote.
Commentator Ron Bassilian suggested another name change for Rolling Stone, "Mossy stone, because they've stagnated for decades."
"That rag became largely irrelevant years ago," Defense attorney David Wohl wrote, "No one cares what they think about cultural issues any more."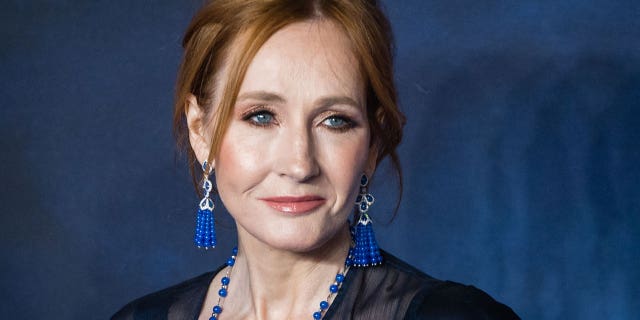 Harry Potter author J. K. Rowling is one of the most famous cases of a celebrity who was once beloved by liberal elites, but has since been disavowed after disagreeing with aspects of far-left ideology. (Getty Images)
CLICK HERE TO GET THE FOX NEWS APP
Tech journalist Doriano "Paisano" Carta tweeted, "They became like MTV which also stopped doing what made them great which was covering music and playing music videos. Scolding Stone has been woke a long time."
Alexander Hall is an associate editor for Fox News Digital. Story tips can be sent to [email protected].