Ad Blocker Detected
Our website is made possible by displaying online advertisements to our visitors. Please consider supporting us by disabling your ad blocker.
New York Gov. Kathy Hochul, on Monday, mobilized the National Guard and declared a state of emergency ahead of a winter storm expected to dump two to four feet of snow in parts of the state in the next two days.
"New Yorkers should prepare now for a multi-day event that will bring up to three feet of snow in certain parts of the Capital Region and Mid-Hudson region," Hochul said.
Kathy Hochul, governor of New York, speaks during the Clinton Global Initiative (CGI) annual meeting in New York, Sept. 20, 2022. (Michael Nagle/Bloomberg via Getty Images)
Beginning at 8 p.m. on Monday night, a state of emergency will go into effect for Albany, Broome, Cayuga, Chenango, Columbia, Cortland, Delaware, Dutchess, Essex, Fulton, Greene, Hamilton, Herkimer, Lewis, Madison, Montgomery, Oneida, Onondaga, Ontario, Orange, Oswego, Otsego, Putnam, Rensselaer, Saratoga, Schenectady, Schoharie, Schuyler, Seneca, Sullivan, Tioga, Tompkins, Ulster, Warren, Washington, Wayne, Yates and their contiguous counties.
NOR'EASTER THREATENS NYC, NORTHEAST WITH SEVERE WINTER WEATHER
Under the state of emergency, all tandem and empty tractor trailers will be banned on I-87 between exit 17 and exit 36, where it intersects I-90, as well as the length of Berkshire Spur from I-87 Exit 21 to the Massachusetts border.
The governor's office said in a press release that similar restrictions will be in effect along additional interstates during the storm.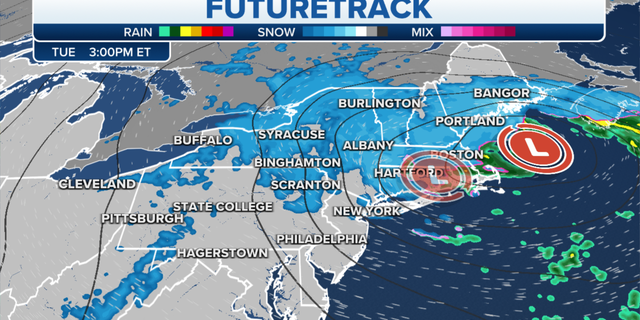 Snow totals of more than 12 inches are forecast is higher elevations of New York state, Massachusetts, New Hampshire and Vermont, the NWS said. (FOX Weather)
The snowstorm is expected to bring up to two feet of snow in areas of the Capital Region, Central New York, Mid-Hudson, Mohawk Valley and North Country regions from Monday night through Wednesday.
DEATH TOLL IN SOUTHERN CALIFORNIA MOUNTAINS RISES AFTER MAJOR SNOW AS COMMUNITIES DIG OUT
Some higher elevations in Capital and Mid-Hudson regions could see up to three feet of snow, while the Finger Lakes region may see up to eight inches or more by Wednesday.
Heavy and wet snow mixed with gusty winds up to 45 mph are expected to increase the likelihood of power outages.
In preparation for the storm, Hochul activated the New York National Guard in the Capital and Mid-Hudson regions. She also deployed additional stage agency personnel to regions that will be impacted by the storm.
New York City and Long Island could get up to two inches of snow, though rain and coastal flooding are likely to cause minor coastal flooding in the area.
CLICK TO GET THE FOX NEWS APP
"State agencies spent the weekend preparing emergency response assets, my team is in constant contact with local officials, and we have activated the National Guard to assist with emergency response," Hochul said. "This storm will create hazardous road conditions through Wednesday morning, and I encourage New Yorkers in impacted regions to stay home and avoid any unnecessary travel to allow plow crews to do their job."
Greg Wehner is a breaking news reporter for Fox News Digital.