Ad Blocker Detected
Our website is made possible by displaying online advertisements to our visitors. Please consider supporting us by disabling your ad blocker.
NewsNation correspondent Evan Lambert was arrested Wednesday as he was covering a press conference following the recent disastrous train derailment that occurred in Ohio.
Footage from NewsNation, shows Lambert, who was doing a live shot at a press conference with Republican Ohio Gov. Mike DeWine, who was set to provide an update on the chaos that erupted in East Palestine, being forced on the ground and cuffed by two police officers. The officers escorted him outside and placed him in a patrol car. He was taken to Columbiana County Jail and released later Wednesday evening.
"Evan is safe and calm, and continues to act with professionalism and integrity that he brings to his work each day," NewsNation D.C. bureau chief Mike Viqueira said in a statement. "As you see from the videos, he was doing his job – what hundreds of journalists do without incident – reporting to the public o the matter of urgent, critical interest to our audience."
ABC PRODUCER WHO DIED REPORTEDLY CHOKED ON FOOD WHILE DRUNK AFTER NETWORK SAID HE SUFFERED HEART ATTACK
Viqueira said Lambert was charged with "criminal trespass and disorderly conduct."
NewsNation correspondent Evan Lambert was arrested while reporting on the train derailment in East Palestine, Ohio. (Screenshot/NewsNation)
DeWine denounced the arrest during the press conference, saying it was "wrong" for Lambert to be told to stop reporting and asserting he did not authorize law enforcement to apprehend the NewsNation correspondent.
"I'm certainly very, very sorry that that happened," DeWine told reporters. "[Lambert] had every right to be reporting and do what they do every single day."
OHIO TRAIN DERAILMENT: RESIDENTS STILL BARRED FROM HOMES AFTER TOXIC CHEMICALS RELEASED FROM CARS
Additional footage showed tensions boiling between Lambert and law enforcement in the back of the room as the press conference was being held.
"I got arrested because I was trying to do a live report about what people need to know," Lambert told a bystander who asked what happened.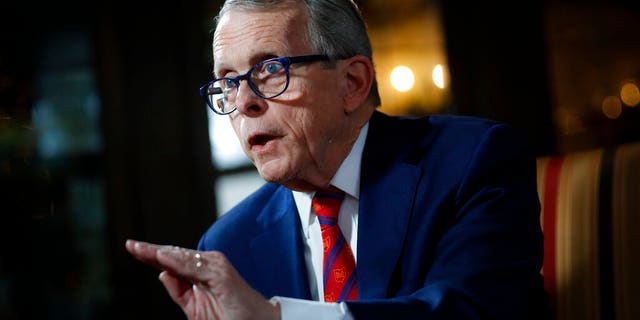 Ohio Gov. Mike DeWine denounced the arrest of NewsNation correspondent Evan Lambert, something he insisted he did not authorize. (AP Photo/John Minchillo)
OFFICIALS ADVISE EVACUATION OVER EXPLOSION CONCERNS AFTER TRAIN DERAILMENT IN OHIO
Viqueira blasted the arrest while speaking on-air with a NewsNation anchor.
"The idea that Evan appears to be singled out here as his boss, as his colleague, as a fellow journalist is really infuriating," Viqueira said.
Following his release, Lambert told NewsNation's Ashleigh Banfield it's been a "long day" but that he's "ok." Lambert refrained from offering details as to what transpired as charges against him were not dropped.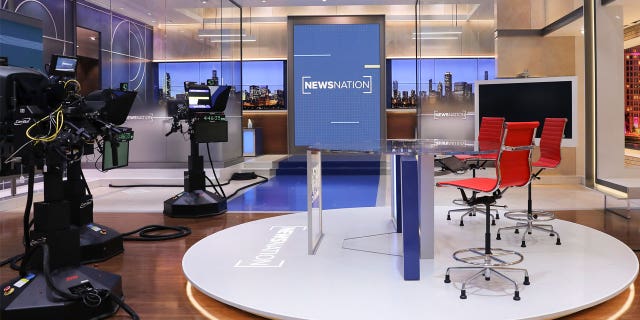 NewsNation was launched in 2020 by Nexstar Media Group. (Abel Uribe/Chicago Tribune/Tribune News Service via Getty Images)
CLICK TO GET THE FOX NEWS APP
Lambert joined NewsNation in 2021 after four years as a reporter at the local affiliate Fox 5 in Washington D.C.
NewsNation was launched in 2020 by Nexstar Media Group, taking over the channel formerly known as WGN America.
Joseph A. Wulfsohn is a media reporter for Fox News Digital. Story tips can be sent to [email protected] and on Twitter: @JosephWulfsohn.