Ad Blocker Detected
Our website is made possible by displaying online advertisements to our visitors. Please consider supporting us by disabling your ad blocker.
Rob Rang
NFL Draft Analyst
The University of Georgia conclusively proved its dominance of college football this past Monday night, throttling TCU 65-7 in as thorough a title defense as you'll ever see.
While the Bulldogs' mastery was clear and the college football season is now over, there is still plenty of mystery in the sport. That is because while dozens of the game's stars have already announced their intentions to forgo their remaining eligibility and enter the 2023 NFL draft, there are numerous high-profile players who have yet to publicly announce their intentions.
Underclassmen (or their representatives) have until Monday to officially petition the NFL for early entry.
Below is a ranking of the remaining undecided prospects, including my suggestion of whether the time is right for their leap to the NFL.
Before a single player is named, however, let's acknowledge the obvious. Making an early jump to the NFL is a personal and very important decision with myriad unique factors to take into account.
Given the financial opportunities in college sports in the NIL era, some players who might previously have leaped at the chance for NFL millions may instead choose to stay in college. Staying in school, earning their degree and polishing up their game (in that order) is the advice for most of the prospects still undecided.
There are, however, exceptional candidates whose talent is so obvious — whose road to the NFL's first round so clear — that returning to college might actually be the greater risk.
Here are the most intriguing candidates who are still apparently weighing this life-altering decision.
C.J. Stroud, QB, Ohio State
Grade: First Round
Many have simply assumed that Stroud — a projected top–five pick and legitimate candidate to go No. 1 overall — would simply waltz into the 2023 NFL draft given his sparkling 85-12 career touchdown to interception ratio. He certainly showed NFL-caliber accuracy throughout his career, ranking as the top pure passer in the country in my midseason review of the top quarterback prospects. Despite the narrow loss to Georgia in the Peach Bowl, Stroud's stock with scouts has only risen with his performance in that contest, as he nearly willed the Buckeyes to victory. He now has thrown 10 touchdowns and just one interception in bowl games against the highly respected defenses of Utah and Georgia over the past two seasons.
The quarterback-needy teams atop the draft are hoping that Stroud enters the draft early, but remember he is just a 21-year-old redshirt sophomore coming off his second season as a starting quarterback. Reaching the playoffs would be enough for some, but Stroud might have bigger goals for the Buckeyes still on his to-do list, like beating Michigan or winning a conference and national title. Further, there is a realistic possibility of completely rewriting the record books at Ohio State given that the Buckeyes will boast arguably the country's best 1-2 receiver punch with Marvin Harrison, Jr. and Emeka Egbuka returning.
If Stroud requested a grade from the Advisory Committee (as every underclassman considering making this jump should), I have no doubt that he received a first-round stamp. If he wants to go, the road to do so seems as gilded as it could get. Still, his stock could improve even more with scouts by showing the commitment to the Buckeyes to finish what he started before turning the page on college football.
Georgia defeats Ohio State in Peach Bowl
Joel Klatt discusses how Kirby Smart and Ryan Day both called excellent games in a thrilling contest.
Quentin Johnston, WR, TCU
Grade: First Round
Unlike recent drafts, this year's crop of wide receivers is a bit weaker at the top, with plenty of debate over who will be the first wideout selected. One of the leading candidates would appear to be Johnston, who boasts impressive body control and natural playmaking skills given his imposing 6-foot-4, 215-pound frame. Johnston seemingly has all the traits scouts are looking for in a No. 1 target, but after Georgia limited him to just one catch for three measly yards in the national championship game, has the luster worn off?
Hardly. Remember, those same Bulldogs rendered then-Michigan star defensive lineman Aidan Hutchinson pretty inconsequential in last year's Orange Bowl, as well. Give Georgia credit for bottling up their opponents' best player in the postseason yet again, but Johnston's film the rest of the season is strong enough to ease whatever concerns scouts may have about his disappointing performance in the title game. Johnston is more of a playmaker than his six receiving touchdowns in 2022 would suggest. TCU head coach Sonny Dykes is likely attempting to convince Johnston, 21, that his numbers would jump as a fourth-year senior in 2023, but they may do that anyway with an NFL quarterback falling in love with his ability to win contested passes.
I think Johnston's game is ready for the NFL and that he makes the jump.
Jordan Addison, WR, USC
Grade: Second Round
Perhaps no transfer last offseason captured the attention and imagination of college football fans more than Addison's switch from Pitt — where he won the Biletnikoff Award in 2021 — out to USC to join Lincoln Riley and future Heisman Trophy winner Caleb Williams, who followed his head coach to the Trojans from Oklahoma. Addison's eye-popping production at Pitt (100 catches for 1,593 yards and 17 touchdowns) as a true sophomore led to all sorts of unrealistic expectations for what he might do as the featured target in the Trojans' suddenly rebuilt passing attack. Instead, Addison slipped to mere mortal production (59-878-8) in his first season at USC, fizzling down the stretch with just two scores since September, though he did lead the Trojans in every significant receiving category.
Perhaps generously listed at 6-foot and 175 pounds, Addison does not possess the previously mentioned Johnston's body armor, raising concerns about his durability. Addison's game is based on precision and quickness. Similarly built and talented receivers have typically been drafted outside the first round. Nevertheless, his game translates well to the next level and should earn him a top-50 selection should he decide to leave early. Returning could lead to a rebound in production next season as he and Williams develop even better rapport, though it seems unlikely that his stock would jump significantly by doing so. Addison will not turn 21 until later this month.
Caleb Williams finds Jordan Addison for TD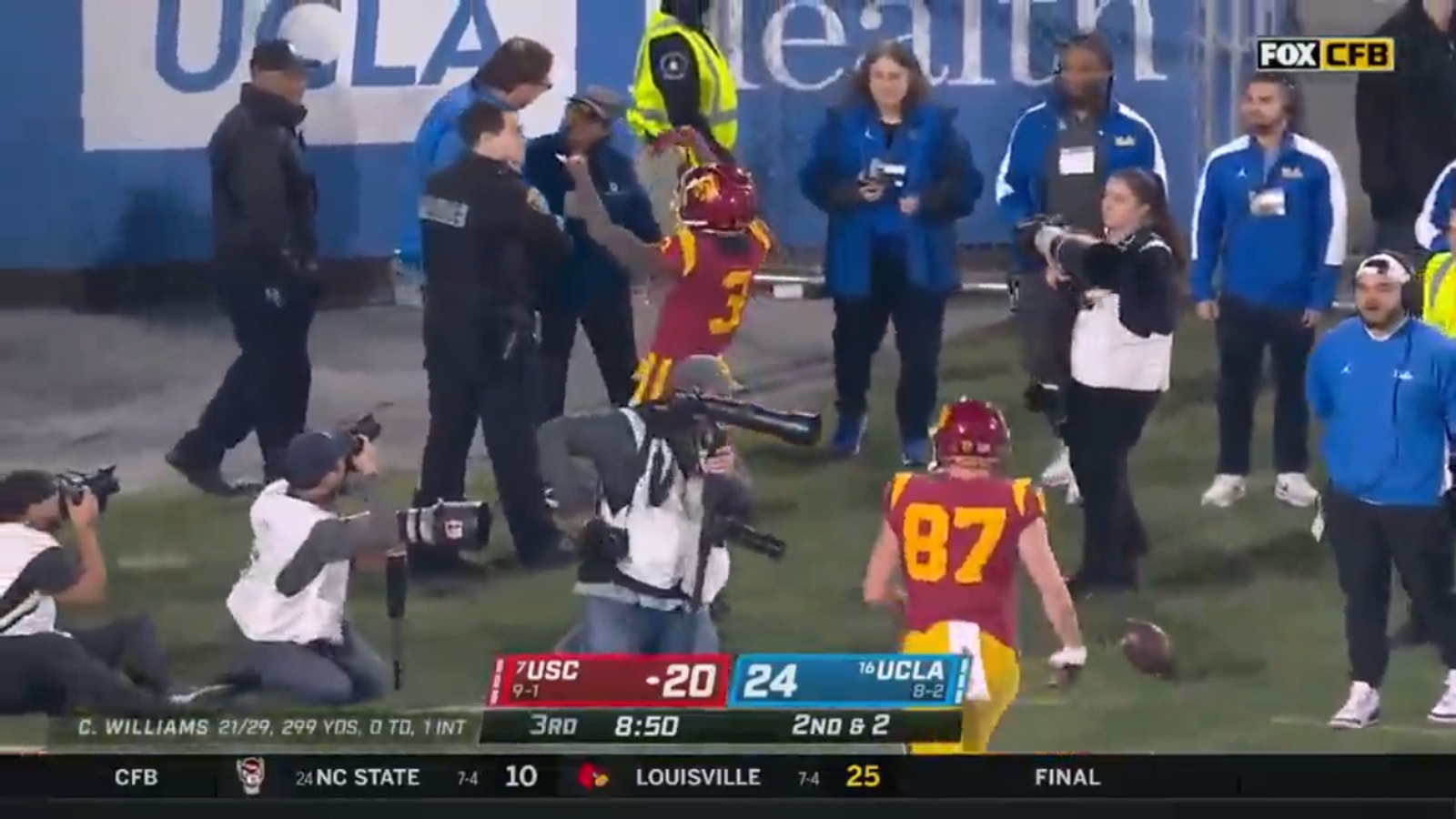 USC's Caleb Williams connected with Jordan Addison on a 35-yard touchdown against UCLA this past season.
Broderick Jones, OT, Georgia
Grade: First/Second Round
It is a little easier for young players to hide on the perimeter, but the line of scrimmage in the NFL is not a place for anyone other than very grown, very tough and very powerful men. Jones may be only 21 and, quite literally, still wearing braces according to the photo on his official Georgia bio, but the Bulldogs' star left tackle is already earning plenty of interest from scouts thanks to the light feet and long arms he possesses that every club is looking to develop in a blindside blocker.
Jones earned First Team All-SEC honors in his first full season at left tackle for the Bulldogs, flashing the kind of upside that helped his Georgia predecessors Andrew Thomas and Isaiah Wilson each earn first-round spots in 2020. With so many of his teammates likely to make the jump, it would be hard to fault Jones for doing the same. He is undeniably gifted and some feel this year's class is lacking in top-flight tackles. Fully growing into his frame would likely push his stock up that much more a year from now, however, which is why I'm hoping he returns to Athens for another year of polishing.
Rome Odunze, WR, Washington
Grade: Second/Third Round
Several notable Huskies have joined quarterback Michael Penix, Jr. in publicly announcing their plans to return to college football for next season, but Washington's dynamic pass-catcher has thus far remained conspicuously quiet about his plans. The 6-foot-3, 200–pound Odunze is a third-year junior coming off of a breakout season in which he led the Huskies with 1,145 receiving yards while finishing second on the team in receptions (75) and receiving touchdowns (seven).
Odunze is a long-strider with good build-up speed and natural receiving skills, including excellent body control and strong hands. There is no denying that his production this season was inflated by Washington's up-tempo spread attack, but his traits project very well to the next level and, as mentioned previously, this wide receiver class is wide open. Odunze will not turn 21 years old until June.
Laiatu Latu, Edge Rusher, UCLA
Grade: Third Round
Even casual football fans have likely heard of Washington's Penix and Minnesota running back Mohamed Ibrahim, the two players who joined Latu as official Comeback Player of the Year winners. Interestingly, Latu began his college career where Penix is ending his — UW — where he played in all 12 games as a true freshman in 2019. He suffered a neck injury in 2020, however, and the Huskies' medical team refused to clear him a year later, suggesting to him that he might want to consider retiring.
Instead, Latu transferred to UCLA, where he emerged as one of the nation's best pass rushers this season, recording 9.5 sacks (11th in the nation and second in the Pac-12) with 11 tackles for loss among his 33 total stops. Latu also recorded three forced fumbles, which led the conference and tied him for third nationally.
The 6-foot-4, 265-pound Latu has good initial quickness upfield to cross the face of tackles, as well as impressive lateral agility, balance and core strength to redirect. He has good length and strength for the pull-down tackle, flashing the upside to warrant top-100 consideration. With just one season of impressive production against college competition, plus medical concerns, it would certainly be a risk for Latu to join the 2023 draft class. However, given the now 22-year-old's breakout performance this season, he may already be feeling the pressure of time.
Rob Rang is an NFL Draft analyst for FOX Sports. He has been covering the NFL Draft for more than 20 years, with work at FOX, Sports Illustrated, CBSSports.com, USA Today, Yahoo, NFL.com and NFLDraftScout.com, among others. He also works as a scout with the BC Lions of the Canadian Football League. Follow him on Twitter @RobRang.
More on college football:
Top stories from FOX Sports: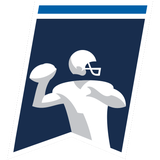 Get more from College Football Follow your favorites to get information about games, news and more