Ad Blocker Detected
Our website is made possible by displaying online advertisements to our visitors. Please consider supporting us by disabling your ad blocker.
Big NFL favorites are falling on a weekly basis, but the betting public just can't resist, and it's proving costly.
In the past three weeks, six underdogs of seven points or more have pulled off outright upsets. That's the most in a three-week stretch since 2018 (Weeks 13-15), according to ESPN Stats and Information. Yet, the most-popular bet at sportsbooks is routinely the money-line on a big favorite.
This week, bettors loaded up on the Tampa Bay Buccaneers against the Washington Football Team. The Buccaneers closed as 9.5-point underdogs and -450 on the money-line.
1 Related
Entering Sunday's early kickoffs at sportsbook PointsBet, there were more bets on the Buccaneers' money-line than there were on any other NFL market. The Tampa Bay money-line also was the most-popular parlay leg. Washington won 29-19, producing the third-most lucrative decision of the season for PointsBet, behind only the New England Patriots covering the spread against the Buccaneers in Tom Brady's return and the New York Jets' upset of the Cincinnati Bengals.
Led by the Football Team's upset of the Bucs, sportsbooks were reporting a third-straight winning Sunday, although not as big as the last two weeks.
"I think some people backed off after the banner day the underdogs had a week ago," John Murray, executive director of the SuperBook in Las Vegas, told ESPN on Sunday.
NFL notables
• Underdogs are 9-4 against the spread this week, entering the Monday night game. On the season, underdogs are covering the spread at a 58.2% clip.
• The Packers beat the Seahawks 17-0 on Sunday, easily covering as 3-point favorites. After losing to the New Orleans Saints in Week 1, Green Bay has covered the spread in nine straight games. It's third-longest streak of covering in the Super Bowl era, according to ESPN Stats and Information. The 1985 New England Patriots covered the spread in 14 consecutive games, and the 1992 San Diego Chargers covered the spread in 13 straight games.
The Packers (9-1 ATS) are the first team to cover the spread in nine of their first 10 games of the season, since the 2016 Dallas Cowboys started 9-0-1 against the spread.
• The Lions and Steelers ending in a 16-16 tie Sunday produced a bitter ending for contestants in Las Vegas-based sportsbook Circa Sports' survivor contest that boasts a $6 million guaranteed prize pool. The Steelers were the most popular pick in the contest, chosen by 248 (36.2%) of the remaining players.

Co-hosted by Joe Fortenbaugh and Tyler Fulghum, Bet is available for live and on-demand viewing on the ESPN App and on ESPN's social media feeds on YouTube, Facebook and Twitter. Watch
Circa Sports posted on twitter: "For those asking, in our CircaSurvivor contest entries must select a team that wins in order to advance to the next contest week. All other entries are eliminated. A tie is not a win."
• Craig Mucklow, vice president of trading for Caesars Sportsbook, said Lions covering the spread in the tie produced one of his book's biggest losses of the day, thanks to "two huge six-figure bets at +9 and +8."
• The largest NFL bets reported this week by Caesars Sportsbook:
– $520,000 on the Patriots -1.5 (Win)
– $520,000 on the Chargers -2.5 (Loss)
– $520,000 on the Lions +9 (Win)
– $520,000 on the 49ers +4 (vs. Rams on Monday night)
– $495,000 on the Panthers +10.5 (Win)
• Johnny Avello, a longtime Las Vegas bookmaker now with DraftKings, said the book got off to a "very good" start Sunday, with the Football Team's upset of the Buccaneers the best early result. Avello added that the Jaguars (+10.5) covering the spread in a 23-17 loss to the Colts, and the Saints (+3) covering in a 23-21 loss to the Titans also were good decisions for the house.
"They are on the Vikings and Eagles money-lines, and Packers [-3] in the afternoon, but we'll still be OK," Avello told ESPN in a text message Sunday.
The Vikings and Eagles each pulled outright upsets, in addition to Green Bay's win over Seattle.
Busiest stretch for bookmakers
The Super Bowl and March Madness are massive events for Las Vegas sportsbooks, but for the guys in the backroom, Saturdays in November, with full slates of college basketball and football, are intense.
"Today has been perhaps the busiest I've ever been," Rex Beyer, a risk supervisor for the SuperBook in Las Vegas, who has been taking bets domestically and internationally for over a decade, told ESPN in a text message late Saturday night. "It's the first Saturday I've worked during a crossover season, where we booked all of the regular and extra games in both college football and college hoops, including first and second halves."
There were more than 100 college football and basketball games combined Saturday, dozens of them going at the same time.
Murray, the SuperBook's executive director, says there are more sensitive data entry on a day like Saturday than any other days of the year for the risk supervisors and admin operators.
"They are monitoring start times, halftime lines, bet approvals, line moves across more events than any other time of the year," Murray said. "Super Bowl is like a stroll in the park compared to a day like yesterday if you are in one of those positions."
To make things even more challenging, with so much on-the-fly data entry taking place, mistakes are made, and there's always bettors looking to capitalize.
"If you make a mistake, someone will pounce on it," Murray said. "No true wise guy would take advantage of an obviously bad number of past post on an event because they value the [sportsbook] account more than winning a single wager. But the pseudo-wise guys, and the guys who don't know what they are doing will be happy to capitalize on such an error. It's the job of the guys in the back to make sure those are limited as much as humanly possible."
College football notables
• Circa Sports, the Las Vegas-based sportsbook responsible for some of the first weekly college football lines in the U.S. market, opened Ohio State as an 18-point favorite over Michigan State.
The initial money was on the Buckeyes, causing Circa sportsbook director Matt Metcalf to quickly move the spread to Ohio State -20 in the first hours after posting the opening line.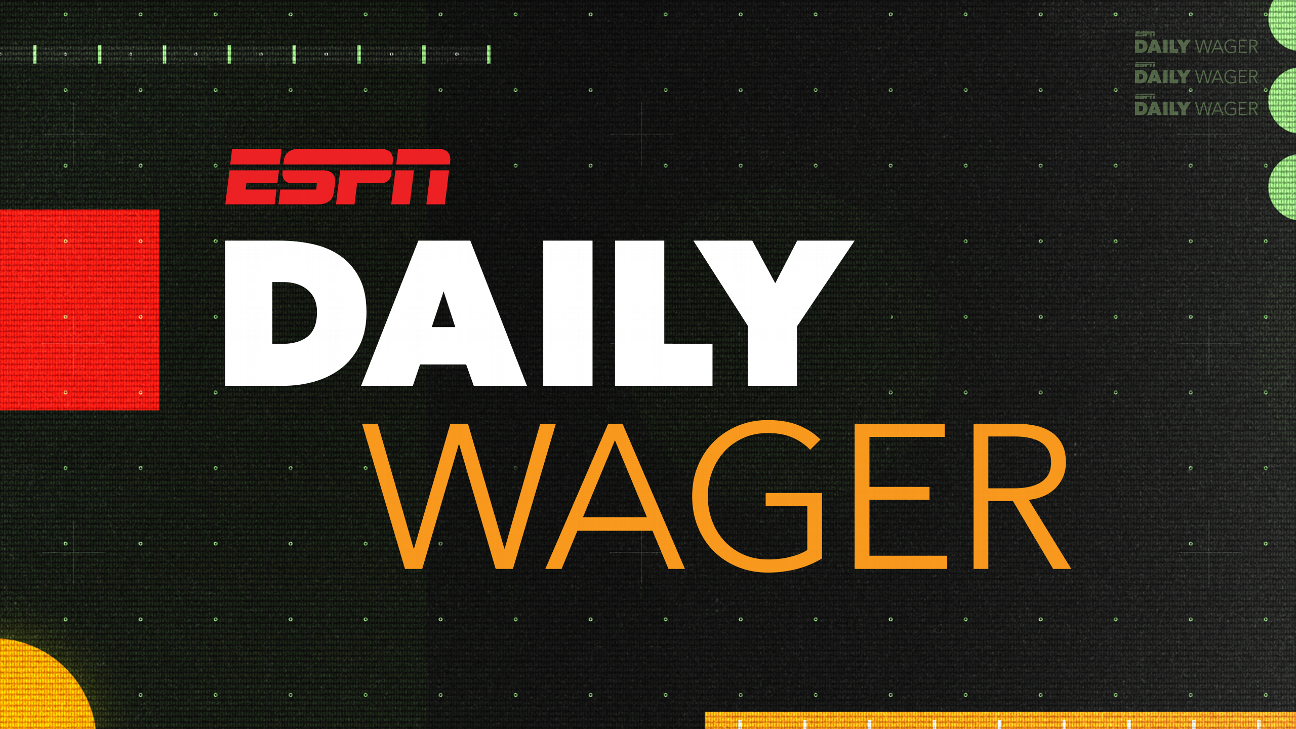 A daily sports betting news and information show (6-7 p.m. ET, ESPN2) that aims to better serve the millions of sports fans who participate in sports wagering and help educate general sports fans with in-depth analysis. Watch »
"We saw a couple bets [on Ohio State] from sharp guys," Metcalf said Sunday afternoon. "To me, they are one of the most public teams that we have consistently. It doesn't really matter who they're playing. We have a group of players, who just love to bet Ohio State, and the last scenario I want to find myself on Saturday is the wise guys and the public both being on the same side, so I end up needing that game for way more than I want to. I don't think anyone is looking to step in front of Ohio State right now. They just look so potent on offense."
• Metcalf said he would have Georgia as a 4-point favorite over Alabama on a neutral field, if the two powerhouses were to meet this week. "I would have Alabama as a 2- or 3-point favorite over Ohio State."
Michigan is fourth in Metcalf's power ratings, followed by Wisconsin and Oklahoma.
"If we were to hang a line on Ohio State-Michigan right now, I'd think I'd have it around [Buckeyes] -6," Metcalf added.
The Wolverines hots Ohio State on Nov. 27.
• Opening point spreads and totals via Circa Sports:
Michigan State at Ohio State -18, 72.5
Wake Forest at Clemson -5, 56.5
Iowa State at Oklahoma -6, 58.5
Georgia Tech at Notre Dame -18, 56
SMU at Cincinnati -13, 65.5
Nebraska at Wisconsin -10, 40.5
Arkansas at Alabama -22, 56.5
UCLA -3, 70.5 at USC
Oregon at Utah -3, 58.5
• College football underdogs vs. FBS teams have won 27.1% of their games outright this season, which would the highest in a single season in the last 15 years, according to ESPN Stats and Information.
What were the odds?
• 27-1: Kansas's odds to beat Texas straight up at Circa Sports. The Jayhawks had lost 100 consecutive games as an underdog of at least 24 points, by far the worst such streak in the FBS, according to ESPN Stats and Information. Texas had won 79 consecutive games when favored by at least 24 points, the second-longest streak entering Saturday's game. Both streaks ended when the Jayhawks, who were 31-point underdogs, upset the Longhorns 59-58 in overtime.
Texas is the third 30-point favorite to lose this season. Last season, no team lost as a 30-point favorite and only one team has lost as a 30-point favorite in the previous three seasons. Wisconsin was upset by Illinois in 2019.
• 30-1: Odds in March for Shohei Ohtani to win the American League MVP, when a bettor with a William Hill sportsbook in Nevada placed a $30,000 bet on the Los Angeles Angels' pitcher-outfielder. Ohtani is considered the favorite to win the award, which will be announced Thursday. If he prevails, the bettor would win a net $900,000.
• 10-1: The opening odds at Caesars Sportsbook that the Lions would go 0-17 this season. The odds closed at +600 this week, before the Lions tied with the Steelers and cashed any bets on the "no.'