Ad Blocker Detected
Our website is made possible by displaying online advertisements to our visitors. Please consider supporting us by disabling your ad blocker.
When I first visited New York City, I was in awe of its fashion. There were touches of my native Mediterranean culture interwoven with past eras like the minimalist '90s and glittery aughts, there were thrifted discoveries alongside high-end pieces, and yet the clothes never seemed to overcome the wearer. Instead, the outfits and accessories existed in-sync with their owners, as though silently and powerfully expressing their energy.
Patricia Field's work has a similar effect. The renowned costume designer and New Yorker, who has defined style onscreen for decades, has never been one to dress herself — nor her characters — for fleeting trends. If anything, she has started trends through her work on pop-culture hits such as Sex and the City, The Devil Wears Prada, Younger, and Emily in Paris. Could you imagine Carrie Bradshaw without her legendary Manolo Blahniks or signature white tutu, or even Andy Sachs without those Chanel boots?
In her memoir, Pat in the City, Field, now 82, transports readers through the various eras of New York City, from the Chanel-influenced fashion of the '50s to the grunge downtown attire of the electric '80s. Through the evolution and recycling of fashion trends, Field was never swayed to follow a formula; as she writes, her "real inspiration is timelessness and quality" which her award-winning work accurately showcases.
Patricia Field Pat in the City: My Life of Fashion, Style, and Breaking All the Rules
Patricia Field Pat in the City: My Life of Fashion, Style, and Breaking All the Rules
Credit: Harper Collins
Fashion, like all forms of art, is inherently political—and Field understood that with her subtle acts of rebellion. Prior to Sex and the City, Field recalls in the book, pantyhose were a necessity for women, but she shattered that rule with the leading women's wardrobe. Even the decision for Miranda Priestly's signature white hair in The Devil Wear's Prada came with debate. Though Pat in the City will entertain audiences familiar with Field's repertoire by highlighting the inspiration behind her artistic choices, the memoir also unpacks how her radical vision paved the way for modern fashion.
Patricia Field has a talent for not only keeping her finger on the pulse of contemporary fashion, but also pushing boundaries of individuality and storytelling. As an artist, designer, and beloved mentor, Field's memoir chronicles everything from love, passion, culture, and the phenomenon that occurs when all three intersect with art.
Here, the icon speaks to ELLE.com about her relationship with New York City, dressing the women of Sex and the City, and her advice for the next generation.
How has your cultural background shaped your identity and artistic expression?
My grandmother had a lot to do with my young years and my aunts as well. I always thought of myself as Greek, and I knew I was Greek through them. My dad was Armenian and unfortunately passed away when I was about seven, so I've never really had as much of a chance to absorb the Armenian culture.
I have a little social life in Athens. I knew some designers in Greece; what I really liked the idea of was to use them because number one, people don't see that. Number two, their uniqueness. Nobody had it, no costume designer used them, but I knew them. They were happy that I used them and I was happy to because I knew my audience had never seen these pieces before. They were unique and creative without following trends like jeans and sweatshirts.
While writing about your life, you simultaneously write an ode to the past eras of New York City and chronicle gentrification's impact on the downtown art scene. Did your writing bring up any emotions about the now lost aspects of New York?
Having been born and bred in New York City—both Manhattan and then my family moved to Whitestone Queens—I'm a New Yorker from day one. I don't follow these New York City social trends. I have my own relationship with New York City. It's mine. It's a personal relationship having been born here, schooled all the way through college. When I hear people say this or that about New York City, sometimes I'm like, 'Oh, really, they think that about their city?' I never really [did], whether it's good or bad, but I never really thought I had my own description and feelings about my city.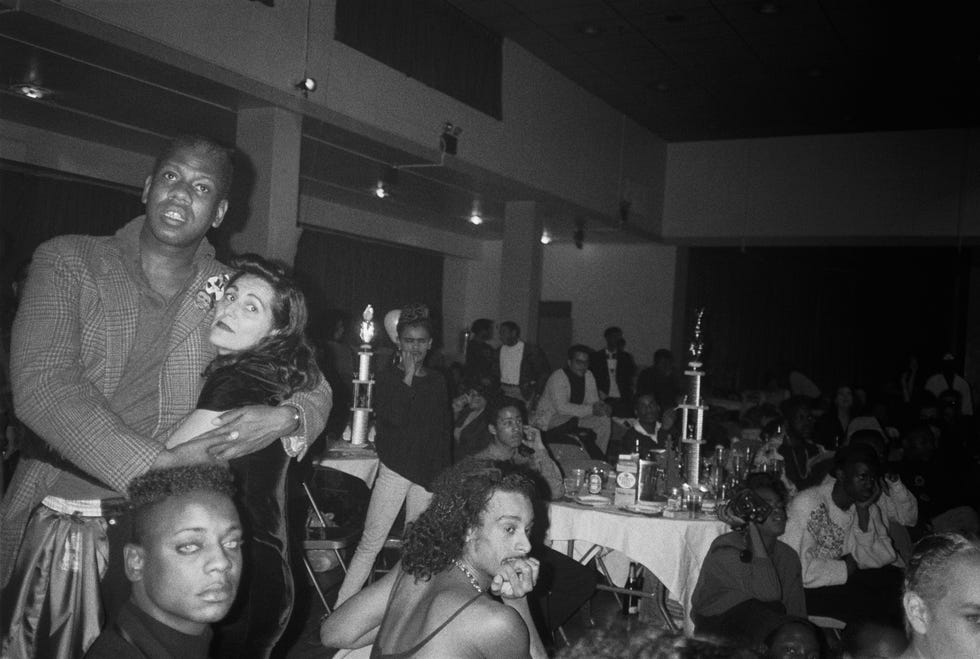 With Andre Leon Talley at the House of Xtravaganza ball.
photo by ©Tina Paul 1988
One thing that surprised me from your memoir was how executives wanted to make Samantha Jones dress in stereotypical attire for a sexual woman, and some were even against Miranda Priestley's hair being white. How did you get to a place of trust in your vision for these characters?
I grew up secure. I was never an insecure person. Maybe these days I'm getting a little insecure, but that's just because of the years, but I never let it limit me. For example, when I first met Darren Star [creator of Sex and the City], which I credit Sarah Jessica for because she came down and started to meet me because they weren't happy with the original pilot. I had experience in film and TV before Sex and the City, and I knew I could be a little bit radical. When I first met Darren, I brought him this book on Bettie Page. I said to him, 'Bettie Page, she's like a pin-up girl…Don't take this literally, just understand from this, my spirit. I'm not gonna dress these girls like pin-up girls, but my spirit is going to be there, and that will show up in the characters' personalities.'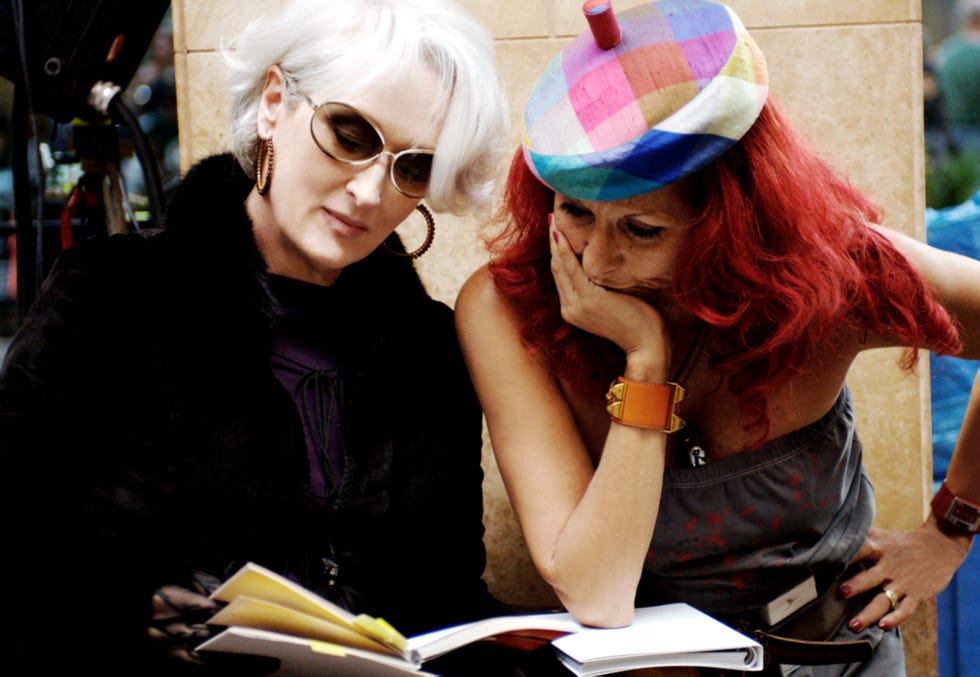 With Meryl Streep on the set of The Devil Wears Prada.
©20thCentFox/Courtesy Everett Collection
If there was one project you've worked on in the past that you would like to return to, which one would it be?
That's a hard one to answer simply because I like new experiences. Of course, Sex and the City was very popular and Devil Wears Prada was, too. But returning? I don't know, it's a good question. When it came to the Sex and the City reboot I was already committed to Emily in Paris.
On the other hand, I just finished the costume designing for Kim Cattrall, who I have a relationship with, who is in the TV series, Glamorous. I like the idea of a new challenge even though I know Kim very well. I know what she likes, and I know how to dress her; I could do it with my eyes closed. I would say I like a new project as opposed to going back to one.
Now that you are no longer working on Emily in Paris, is there a chance of you joining And Just Like That as the costume designer?
Well, I was called while I was doing Emily in Paris for the reboot. But I was committed to Emily in Paris at the time. They were going to start prepping and there was a conflict of time schedule, but I suggested my longtime colleague and very good friend, Molly Rogers, who worked on the original series with me, so she's doing it.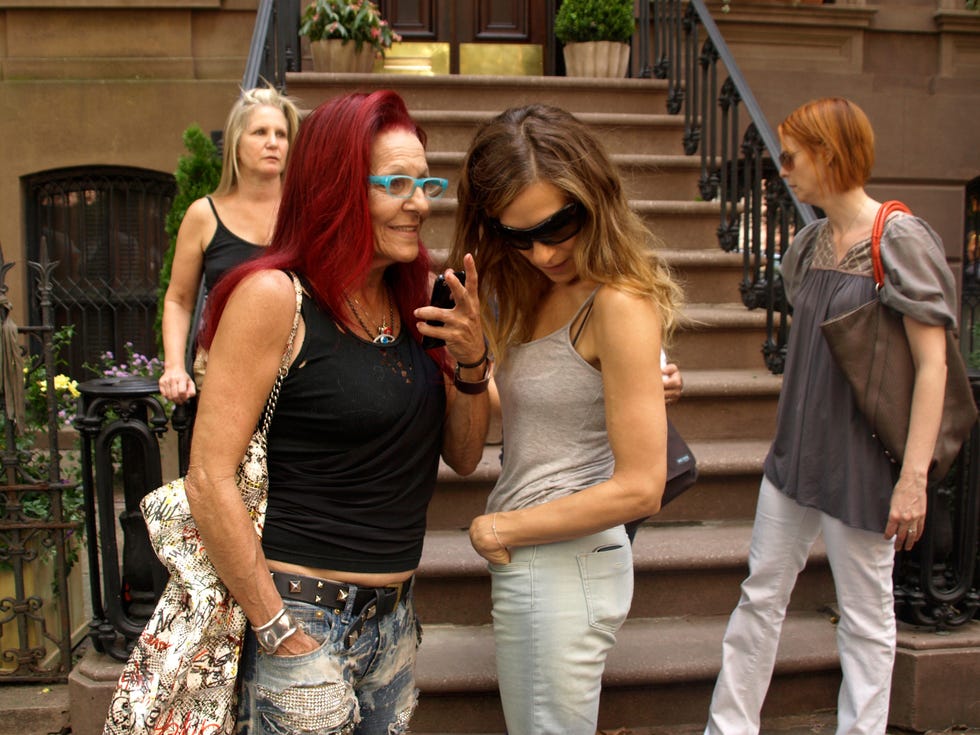 With Sex and the City star Sarah Jessica Parker.
photo by ©Tina Paul 2009
What message do you hope younger generations will take away from your memoir?
I hope younger generations find the humor in the book, absorb and take a little bit of that humor on and not be dry because I'm not a dry one. Maybe there will be some high points for a younger generation when they read it, but they have their life. It's only to inspire them, not for them to copy me, but to find their own talent, their own ability, and make it grow like a beautiful sunflower.
This interview has been edited and condensed.