Ad Blocker Detected
Our website is made possible by displaying online advertisements to our visitors. Please consider supporting us by disabling your ad blocker.
He's known for playing suave Secret Service agent James Bond, but Pierce Brosnan traded in his signature slicked back strands for something a little more scruffy.
The 69-year-old actor was spotted wearing a gray wig with tendrils cascading down to his shoulders while walking on set of his latest film, "Four Letters of Love."
Brosnan stars alongside Helena Bonham Carter and Gabriel Bryne in the romantic flick, based on the Niall Williams bestselling novel of the same name.
PIERCE BROSNAN NOT SURE WHO THE NEXT BOND WILL BE BUT SAYS 'WHOEVER HE BE, I WISH HIM WELL'
Pierce Brosnan was barely recognizable on Irish set of new film, "Four Letters of Love." (Getty Images/ McAuley Multimedia)
Pierce stayed warm underneath a dark blue knit sweater in addition to a heavy trench coat. He wrapped a scarf around his neck for added comfort.
PIERCE BROSNAN WISHES WIFE KEELY A HAPPY 21ST ANNIVERSARY IN TOUCHING INSTAGRAM TRIBUTE
The "Mamma Mia!" star sported a pair of forest green fingerless gloves and dark slacks.
Salt-and-pepper stubble on his face matched a full head of shoulder-length straight hair.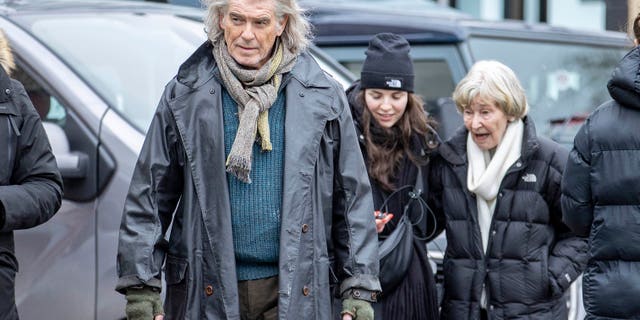 Brosnan wore fingerless gloves and a long trench coat on set. (Steven McAuley/McAuley Multimedia)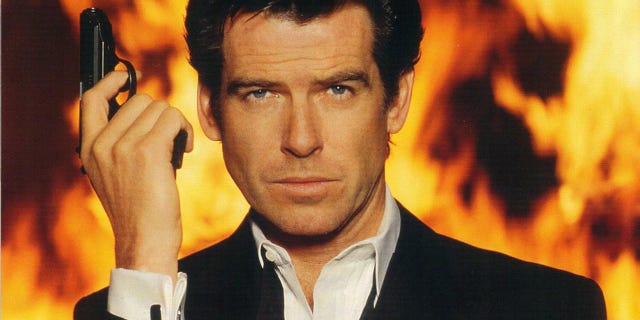 Pierce Brosnan starred as James Bond in "GoldenEye," "Tomorrow Never Dies" and "The World Is Not Enough." (MGM)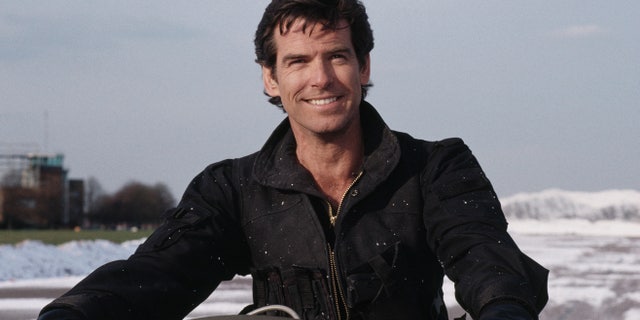 Pierce Brosnan drove a Cagiva motorcycle for the opening scene of "GoldenEye." (Keith Hamshere)
Brosnan and Bonham Carter will play the parents of Nicholas Coughlan (Finn O'Shea) and Isabel Gore (Ann Skelly).
CLICK HERE TO SIGN UP FOR THE ENTERTAINMENT NEWSLETTER
"Nicholas and Isabel were made for each other, but how will they ever know it? As ghosts, fate and the sheer power of true love pull them together, so too does life threaten to tear them apart," a synopsis described the movie on IMDb.
The "Black Adam" star was born in Ireland and studied acting in London before moving to the United States in the '80s.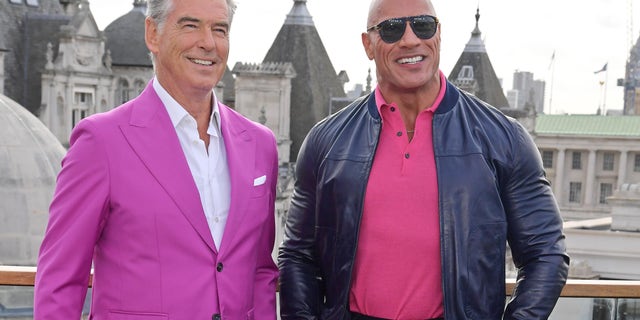 Pierce Brosnan and Dwayne Johnson recently worked together on "Black Adam." (David M. Benett)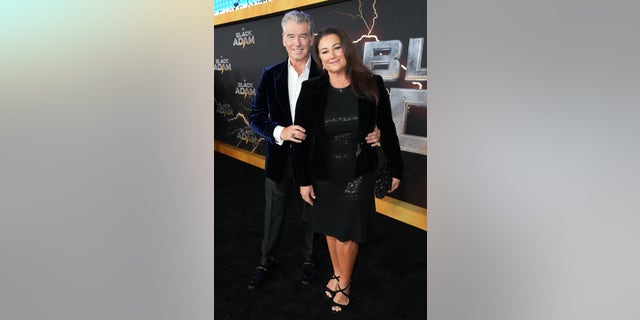 Pierce Brosnan and wife Keely Shaye Smith have been married for 21 years. (Kevin Mazur)
He starred on several stage and screen productions before landing his first Bond film, "GoldenEye."
The 1995 film grossed $350 million worldwide. He returned as the British spy in the 1997 movie, "Tomorrow Never Dies," and once again in 1999 for "The World is Not Enough."
His fourth and final stint portraying 007 was in "Die Another Day" in 2002.
CLICK HERE TO GET THE FOX NEWS APP
Tracy Wright is an entertainment writer for Fox News Digital. Send story tips to [email protected].