Ad Blocker Detected
Our website is made possible by displaying online advertisements to our visitors. Please consider supporting us by disabling your ad blocker.
A massive manhunt continues in Maryland for a suspect who allegedly shot two Baltimore County Police Department officers within 36 hours, leaving one in serious condition.
The Harford County Sheriff's Office said police located the suspect, identified as 24-year-old David Emory Linthicum, Thursday evening and have him "pinned" within a "perimeter" in Fallston.
Harford County Sheriff Jeff Gahler said the suspect was located at approximately 7 p.m., when an exchange of gunfire took place, leaving a Baltimore County police officer seriously injured.
"We have a person we believe is the suspect, a perimeter is set, and we are working to bring this incident to a peaceful resolution," the Harford police said.
MARYLAND TEENAGER CHARGED WITH ATTEMPTED MURDER AFTER DRUG DEAL DISPUTE, POLICE SAY
Police have located the suspect believed to have shot two police officers, identified as 24-year-old David Linthicum, Thursday evening. (AP Photo/Julio Cortez)
A vehicle pursuit was initiated before the suspect was pinned in an area near the Fallston Mall at around 9:41 p.m.
"We have the individual contained. This will be resolved here. There is no threat to the community," Gahler said.
Authorities said they "can see" the suspect, but he remains barricaded and is not in custody.
Sheriff Gahler added: "First and foremost, our thoughts and prayers are with the BCPD officers who were injured by the suspect."
The officer that was shot is in stable condition at Shock Trauma, Interim Baltimore County Police Chief Dennis Delp said, according to WBAL.
MARYLAND DEPUTY SHOT, KILLED WHILE CHASING FUGITIVE; MANHUNT LEADS TO SUSPECT'S CAPTURE
Shock Trauma physician-in-chief Dr. Thomas Scalea said the detective suffered multiple gunshot wounds to the torso and is "going to need a significant amount of reconstruction," WBAL reported.
He added: "He'll be with us for a while."
The manhunt was initially launched Wednesday afternoon after officers were called to a residence in Cockeysville to help a distressed individual.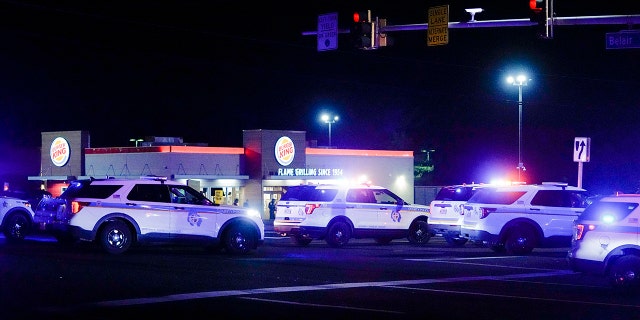 Police vehicles park in formation at an intersection checkpoint on Mountain Road and Belair Road where a suspected gunman is believed to be at large, Thursday, Feb. 9, 2023, in Fallston, Md. (AP Photo/Julio Cortez)
Baltimore County officers arrived at the home, located along Powers Avenue, and a family member escorted them to a person in crisis later identified as Linthicum.
During their interaction, he allegedly fired multiple shots, wounding one officer, police said in a statement. Police spokesperson Joy Stewart said the officers did not return fire.
The injured officer was transported to an area hospital and was later released.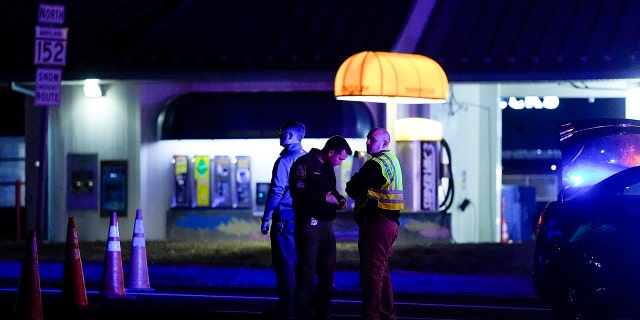 Police officers stand at a checkpoint on Mountain Road and Belair Road where a suspected gunman is believed to be at-large, Thursday, Feb. 9, 2023, in Fallston, Md. (AP Photo/Julio Cortez)
A search for the suspect was then initiated, including a heavy police presence with helicopters circling overhead. Officials closed roads in the neighborhood and were seen surveying single-family homes with large lawns that back up to wooded areas.
Authorities also urged residents to remain in their homes as the search for the suspect continued through the night.
Several schools in the area were subsequently closed, including Cockeysville Middle School, Dulaney High Schoo, Mays Chapel Elementary School, Padonia International Elementary School, Warren Elementary School, and Pot Spring Elementary School, Baltimore County announced.
After Linthicum had been spotted in a residential area in Cockeysville, police again ordered residents to shelter in place.
The suspect still has at least one rifle, according to WBAL news reporter Deborah Weiner.
In another statement early Friday morning, the Harford Sheriff's Office thanked "federal, state, and allied agency partners who are working tirelessly to maintain the safety of our community."
CLICK HERE TO GET THE FOX NEWS APP
"This incident has spanned over two days and affected countless citizens," the statement continued. "I want to thank the citizens for their vigilance and patience."
The Harford police also urged members of the community not to share tactical information about the officers' positions online.