A Texas man wanted for a string of armed robberies, who is also accused of shooting and killing a dog during one of them, was arrested on Saturday along with his brother.
Donovin Copeland, 18, and his brother Billy Don Copeland, 21, were arrested after detectives received tips from the community about Donovin's location, Fort Worth police said.
They were believed to be located in an apartment near the 6200 block of Vega Drive.
Police set up surveillance in the area and observed two men leaving the apartment. The men entered a vehicle and began to drive away when officers approached them.
TEXAS MAN ARRESTED, CHARGED AFTER ALLEGEDLY KILLING EX-GIRLFRIEND'S NEW BOYFRIEND
Donovin Copeland, 18, and Billy Don Copeland, 21, were arrested by Fort Worth police on Saturday.
(Fort Worth Police)
Donovin and Billy Don were found inside the vehicle, according to police. Donovin was arrested without incident in connection with the robberies.
Billy Don was found to be in possession of a handgun Donovin stole during one of the alleged robberies.
HOUSTON POLICE ARREST SUSPECT IN SLAYING OF MAN FOUND WRAPPED IN BLANKETS IN CLOSET LAST YEAR
Police also searched the apartment and recovered a rifle.
Both men were transported to the Robbery Unit office before being booked into the Fort Worth jail.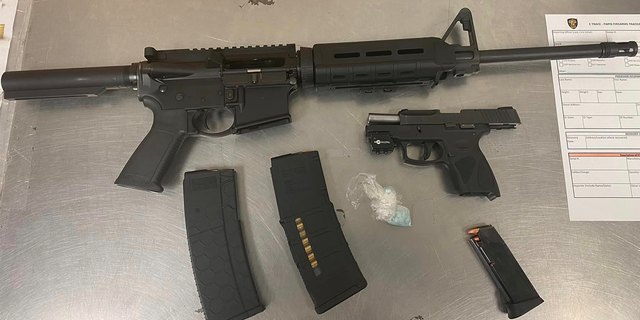 Fort Worth police recovered a rifle at the apartment the brothers were staying in on Vega Drive.
(Fort Worth Police)
CLICK HERE TO GET THE FOX NEWS APP
Billy Don is charged with unlawful possession of a firearm by a felon and harboring a fugitive while Donovin will face charges in connection with at least four armed robberies.
Both suspects could face additional charges as police continue the investigation.