Ad Blocker Detected
Our website is made possible by displaying online advertisements to our visitors. Please consider supporting us by disabling your ad blocker.
Today is the first day of Black History Month. It is also the day Tyre Nichols will be laid to rest. On Friday, people across the country watched and shared footage of police officers brutally attacking Nichols and leaving him without aid. The country witnessed as Nichols called out for his mom and asked the officers: "What did I do?"
Today is the first day of Black History Month, and I'm stuck thinking about the Black present and future.
But it's not just Nichols who's heavy on my mind and heart this week. Two days ago, Atatiana Jefferson's sister, Amber Carr, died of congestive heart failure at age 33. Amber's son Zion, eight years old at the time, was with Atatiana when a police officer killed her in her own home.
Just before being gunned down by a Texas cop, Atatiana had moved in with her mother, Yolanda Carr, to be her caretaker. Yolanda Carr died three months after her daughter. Atatiana's father, Marquis Jefferson, died of a heart attack just weeks after his daughter's murder.
A protester in New York on June 12, 2020.
Ira L. Black – Corbis//Getty Images
Cynthia Atchison, mother of Jimmy Atchison, died last year at age 52—three years after an Atlanta police officer killed her son.
Erica Garner, daughter of Eric Garner, died in 2017 following complications from an enlarged heart at age 27. She never lived to see the officer, who used a banned chokehold on her father, be held accountable.
Venida Browder, mother of Kalief Browder, died in 2016 from complications of a heart attack at age 63. It was one year after Kalief's death by suicide, following his wrongful detention at Rikers Island.
The list goes on, maddeningly with no end in sight.
"Police violence is a community killer," wrote Lee Merritt, Atatiana's family's attorney. In an newsletter to their community, The African American Policy Forum—where Amber Carr was a #SayHerName Mothers Network member—noted: "The news cycles may pass, but for families like Amber and Atatiana's, their grief endures, and too often and sadly, grows." The violence of police brutality never ends with the public execution. Even when mainstream media cycles shift attention, the families of police brutality victims are forever changed and left fighting for accountability in isolation, consumed by the lonely road to justice.
Today is the first day of Black History Month, and I'm angry as hell.
I know Black people are creative and brilliant and innovative and pioneering, but right now, I feel as though I have so little to celebrate. I have so many ambitions and plans that feel small when looking out at a community of Black people being hunted and killed for the entire world to see.
I wish police would stop killing us. I wish state violence would stop inflicting deadly trauma onto the loved ones of its victims. I wish Zion Carr didn't have panic attacks or blame himself for what happened the night his aunt was killed. I wish the last few years of Zion's life weren't consumed by death. I wish people in power did a better job at pretending to give a damn. I wish I didn't feel so passive for using my keyboard instead of my fists. I wish we could do more than just live to see another day.
Mostly, I wish Atatiana and Amber and Yolanda and Marquis and Eric and Erica and Kalief and Venida and Jimmy and Cynthia were all still alive, and that February was a month of unbridled joy.
There's so much I can't change. I can't bring back those who have already been killed or put an immediate stop to future killings.
I can use this Black History Month to celebrate Black life even while I mourn Black death."
But I can stop believing that the criminal legal system could ever be a purveyor of justice. I can refuse to fall for the lie of reform. I can hold space for my feelings and my communities.
I can remember Tyre Nichols as RowVaughn Wells' son, as someone who loved skateboarding and photography. I can rewatch videos of him perfecting tricks, gliding and flipping without a care.
I can remember Atatiana as Marquis Jefferson's baby girl and only child. I can recall her as Zion's "Aunt Tay," who nurtured her sick mother, cooked burgers, and played video games on the weekend.
I can use this Black History Month to celebrate Black life even while I mourn Black death. I can hug my own nephew close and whisper affirmations while he coos up at me, ignorant to the cruelty of the world he's been born into. I can play Renaissance on repeat and obsess over Beyoncé tickets. I can pick up my current read, Rest Is Resistance by self-proclaimed "Nap Bishop" Tricia Hersey, and meditate on her words. I can lift up my voice and sing and dance and laugh and play and eat and pray.
I can choose joy, and I will, because I know there's a system designed to rob me of it—and I refuse to give that system any more of an advantage.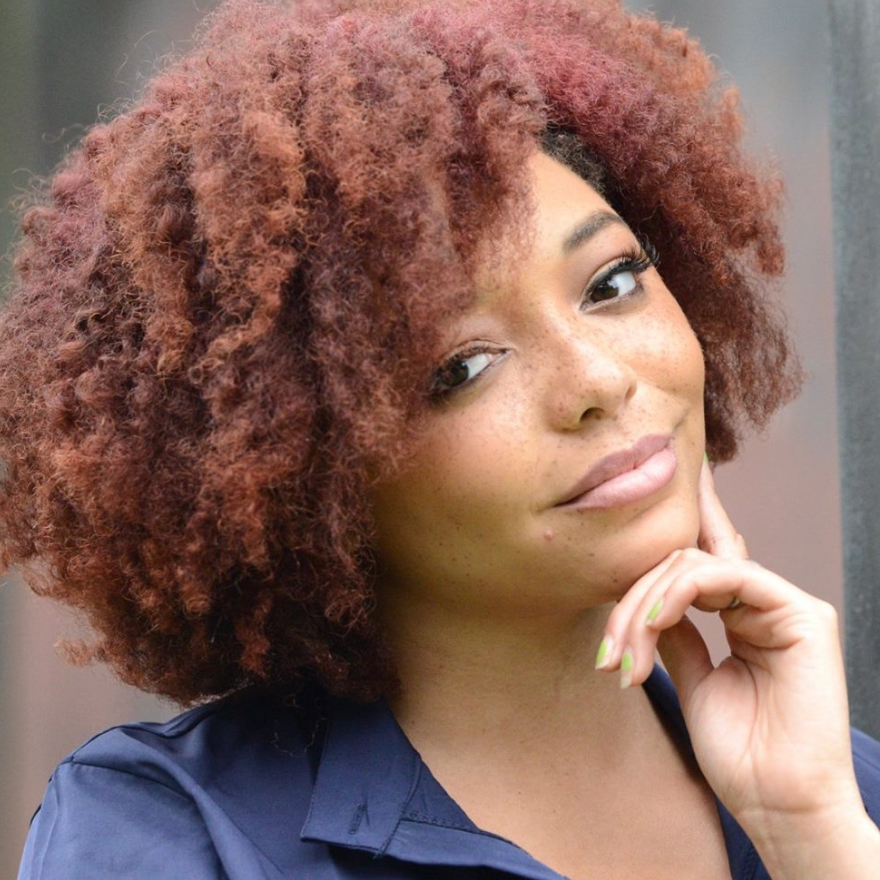 Brea Baker is racial and gender justice activist working locally and nationally towards the liberation of all oppressed people with an emphasis on Black people and women. When not organizing, you can find her traveling the world, listening to Beyonce, or manifesting the life her ancestors deserved.