Ad Blocker Detected
Our website is made possible by displaying online advertisements to our visitors. Please consider supporting us by disabling your ad blocker.
Officials at the elementary school in Newport News, Virginia, where a first-grade teacher was shot by her six-year-old student apparently downplayed previous complaints issued by the teacher about boy, the Washington Post said Saturday.
Abigail Zwerner, 25, reportedly raised concerns and requested help from school officials relating to the boy's behavior, which apparently included a threat to light a teacher on fire and watch her die.
The issue was dismissed, according to messages from fellow teachers obtained by The Post.
Willow Crawford, left, and her older sister Ava, right, join friend Kaylynn Vestre, center, in expressing their support for Richneck Elementary School first-grade teacher Abby Zwerner during a candlelight vigil in her honor at the School Administration Building in Newport News, Va., Monday, Jan. 9, 2023.
(AP Photo/John C. Clark)
VIRGINIA MOM DETAILS MOMENTS THAT REPORTEDLY LED UP TO 6-YEAR-OLD SHOOTING TEACHER
Zwerner was teaching a first-grade class when the boy pulled out a 9mm handgun owned by his mother and fired at her, hitting her first through her hand that she held up in a defensive posture and then in her upper chest.
The 25-year-old, who is now in stable condition, has been praised for escorting all of her students out of the classroom to safety even after she had been shot, as another school employee rushed in and physically restrained the boy.
Richneck Elementary School in Newport News has since faced criticism for its handling of the shooting that authorities have deemed "intentional."
Parent were already reportedly outraged when Newport News Superintendent George Parker III said the school had received a tip that the boy had a gun that day, but then failed to uncover the weapon after searching his school bag.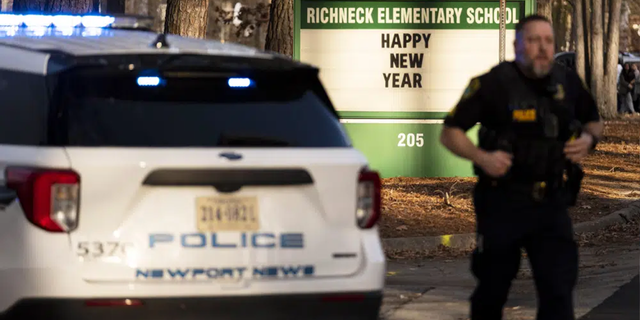 Police respond to a shooting at Richneck Elementary School, on Friday, Jan. 6, in Newport News, Virginia.
(Billy Schuerman/The Virginian-Pilot via AP)
FAMILY OF 6-YEAR-OLD VIRGINIA STUDENT WHO SHOT HIS TEACHER BREAKS SILENCE, INSISTS GUN WAS SECURED
Newport News Police Chief Steve Drew said authorities were not alerted to the tip.
Police and school officials have not answered questions relating to the boy's behavior, and Fox News Digital could not reach Zwerner for comment.
The investigation remains ongoing, and the boy remains in emergency custody at a medical facility following a detention order earlier this month.
The family of the student spoke out for the first time this week and said that the gun had been "secured" before the boy took it to school.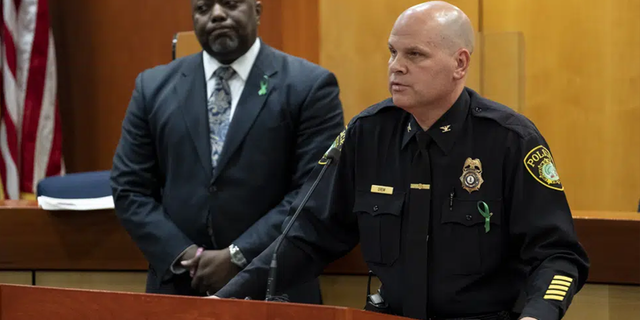 Newport News Chief of Police Steve Drew, right, and Newport News Superintendent George Parker answer questions regarding a teacher being shot by an armed six-year-old at Richneck Elementary School during a press conference at the Newport News Public Schools Administration Building in Newport News, Va., on Monday, Jan. 9, 2023.
(Billy Schuerman/The Virginian-Pilot via AP)
CLICK HERE TO GET THE FOX NEWS APP
"Our heart goes out to our son's teacher and we pray for her healing in the aftermath of such an unimaginable tragedy as she selflessly served our son and the children in the school," the child's family said Thursday in a statement.
"Our family has always been committed to responsible gun ownership and keeping firearms out of the reach of children," the statement added, though it did not elaborate on how it was "secured."
Greg Norman and Pilar Arias contributed to this report.
Caitlin McFall is a Reporter at Fox News Digital covering Politics, U.S. and World news.